Much like history, identity often contains several overlapping layers.

This intersectionality of identities — between ethnicity, sexual orientation, gender and class, to name a few — can make people and communities more vibrant, of course. But as attendees learned at the African Heritage Month kick-off event Monday afternoon (Feb. 3), it can also add another element of difficulty in day-to-day life for those already struggling with legacies of the past such as anti-Black racism.

"It's important that we focus on communities that are marginal within our marginalization," said OmiSoore Dryden, Dal's James R. Johnston Chair in Black Canadian Studies, in remarks at the event.

Dr. Dryden, whose own research focuses on the experiences of Black people of various backgrounds within the medical and health system, said we need to centre on "all members of our family."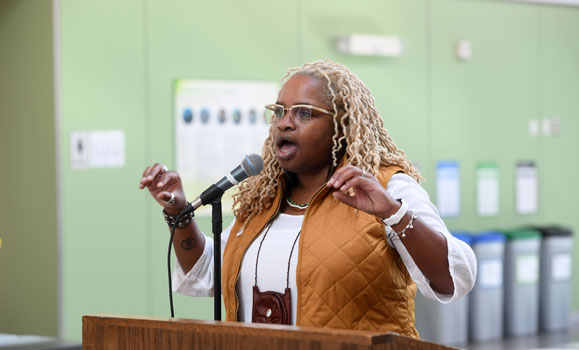 OmiSoore Dryden

It was a recurring theme at this year's gathering in LeMarchant Place, which, as in recent years, also included the raising of the pan-African flag outside on campus at the corner of LeMarchant Street and University Avenue.

And this year, the Dal community was able to share this tradition and others — such as a community awards ceremony — with Deep Saini, the university's new president.

"One of my top priorities is to get to know the communities whose heritage we are celebrating today and the contributions these communities have made to the richness of Dalhousie and Nova Scotia," said Dr. Saini, who began his term as president last month.
A call to action

Dr. Saini said he's been busy meeting with members of different groups across campus over the past few weeks, including the Black Faculty and Staff Caucus, and has already been meeting with Theresa Rajack-Talley — Dal's vice-provost of equity and inclusion.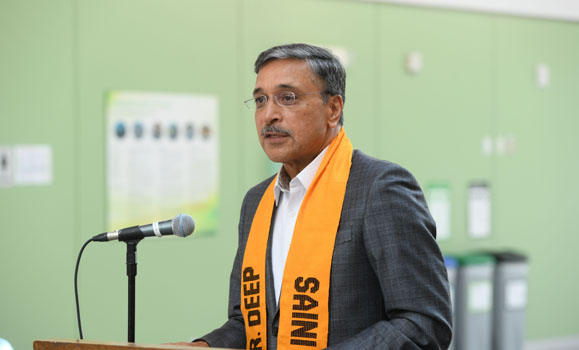 Deep Saini

He reaffirmed Dal's commitment to supporting all people of African descent, noting the importance of existing initiatives such as the Transition-Year Program, the Black Student Advising Centre (BSAC), IB&M, PLANS and Imhotep's Legacy Academy, and pointing to upcoming priorities such as the hiring of a director of African Nova Scotian community engagement.

"I hope you will join me this month to learn, reflect and above all act," he said.

It was a call to action for the more than 100 people gathered to take in some of the many activities planned on and off campus this month as part of African Heritage Month.

Attendees at this year's kick-off — organized by Dal's Human Rights and Equity Services office and MCed by Monique Thomas, BSAC's community outreach and transition to university coordinator — also heard from several students, including Aisha Abawajy, president of the Dalhousie Student Union, Master of Social Work student Bria Symonds, and law student Folami Jones, who engaged the crowd in a libation ceremony that involved the pouring of water for "those we've forgotten."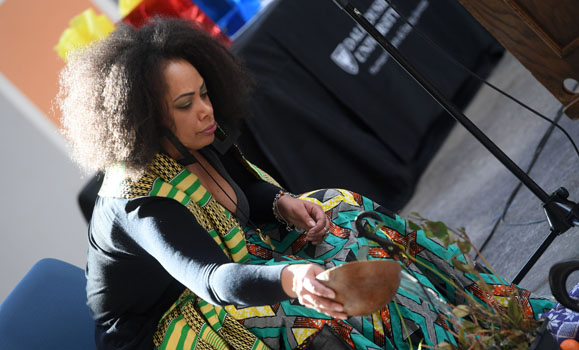 Folami Jones

Charting a path forward


Abawajy, an applied computer science student who grew up in Halifax the daughter of immigrant parents, said it can be difficult to stay positive when there is still so much work that needs to be done to right historical wrongs. She said she does so by learning about history and about those who have fought and stayed resilient in the past.

"I implore all of you folks to really reflect on the place you hold in society, reflect on the privileges, reflect on the oppressions, and reflect on the power that you have been given and the positions of power that you may or may not hold," she said. "And know that your voice speaks power and your voice holds so much."

Another student, Lyris Daye, who performed the role of Olivia in The Color Purple at Neptune Theatre last year, added her own voice to the event by singing a rendition of "Lift Every Voice and Sing" — the Black national anthem.

Tracey Gibson, who grew up in the historic African Nova Scotian community of Gibson Woods in the Annapolis Valley, encapsulated the month's theme of intersectionality by sharing her own lived experience growing up deaf and Black in rural Nova Scotia.

"It's really hard to live a deaf life. I always feel ignored and I feel silenced," she said, using sign language to explain the lack of supports in her region for deaf people.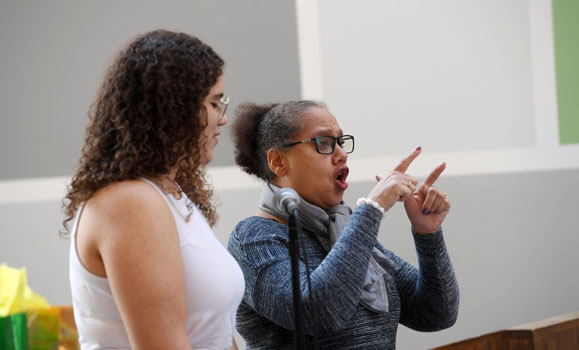 Tracey Gibson with her daughter

She enlisted the help of her daughter, Shirley (also a Dal student), to act as a translator.

"We need a lot of help from the government as they never seem to be really helping, at least in the Annapolis Valley," she said. "I really wish and want there to be huge change for the future deaf generation."
Learn more about African Heritage Month and Nova Scotia's role as a trailblazer in helping shape the annual celebration for all of Canada.