WELCOME TO THE NEW JAMES R. JOHNSTON CHAIR WEBPAGE
Black Blog is live... focusing on Black Studies, Black Med Education, Black Health, Black life, Black research, and Black issues... read more

James R. Johnston Anniversary Celebration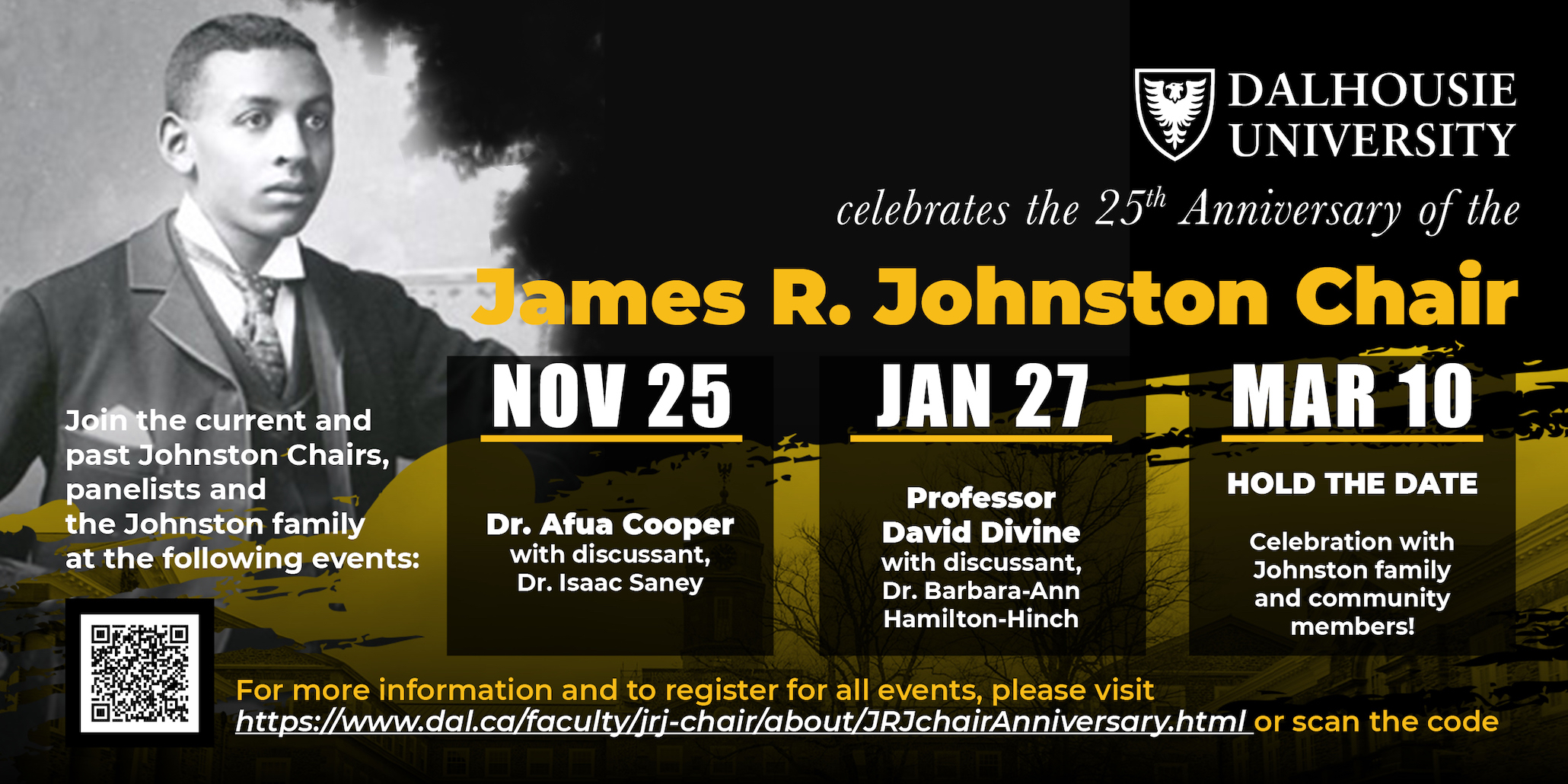 Dal's James R. Johnston Chair in Black Canadian Studies celebrates 25 years of scholarly impact... A quarter century ago, Dalhousie made history when it became the first university in Canada to create a dedicated academic position devoted to Black Canadian Studies.
Since then, the four scholars who have held the James R. Johnson Chair in Black Canadian Studies — including current Johnston Chair, OmiSoore Dryden — have carved out a unique and lasting impact in the field through their work. Read the full article by Matt Reeder for Dal News (January 26, 2022).
bell hooks teach-in

In celebration of bell hooks' birthday, Dr. OmiSoore Dryden, the James R. Johnston Endowed Chair in Black Canadian Studies (Faculty of Medicine), is hosting a teach-in featuring speakers from across Canada, including El Jones, Damini, Rachel Zellars, and Beverly Bain. Please join us on Monday September 26th, 2022, from 5:00-6:30PM AT to honour bell hooks' legacy and influence. The speakers will share the impact of hooks' work on their own careers, research and activism, and answer questions including: 
How do you aspire to further integrate and engage with bell hooks' teachings, tenets, works in your own day-to-day lives, practice, research and scholarship?
What is novel, revolutionary, special about hooks' work?
What do we learn from bell as Black women, Black queer women, women of colour?
A teach-in is an informal discussion that is practical, participatory, and action oriented. Teach-ins offer an important and unique pedagogical approach to share knowledge, promote dialogue, and inspire action.
The bell hooks teach-in will be virtual, taking place on Zoom.For more information and registration , go to:
https://www.eventbrite.ca/e/-bell-hooks-teach-in-tickets-414207394467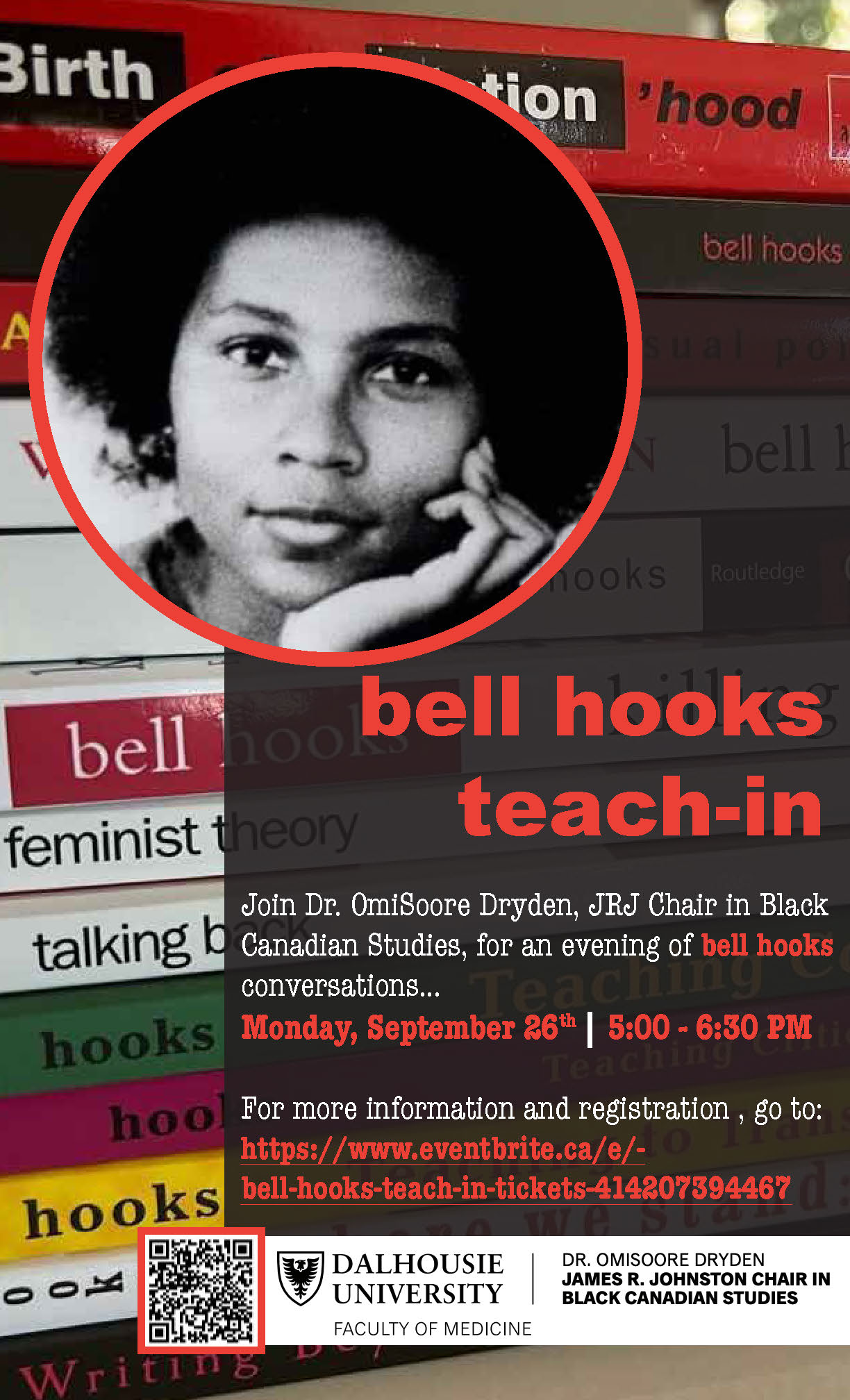 JRJ Chair Chat
Join Dr. OmiSoore Dryden at the next #JRJChairChat for Black students in health professions and graduate school. The next #JRJChairChat is a hybrid event, in-person (Dalhousie Dentistry Building - Room #5150) and on-line (MS Teams), on November 24, 2022, from 4:30 to 6:00 PM AST.  
To attend, please register at Eventbrite:
https://www.eventbrite.ca/e/jrj-chair-chat-tickets-467473595107

All registered attendees will receive a calendar invite on the day of the event  For more information, please email jrj-chair-admin@dal.ca.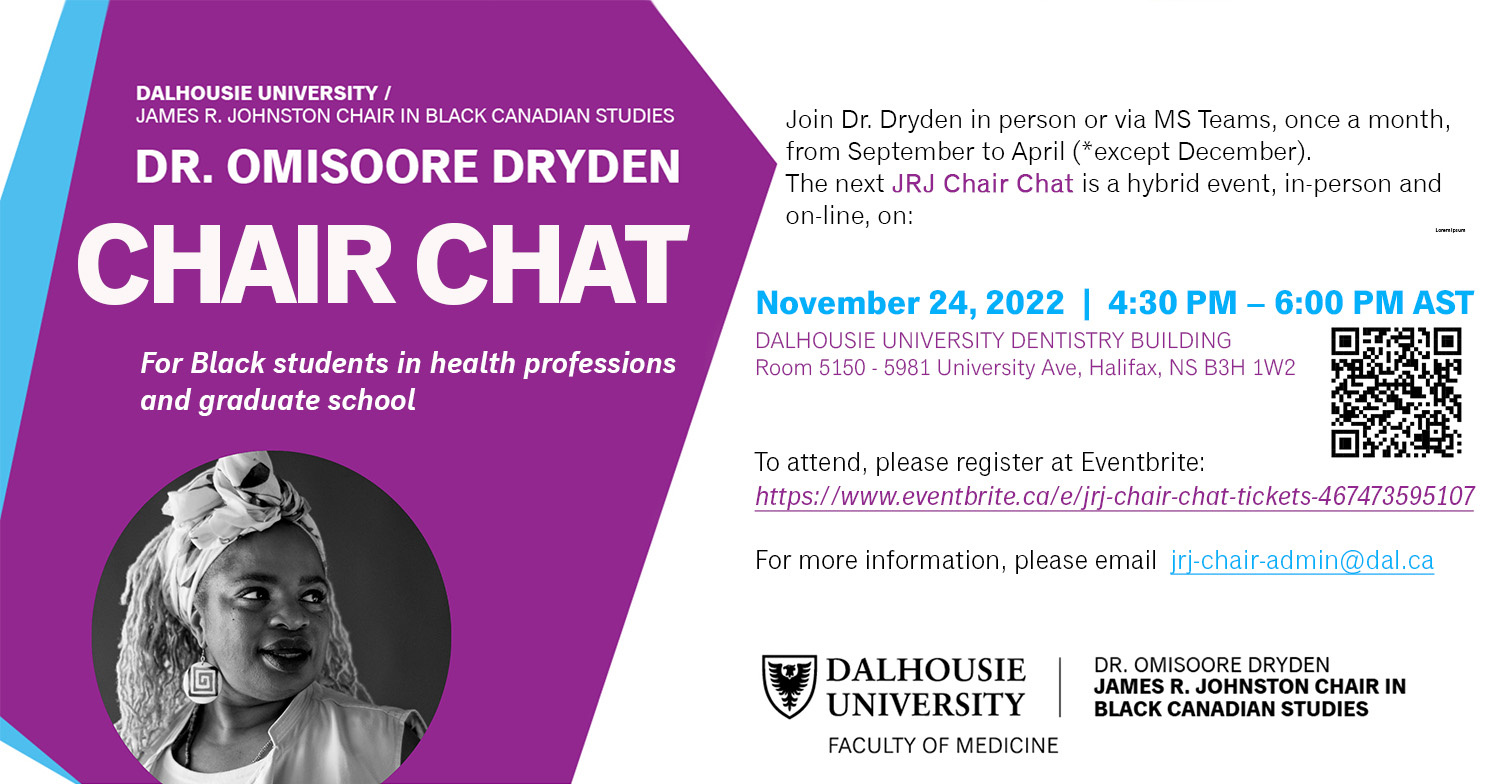 WHERE'S THE CHAIR?
CTV's Your Morning delivers original perspectives and unique insights into the headlines of the day. Click to watch Dr. Dryden and Ben Mulroney talk about Dr. Dryden's work fighting systemic racism in Canada's healthcare system, and blood donation barriers for LGBTQ2S+ men.
---