Speak Truth to Power: Forum on Anti-Black Racism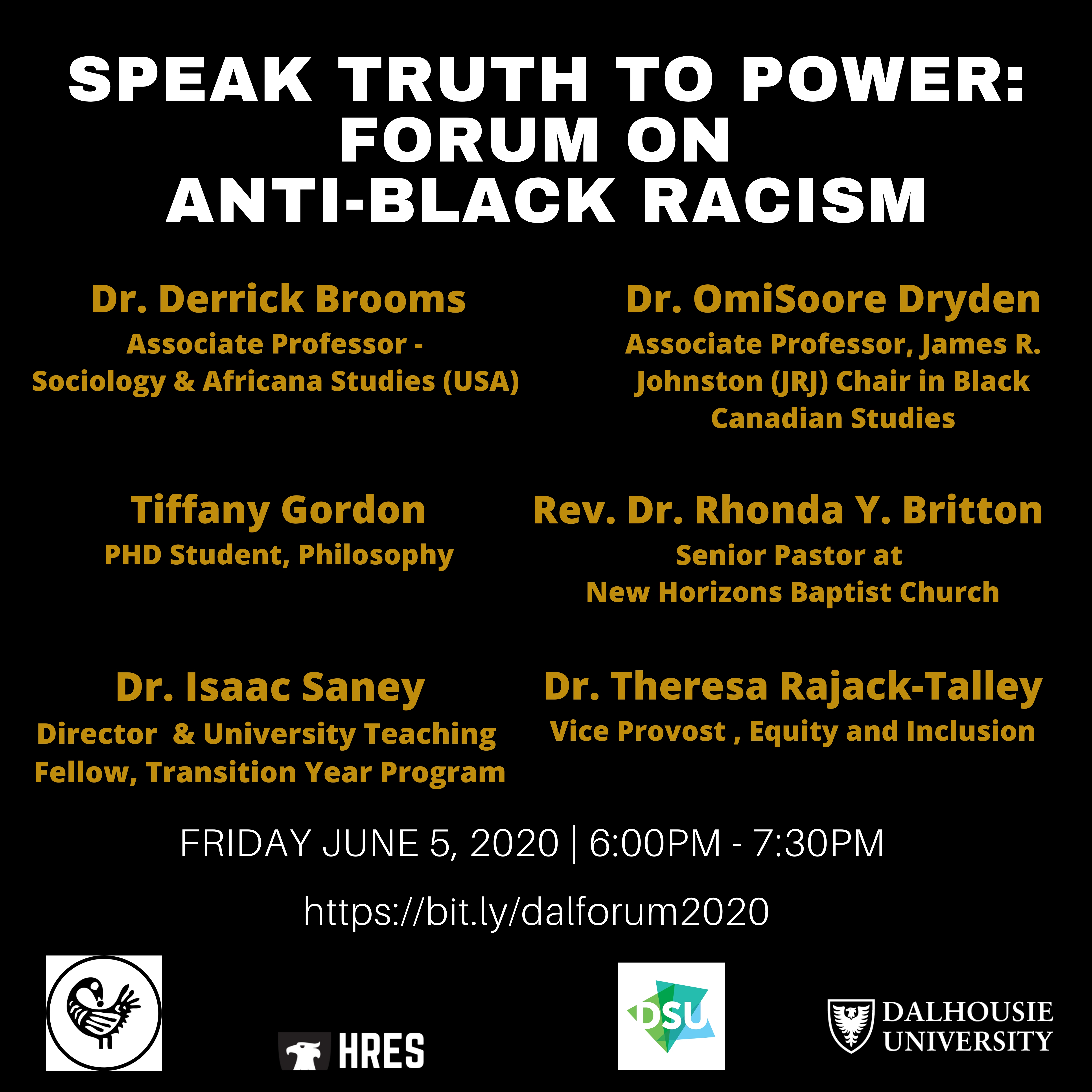 Diversity, Equity and Inclusiveness are part of Dalhousie's core values. It is within this context that we acknowledge the anger, pain, fear, frustration and anxiety that so many are experiencing in response to the unjust racial tragedies experienced by Black people in North America and beyond. We unequivocally condemn the racist acts that have sparked such broad outrage and social action.

Click the link to watch this engaging online forum on Anti-Black Racism held on June 5, 2020, aiming to hold space, provide avenues of learning and growth, and to urge all of us to take action.
COVID-19 Dalhousie Community Updates
HAAC and The Black Cultural Centre Community Update on Coronavirus COVID-19
On March 20 at 5pm, the Health Association of African Canadians (HAAC), in collaboration with The Black Cultural Centre, led a Zoom call to our membership, our network and your networks, to update People of African Ancestry with respect to COVID 19. To link to Zoom call, click here...

The call featured Deputy Chief Medical Officer of Health, Dr. Gaynor Watson-Creed and Drs David Haase, Jacob Cookey and Ron Milne and be hosted by HAAC Co-President, Sharon Davis-Murdoch and Rhonda Atwell, the new NSHA African Nova Scotian Health Consultant.

The aim of the Zoom call was threefold:
- To provide a safe space with culturally competent and responsive clinical leaders and HAAC members who will address the connections between the virus and our mental, physical and spiritual health
- To inform, educate and dispel myths populating social media about the virus and its impact on Black People;
- To step up as NS's only Black Health Organization, reach out to our People including those from urban or rural areas, from different income and educational levels, seniors and adults of all ages to let them know that we are a place of support.  
Where's the Chair?
June 2020