There's a new home for Black studies research at Dalhousie and OmiSoore Dryden wants everyone engaged in the field to feel welcome — regardless of their area of specialty.

"The Black Studies Research Institute is not faculty specific. It is a pan-university institute centering transdisciplinary and interdisciplinary research in Black studies" says Dr. Dryden, the James R. Johnston Chair in Black Canadian Studies at Dal.

The institute, approved last month by the university's Senate and Board of Governors, will serve as a centre of excellence supporting the work of established and emerging Black scholars.

By forging a robust and interdisciplinary research agenda, BSRI will encourage researchers to work across academic fields, including medicine and sciences, which often fall outside of the traditional scope of Black studies.

"We wanted to create a space where those doing Black studies in science, for instance, and those Black scientists interested in expanding their work to really engage in Black studies would have a place to engage with their inquiries," says Dr. Dryden, a Faculty of Medicine representative on Senate who championed the creation of the institute along with Keisha Jefferies, a Dal PhD candidate in Nursing who served as co-chair of the BSRI committee.

While Black studies as a field is often focused in the humanities and social sciences, BSRI — in centering the scholarship and research of the sciences — will create valuable new connections and discoveries.

"We hope that by creating an interdisciplinary environment focused on the social, political, historical, cultural, and economic experiences of Black Diasporic and African Nova Scotian communities, BSRI will foster the development of transdisciplinary areas of study that are not currently highlighted within the sciences," says Dr. Dryden.
Filling a missing academic gap

As the Johnston Chair since 2019, Dr. Dryden has joined others at Dal who have been advocating for growing Black studies research. But the quest to build an institute gained newfound momentum last June after she presented the idea for consideration at Senate in the wake of George Floyd's death and the resurgence of the Black Lives Matter movement globally.

Work commenced on a plan for the institute and a formal motion for approval was presented to Senate in November of this year, which gained full support. The Board followed suit days later.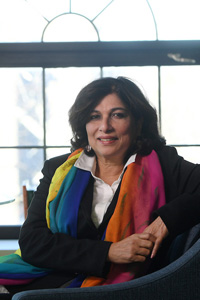 "The BSRI is a direct action to meet a missing academic gap two hundred years in making here at Dalhousie," says Theresa Rajack-Talley (shown left), Dal's vice-provost of equity and inclusion and a key partner of Dr. Dryden's on the institute.

Dr. Rajack-Talley says BSRI, like similar institutes at other universities and colleges, is the result of the commitment, passion and hard work of Black studies scholars at Dal over decades and fits well into the university's broader strategic goals now.

"It may be decades late, but BSRI aligns well with our Dalhousie's strategic plan and the signing of the Scarborough Charter on anti-Black racism and Black inclusion," says Dr. Rajack-Talley. "Dalhousie stands ready to be a leader in diversity, equity and inclusive research excellence."

Learn more: Dal joins 40+ post-secondary institutions in Canada in signing the Scarborough Charter
Diverse voices, relevant research

BSRI's transdisciplinary approach will amplify Black diasporic research areas in Black Studies, particularly African, Caribbean and Black research scholarship and communities; African Nova Scotian research, scholarship and communities; Black STEM research; and Black feminist, queer and trans research, scholarship and communities.

The institute will develop and disseminate publications, host symposia and lecture series and facilitate applications for large-scale research grants. It will also facilitate and support the development of distinct research clusters related to:
•    African Nova Scotian/Black Scotian Histories, Traditions and Methods of Knowing
•    Black Science, Technology, Engineering and Mathematics
•    Black Feminist, Queer and Trans Studies
•    Black Diasporic/Transnational Studies/Histories, including Black Histories and perspectives in Canada
•    Black Disability Studies
•    Black Innovation
•    Pan-African Social and Political Thought
•    Black studies across all of Dalhousie's faculties.
"BSRI offers an opportunity for Dalhousie to continue its role as a leader in Black studies research by establishing a robust and diverse institute that stands apart nationally and internationally due to its holistic and interdisciplinary embrace of Black studies," says Frank Harvey, provost and vice-president academic at Dal.

With approval now in hand, Dr. Dryden and colleagues in Faculties across the university will work to get the institute up and running.

Alice Aiken, Dal's vice-president research and innovation, eagerly anticipates the institute's broader impact.

"BSRI will provide a community and platform for African, Caribbean and Black researchers, including African Nova Scotian researchers and those researchers engaged in Black studies. It will serve as an interdisciplinary hub for researchers within Dalhousie, across the Atlantic region, Canada and globally," says Dr. Aiken.
Learn more: Tackling anti-Black racism in health care and education
Another layer of support for Black studies

BSRI adds yet another important layer in Dal's approach to advancing Black studies, one that takes cues from as far back as the Dal-commissioned Breaking Barriers report from 1989.

That report and other Dal studies that came after it — such as the 2015 report from the Committee on Aboriginal and Black/African Canadian Student Access and Retention, the 2019 Report on Lord Dalhousie's History on Slavery and Race, and the recently completed African Nova Scotian Strategy Overview and Recommendations (2021)— all provided guidance to the university in developing Black Studies as a field.

The university was also the first in Canada to host an endowed national research scholar chair in Black studies with the creation of the James R. Johnston Chair in Black Canadian Studies in the 1990s. (Dr. Dryden, the fourth Johnston Chair, is planning an anniversary series next year to highlight the influence of each chair on the field.)

With BSRI, the university creates an even more robust environment for Black studies where Black scholars and researchers of all disciplines can thrive.  

"We are proud of this latest step by Dalhousie to advance Black studies in Atlantic Canada," says Dal President Deep Saini. "Launching BSRI builds on years of momentum in the field at Dalhousie and will further our impact as a civic university. We commend Dr. Dryden and the BSRI committee for this work to bring the new institute to fruition."
Learn more: Breaking Barriers, 30 years later (DAL Magazine)