Like many of us, when Her Excellency the Right Honourable Michaëlle Jean reads the news these days, she sees fear, uncertainty and volatility.

"I'm very worried about the global trend I see sweeping the globe," said Mme. Jean, former Governor General of Canada and 2019 Dal honorary degree recipient, speaking on campus Wednesday night (Oct. 16). "I'm disconcerted, deeply concerned, because our heritage — the cultural compassion and togetherness we took centuries to build, through so much conflict and pain — is being challenged at an unprecedented scale, up to the highest level of nation states, now reaching global institutions like the UN.

"If we let this madness run its course, the costs are going to be staggering and long lasting. Failure to act and act quickly will be deadly. We cannot afford to let emotional manipulation and populist demography undermine our hard-won humanistic values."

The perpetrators of these ills were not mentioned by name, but surely obvious to the hundreds of attendees gathered in the McInnes Room to hear Mme. Jean deliver this year's Shaar Shalom Lecture at Dalhousie University.
Yet Mme. Jean's powerful talk defiantly refused to dwell on these ills, instead turning its attention to hope — how a belief our shared humanity can serve as "inner resistance to the current state of affairs." Hope, Mme. Jean said, is our "commitment to play an active role in an ever-changing world."

Our capacity for compassion

Mme. Jean's talk, titled "Shared Humanity: Generating Hope in an Era of Despair," was the latest in the continuing Shaar Shalom Lecture series. It was also promoted as an Open Dialogue event, offering an opportunity for the Dalhousie community to engage in meaningful and thoughtful discussion.
A partnership between the Faculty of Arts and Social Sciences and the Shaar Shalom Synagogue in Halifax, the Shaar Shalom Lecture has welcomed speakers such as Lawrence Hill, Stephen Lewis and the Honourable Roméo Dallaire since its launch in 2015. The series explores broad themes of tolerance, multiculturalism, diversity and difference in contemporary Canadian society as well as in the United States and globally.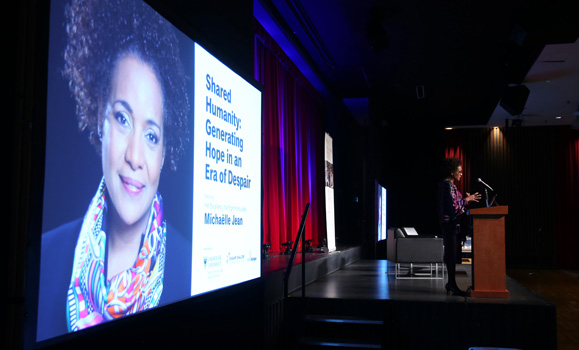 Frank Harvey, dean of the Faculty of Arts and Sciences, noted how pressing these values are when institutions and leaders relied upon to defend them are failing, or led by individuals who celebrate and exploit intolerance, division, self-interest and isolationism.

"That is why this lecture series and the arts, humanities and social sciences faculties that sponsor [it] are so vital," said Dr. Harvey in his introductory remarks. "And that is why we are so grateful to the anonymous donor and the Shaar Shalom Synagogue and community for their partnership and very generous support in sponsoring this lecture."

Taking the stage following a prayer from Elder Geri Musqua-LeBlanc and a stirring poem from Professor and Halifax Poet Laureate Afua Cooper, Mme. Jean noted how legacies of struggle for Indigenous, Black and Jewish peoples are part of a broader human fabric — shared history that shows how "we're all in the same boat."

"Our capacity for compassion, the ability to identify with others, to suffer and act together, is the glue that holds society together," she said. "Given the smallest chance, that capacity, that compassion, will always overcome bigotry and narrowness of mind.

"We need to be able to say, 'My humanity is bound up with yours. I am because we are.'"

The inspiration of "Generation Hope"

Is it possible to maintain that shared humanity in a time of polarization, rising intolerance and the looming threat of climate change?

"With our eyes open, despair is hard to avoid," said Mme. Jean. "A sense of gloom is becoming generalized. The erosion of trust is reaching nearly unprecedented levels… We feel the disaster coming."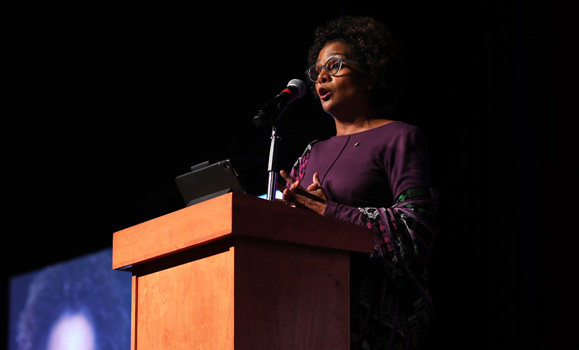 So where does she find hope? She finds it in emerging climate activists like Greta Thunberg. She finds it in the "daring collective entrepreneurs" she meets in Haiti (where she was born), pulling together to form cooperatives and associations for their cocoa and coffee. And she finds it in young people unwavering in their quest for a better world — the students and youth she calls "Generation Hope."

"We are witnessing the birth of a worldwide mass mobilization led by young people around the globe, by the millions," she said. "They demand accountability, clamoring for action commensurate with the scale of the problem on a timescale proportionate with the urgency."

It's in Generation Hope where Mme. Jean says she pins her hopes. That hope inspires work of her namesake foundation, which uses the arts to inspire dialogue, community mobilization and social change. Hope also drives her work helping organize National Black Canadians Summit, which on Thursday she announced would be heading to Halifax in 2020 with a plan to draft what is being called the Nova Scotia Appeal — a call and a plan to eliminate discrimination in Canada.

Bold idea? Hopeful idea? Perhaps — but decidedly the point.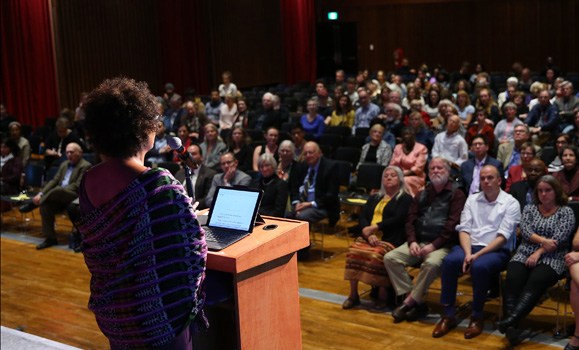 "History has always been a life-and-death contest, a difficult balancing act between the ground zero of despair and the zenith of hope — now especially so," said Mme. Jean. "The capacity to balance both gloomy despair and bright hope has been central to the intimate lives of change makers.

"Let's join together and do it," she concluded. "Let's join together with Generation Hope. Once unity and the taking in the beauty of our diversity brings us out from the depth of despair into the light of hope, all of us will be surprised to see how many of us there are, and how quickly we can turn this world around. In this I believe."