As Hurricane Dorian whipped its way towards Nova Scotia late last week, a team of individuals from across the Dal community sprang into action to prepare for the worst.

Reports of Dorian's brutal toll on the Bahamas and its strength as a category one hurricane taking aim squarely at Atlantic Canada left no doubt it was a storm worth taking seriously.

Tradespeople were called onto campus early, generators filled with fuel, drains and gutters cleared, trees pruned, and scaffolding and other items inspected and secured — all well before Dorian made landfall early Saturday afternoon.

Running such a well-oiled operation required asking two important questions, according to those involved in the preparations and response: what is the worst that could go wrong during this storm and how can we lessen its potential impact?

The preparations paid off for the university, which emerged from the storm relatively unscathed.

"There was no real serious damage to infrastructure or buildings," says Mike Burns, who is Dal's director of security services and who served as operational lead for storm planning and response.

While some shingles were lifted from a roof on Studley Campus, siding torn from a building on Sexton Campus, and nine trees toppled, damage to university property — including the Agricultural Campus in Truro — was fairly minimal overall.
Monitoring a changing situation

Students and staff were kept fully in the loop before, during and after the storm about preparations, closures and responses through email memos and the DalSafe app, which is the university's official channel for safety and storm-response communications.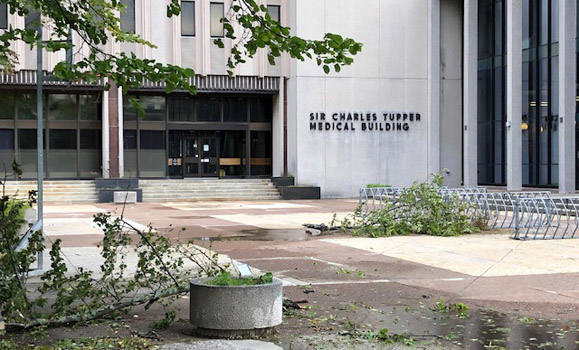 For Burns, Dal's storm planning and response required an ability to be nimble and to respond quickly to changing developments. On Friday morning, for instance, the university found out Halifax Transit would be shutting down mid-day on Saturday due to the storm, something that altered the university's plan as the storm approached.

"It wasn't a big deal, but it changed how we were viewing Saturday. At one point, we were thinking we could stay open until mid-day, but without transit it would expose our custodians and others who work the weekends to risk that they might get stuck at Dal," he says.

And it was that dedication to the safety and security of the Dal community that drove the university's response as the emergency operations team worked hour by hour — with hundreds of phone calls exchanged and twice-daily conference calls with emergency ops — to manage the response.

When power outages hit all of Dal's Halifax campuses and its Agricultural Campus in Truro mid-day on Saturday, students in residence could rest assured that they would be kept warm, dry and well fed because the university's generators were primed up to keep the power on throughout the storm.

"Most of our buildings are on generators, so the students still had power and we were able to make sure they got fed," says Linda Parker, director of Residence and Conference operations for Ancillary Services. Power was restored to most of the university by mid-day on Sunday.
Enabling a quick response

And when it came time to clean up debris and other safety hazards after the worst of the storm had blown over, preparations made by the university's grounds team made sure it happened quickly.

Mike Wilkinson, who manages grounds staff among other duties as environmental services manager with Facilities Management, contacted a contractor before the storm hit to place a crew on standby to help with cleanup.

"We had three guys, three saws and a truck with a chipper. They had all that ready to go, and I got hold of them on Sunday morning. By 8 a.m., they were in cutting up the first one," says Wilkison.

Wilkinson worked along with other Facilities Management and Security Services leaders such as Jake MacIsaac, Darrell Boutilier, Gord Rines and Jason Penney (on the Ag Campus) to ensure all buildings and grounds were safe during and after the storm, while troubleshooting on-the-ground responses for those members of the Dal community (largely students) who remained on campus.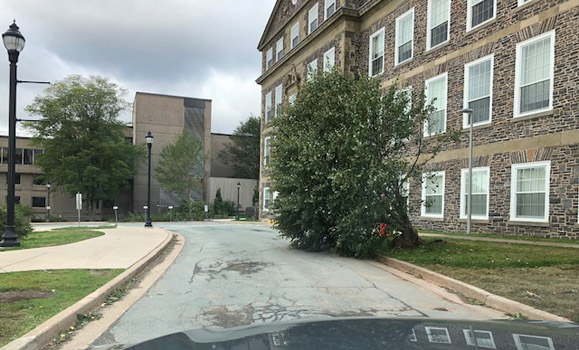 While the university is still finishing clean up, investigating for any other damages, and awaiting power restoration in three small buildings on Studley Campus, Dal's campuses have mostly returned to normal now — a credit to the dozens of individuals involved. From staff members in Facilities Management (including custodial teams), Security Services, Anciallary Services, Residence Life, Food Services, Health And Safety, and Communications and Marketing up to Ian Nason, Dal's vice-president of finance and administration, Dal's Dorian response was a team effort.

And as people adjust to life again post-Dorian, MacIsaac is keen to point out that it was this group effort — which included the broader Dal community, students included — that enabled Dal to keep its community safe and sound.

"We've got the planning, we've got the response, we've got the recovery, but then in the mitigation phase we need the community to step up. And people did."