Joseli Macedo has worked as an architect, an urban planner and an academic across four continents and five countries.

"Some of it was serendipity, some of it was for family reasons, and some of it was just the path that was available to me," she says of her career's journey. "These things happen as opportunities present themselves, and you go with the flow or not."

"I can't see a challenge that I don't want to tackle," she adds. "It's just my personality."

Her newest challenge: dean of Dalhousie's Faculty of Architecture and Planning. Dr. Macedo is set to become dean on July 1, following the 11-year tenure of outgoing Dean Christine Macy.

"During my first few months, my priority will be listening and learning," she says. "I need to learn the Faculty and the Schools within the Faculty, and the rest of the university as well. Even though I've been here since January, it's a different vantage point from the dean's position."

Early impressions?

"The students: they're amazing. They're so energetic, so interested, and they have so much hope for the future. There's so much to be cautious and afraid of in this day and age that it gives me renewed energy when I talk to students and I realize that they're so full of hope, so certain that they can overcome any problem that the world throws their way. It's really encouraging."

Brazil and beyond

Dr. Macedo comes to Dalhousie from Australia, where she was head of the School of Design and the Built Environment at Curtin University. But her story begins in Brazil, where she was born, raised and educated in Curitiba, the capital city of the state of Paraná. Less than two hours from the Atlantic Ocean, the city's coastal adjacency had Dr. Macedo dreaming of being an oceanographer when she was young. But at that time, there was no school of oceanography in her hometown.

Instead, having always enjoyed design and drawing, she decided to pursue a degree in Architecture and Urbanism at the Federal University of Paraná. Though she would eventually work for a time as a practising architect, it was the urbanism part of the experience that inspired much of her career that followed.

"The experience I had with architecture, because of the tradition of modernism in Brazil and the way architecture was done and taught at the time I was in school there, it was that architects built buildings as monuments to themselves, with little regard for the occupants of the buildings."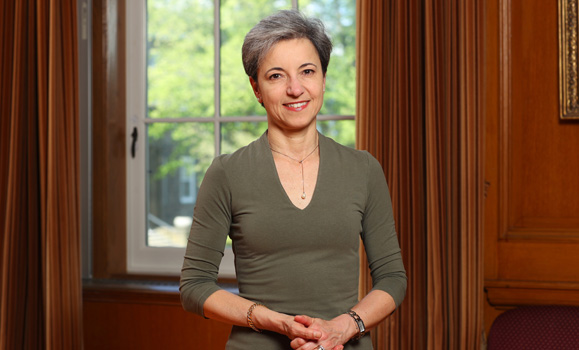 "In city planning, I found everything was about people: you look at the demographics before you start planning for any place, you look at economic development and livelihoods, you look at the natural environment. And all that tells you how to build a city for people to work, live and play in."

As she moved to the United States and Cincinnati for graduate work, she began to develop a research program focused on informal housing, with a particular eye towards the favelas in Brazil: makeshift communities in urban centres shaped by poverty, homelessness and substandard living conditions. "They're a feature of every city you to go. You can't not see them. I was very interested in trying to, if not resolve, then at least mitigate, that problem."

It's research that's led her from housing finance and land policy concerns into deep exploration of environmental impacts. And it also brought her deeper into academia and administration, first in Paraná and then at the University of Florida, where she earned her PhD in International Development Planning and taught for 12 years. She even did consulting work for the World Bank for a time, and also worked in India on a Fulbright-Nehru fellowship.

Motivated to make a difference at Dal

In 2016, she left Florida for Australia, motivated by the chance to do something different. At Curtin University, she led a school of substantial size: 100 full-time academic staff, 30 professional staff, and 180 part-time teaching staff.

"There were 2,700 students when I started, 3,000 when I left, with seven different programs," she says. "It was an amazing challenge, and an amazing learning experience because not only did I learn a different university system, I learned a different country. It was the first time I had to do that simultaneously."

She made the decision to come to Canada and join the School of Planning at Dal as a faculty member when her partner, Teri Balser, was hired as Dalhousie's Provost and Vice-President Academic last fall. It was around that same time that the university began the search for the Faculty's next dean, and Dr. Macedo decided to throw her hat into the ring. (Note: the search process for the Dean of Architecture and Planning was chaired by Chris Moore, dean of the Faculty of Science, who had served as acting provost. Also, in accordance with the university's conflict of interest policy, Dr. Macedo will report directly to the President.)

"Dalhousie is a different-sized university than the places I've spent most of my career," she says. "Having worked at [the University of] Florida, which is a tier-one American research university, and having worked in Australia in a very large university with a different approach to education, I thought I could bring to Dalhousie these different perspectives, taking advantage of these different ways of doing things."
Dr. Macedo is excited to begin her tenure as dean, and eager to dive deeper into the work of the Faculty — in particular, the close relationship between its two schools and the Halifax community.
"I've always been fascinated by coastal environments. I grew up on the Atlantic, so to me, it's like being back home — in a colder fashion," she says with a laugh.

"Halifax has great potential. And I think Dalhousie has a huge role to play in the destiny of the city."
On setting a vision…
I am a very democratic person… I don't think it's my place to create a vision for the Faculty that is completely detached form the vision of those who are part of the Faculty. I need to learn from them, and hear from them, what their priorities are, where they'd like to see the Faculty going. Then it's about taking all that information — and taking into consideration economic climate and trends in education and trends in technology and trends globally — taking all that into consideration, and setting a path forward.
On exploration…
"When I'm in a new city, I walk all over. I study the city that way; it's how I observe and learn."
Five questions
When you were a student, what was your favourite course?
Maths. I've always had a passion for numbers and patterns and have always enjoyed figuring out equations, formulas and puzzles. I also enjoyed calculus, geometry and physics.
 
What's your favourite hobby or pastime?
Anything to do with water. Swimming, rowing, canoeing, fishing, going to the beach. I also find gardening and cooking very therapeutic.
 
Who is a mentor or leader that's inspired you in your life or career?
I've had so many along the way. Some inspired me by being amazing role models and showing a road map that was accessible to a young female aspiring professional. Some invested their time and energy on me and talked me through hard times. Others simply believed in me and by doing so gave me the confidence to move on.
 
If you could only bring one artist's music with you to a desert island, who would it be?
No one. I would be more interested in listening to and learning the sounds of the desert island.
 
If you could have dinner with one person — living, deceased or fictional — who would it be and why?
My father. I would give anything to have one more dinner, or better yet, a couple of scotches with him.