It was a night that began with Mayor Mike Savage proclaiming the day (Friday, September 28) to be "Dalhousie Alumni and Friends Day" in Halifax. It ended with Dal President Richard Florizone announcing that the Dalhousie Arts Centre expansion was set to begin construction on Monday morning, having raised $33.6 million out of its $38.5 million budget.
Those community connections bookended the Ignite gala dinner — the marquee event of Homecoming 2018 and a key milestone in Dal's 200th anniversary celebrations, taking place before a capacity crowd of 1,200 guests at the new Halifax Convention Centre. But at the heart of the event was the impact that Dal teaching and research is poised to make in its third century not just in Halifax or Nova Scotia, but across the country and around the world.
"Tonight, we look to that future — to our next 100 years, to our third century," said President Florizone in his opening remarks. "It's a future unwritten, but one that is being penned each and every day across our campuses, powered by the achievements you're seeing from Dalhousie today."
Groundbreaking research, global impact

That was made clear by the three research spotlights spread throughout the dinner, each of which highlighted groundbreaking Dal projects responding directly to global challenges like climate change, food insecurity and debilitating cancers and disease.
Take, for example, Chemistry Professor Mita Dasog, who shared how her lab is developing ways to store solar energy in chemical bonds using water — similar to the same way plants conduct photosynthesis. Right now, the materials required to do this are rare and expensive (like platinum) but by discovering replacement materials that are abundant and cheap the lab is working towards obtaining a limitless and completely green source of energy. (Dr. Dasog brought a bottle of water to show how little water it would take to satisfy an individiual's daily energy demand this way.)

"Think about what that will mean — not just supporting us in our day to day lives but enabling future technologies that we can only dream of today," said Dr. Dasog. "That's the future we're helping build here at Dalhousie University and I'm so excited to be part of it."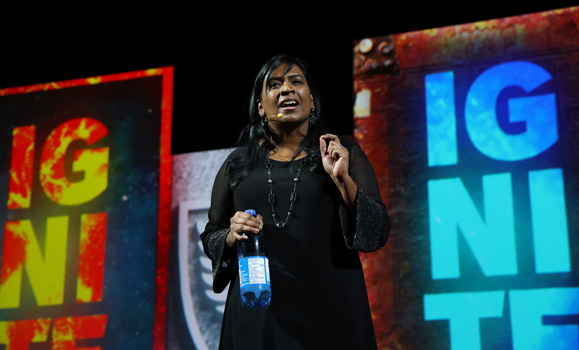 The second research spotlight took the audience on a trip around the world to Ethiopia, where Dal's Faculty of Agriculture is currently leading one of the largest international development projects ever awarded to a Canadian university. Called ATTSVE (Agricultural Transformation through Stronger Vocational Education), it's helping revolutionize agricultural education in a country where 80-85 per cent of the population is employed in agriculture but still struggles with food insecurity and poverty.
"ATTSVE is about Dalhousie experts and partners empowering women and men to reshape agricultural education to create entrepreneurs, strengthen support to farming communities and improve production," said Project Coordinator Hannah Pugh, who spoke alongside fourth-year Bioveterinary Science student Maddie Empey, who had the opportunity to work in Ethiopia this past summer.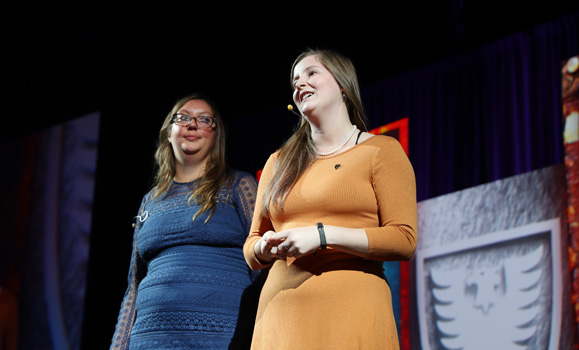 "It was amazing to see firsthand how ATTSVE has supported colleges and students in Ethiopia to make a difference and improving agriculture for the future," said Empey.
Dreaming of a better future

And there was nary a dry eye in the house for the final research story of the night, as Dr. Jason Berman of the Department of Pediatrics (also an attending physician and interim vice-president of research at the IWK Health Centre) took the stage together with the Disney family, including 13-year-old Grace.
Grace was diagnosed with acute promyelocytic leukemia (APL), a rare leukemia that once carried a very guarded prognosis even with the most aggressive therapy. She became the first child treated in Atlantic Canada with an innovative approach without chemotherapy — a molecularly targeted therapy built on research conducted in Dal's Zebrafish Core Facility, which uses tiny zebrafish as a model to study and treat various diseases, including cancers.
Today, Grace is cancer-free. Her mother, Nicola, spoke about how believes in the power of research to help people live better lives, "because our daughter is living proof" — a comment that earned a standing ovation from the capacity crowd.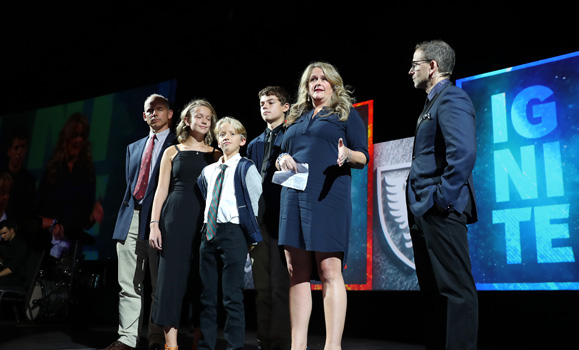 "It is children like Grace and families like the Disneys that motivate our research," said Dr. Berman, adding: "I mean with a name like Disney, how can you not be inspired to dream of better and safer cancer treatments in the future?"

"Better than before"

The Ignite event was co-hosted by recent Fountain School of Performing Arts graduates Claudia Gutierrez (Class of 2018) and Zac Comeau (Class of 2017).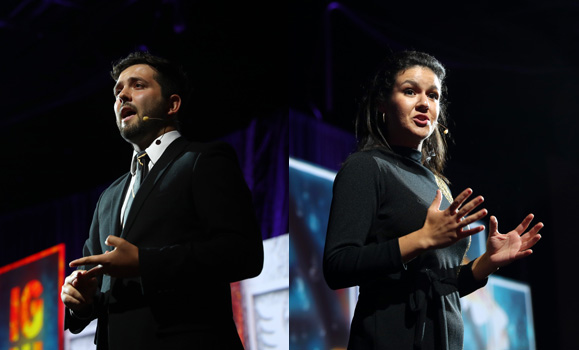 "Dalhousie has such an important role to play here in Atlantic Canada — as an innovator, as a research leader, as a community builder, as a hub to bring people together and inspire great things," said Gutierrez, summing up the evening's themes.
"The talent and creativity it takes to change our world for the better is here, at Dalhousie, in Nova Scotia and Atlantic Canada — and it's only growing stronger," added Comeau.
That was evident not just in the event's research stories, but in the music and performance that surrounded them. Each of the featured videos was soundtrack live, with original music by composed by Fountain School faculty member Tim Crofts, recent grad Neven Prostran and current student Taylor MacGillivray.
And the performing arts took centre stage at the evening's conclusion, as President Richard Florizone shared an enthusiastic update on Dal's Performing Arts Campaign that will support the expansion and revitalization of the Dalhousie Arts Centre.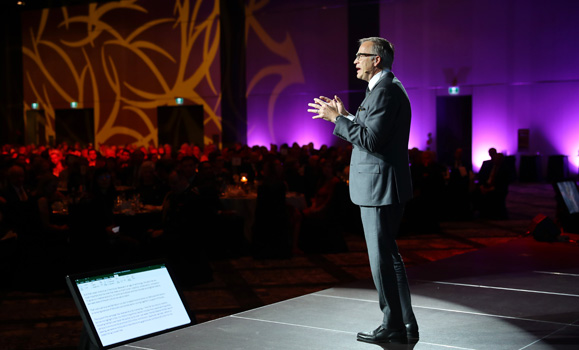 Less than a week after Premier Stephen McNeil was on campus to announce the province's $10-million contribution to the effort, President Florizone announced a $2-million donation from campaign chair Rob Steele. He then announced a matching gift from honorary co-chairs Fred & Elizabeth Fountain, whose name adorns the Fountain School of Performing Arts. And he concluded with an announcement that, with $33.6 million raised, the expansion was set to break ground Monday morning — news that earned a huge cheer from the crowd.

"We're proud to be part of making our region a world-class performing arts destination," said President Florizone. "Let's work together for the students and artists of today — and don't stop thinking about tomorrow either!"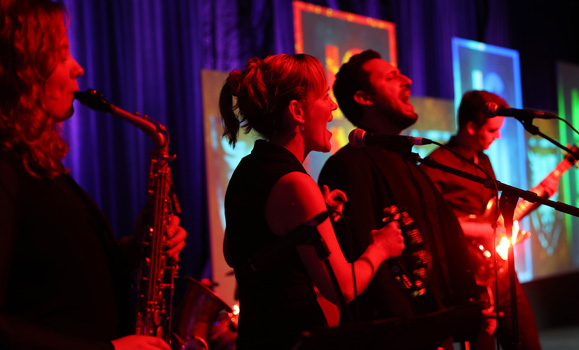 That cue prompted the live band — now with Lucas Hernandes and Jessica Mailhoit on vocals (as well as Lukas Pearse, Matt Gallant and Chris Mitchell) — to launch into a spirited rendition of Fleetwood Mac's "Don't Stop." Doing their best Lindsay Buckingham and Christie McVie, Hersandes and Mailhoit sang, "Just think what tomorrow will do."
Following Ignite, it was hard not to.