Ethiopia ATTSVE
Agricultural Transformation Through Stronger Vocational Education (ATTSVE)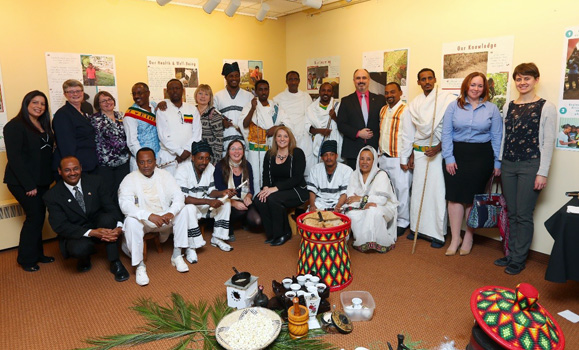 Photo: Nick Pearce Photos
ATTSVE Team
"Projects like this bring us together to face our challenges together.  Agriculture is a global industry, and we are a global community." Dr. David Gray, Dean, Dalhousie Faculty of Agriculture
Description:  Agricultural Transformation through Stronger Vocational Education (ATTSVE), one of the largest international development projects ever awarded to a Canadian university, will focus on enhancing current Ethiopian agricultural education programs available at agricultural colleges. Its goal is to help evolve the country's agricultural practices and education beyond its subsistence-based foundation towards a market-focused system that better supports not only the economic strength of the country and its citizens, but also the unique needs of farmers, rural youth, the agri-industry and the broader rural communities.
Currently, most agriculture technical and vocational training (ATVET) colleges in Ethiopia are located in rural areas and focus largely on competency-based learning. What they're increasingly interested in, though, is programming that emphasizes rural growth through agriculture. They recognize that more emphasis is needed on marketing and entrepreneurship, as well as curriculum development and content delivery.
Quick Facts
Primary Goal: To increase the supply of male and female graduates from the selected ATVET colleges who have the necessary skills and knowledge required by the labour market, to develop the commercial agriculture sector in Ethiopia. The Faculty of Agriculture and other implementing partners will use their expertise in applied learning models to support Ethiopian instructors in delivering education programs aligned with the country's national priorities.

Focus: Four colleges: Maichew (Tigray region) Nejo (Oromia region), Woreta (Amhara region) and Wolaita Soddo (SNNPR)
Funding: The project is funded by the Government of Canada through the Department of Foreign Affairs, Trade and Development (DFATD) and their contribution to the project is approximately $18 million CAD.
Length of Project: 5 and 1/2 years (including inception mission and wrap-up), from March 2014 to December 2019.
Expected Results: Increased capacity at the ATVET colleges in a variety of areas, including strategic planning, gender mainstreaming, environmental management, business development and income generation. There will also be increased instructor development and training, new curriculum, more opportunities for institutional networking and partnerships, and improved infrastructure, ICT, library and laboratory facilities. There will also be increased relationships between Ethiopia and Canada research collaboration opportunities, a special topics course and student internship opportunities in Ethiopia.