News
»
Go to news main
Uganda Skills Development Project (USDP) Launch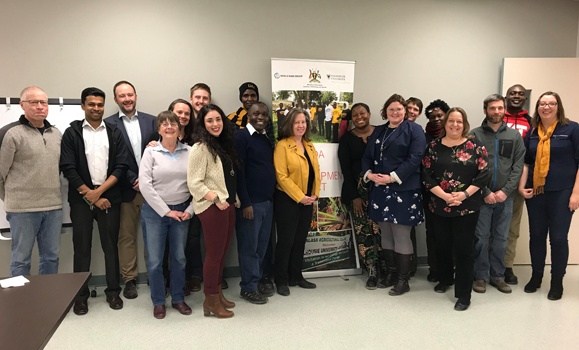 On March 8th, visiting Instructors from Uganda's Bukalasa Agricultural College (BAC), together with their colleagues from Dalhousie's Faculty of Agriculture, launched the Uganda Skills Development Project, a World Bank funded twinning exercise between the two institutions.
The project, which runs from 2018-21, will see Dalhousie and BAC work together to establish the latter as a Centre of Excellence in competency based education and training (CBET).
The project launch brought together over 50 Dalhousie Faculty members,  staff and students who have participated in USDP activities, or intend to in the future and presented achievements and next steps.  
Dean David Gray presented Certificates of Achievement to the five visiting instructors from Uganda who were engaged in a two-week curriculum training from February 24-March 10.
Reinforcing one of the project's main themes of self-sustainability, Dr. Gray stated that "the curriculum being finalized for BAC maintains an entrepreneurial focus that will produce job-creators for Uganda's agricultural sector, not just job seekers."