The Province of Nova Scotia has signed on to play a leading role in the $38.5-million expansion and revitalization of the Dalhousie Arts Centre — a project partners say will pay cultural dividends well into the future.

Premier Stephen McNeil took the floor in the Centre's Sir James Dunn Theatre Wednesday morning (Sept. 19) to announce his government's $10-million contribution to Dal's Performing Arts Campaign.

"When you go beyond this province and you talk to people about Nova Scotia, they talk about our culture, they talk about performing arts, they talk about the musicians," said Premier McNeil.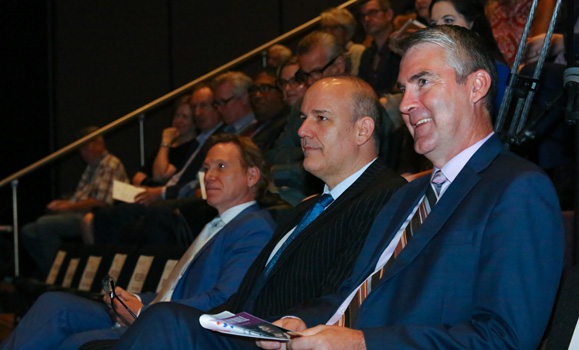 Premier McNeil (right) with Minister of Labour and Advanced Education Labi Kousoulis (middle) and Performing Arts Campaign Chair Rob Steele.
"It is important that we as a government partner with Dalhousie and the private sector to ensure that we have world-class facilities, not only for our own sons and daughters but for the many, many children from around the world who choose Dalhousie, Nova Scotia and Atlantic Canada as the place for them to educate and discover who they are."

The Dalhousie Arts Centre is home to the Fountain School of Performing Arts and has played a pivotal role in supporting the sector in Atlantic Canada for nearly 50 years, both as a training ground for students and as a top performance hub for well-known touring artists from around the world. More than 150,000 people watch performances on its stages each year.

Expanding performing arts excellence

Dal's campaign aims to build on that value with several marquee physical enhancements and additions to the nearly 50-year-old building.


Perhaps most noticeable will be the addition of an entire new wing on the centre that will feature state-of-the-art practice, rehearsal and studio spaces where students can hone their talents as well as a brand new, world-class, 300-seat concert hall made possible through a $5-million donation from the late Morris Strug.

The project will also have a major academic impact by fueling cross-disciplinary learning and finally bringing all programs of the Fountain School under one roof, including the Costume Studies program — currently housed in a building off campus.

"The campaign overall will set a new standard for performing arts education here at our Fountain School of Performing Arts, contributing to the vibrancy of our regional and national cultural sector," said Dal President Richard Florizone, who served as MC for the event.

Several practical enhancements will also be made to existing facilities, including improvements to air quality and physical accessibility throughout. Halifax-based Lydon Lynch and Thomas Payne Architect of Toronto are working with Dal on the project, with Rick Talaske of TALASKE designing acoustics for the concert hall.
Learn more: Performing Arts Campaign website
Nurturing talent, creating opportunities

The province's contribution adds a nice boost to the campaign, which has already received a $9.6-million commitment from Dal and significant private sector support including the $5-million concert hall gift.

The university has a strong support network championing the campaign, including a performing artists cabinet featuring honorary chair Sarah McLachlan as well as a campaign cabinet led by local business leader Rob Steele.

Steele, who was named chair of the Performing Arts campaign in May, said the project will help attract and grow young performing artists in the region, develop new audiences, and provide more exceptional performances.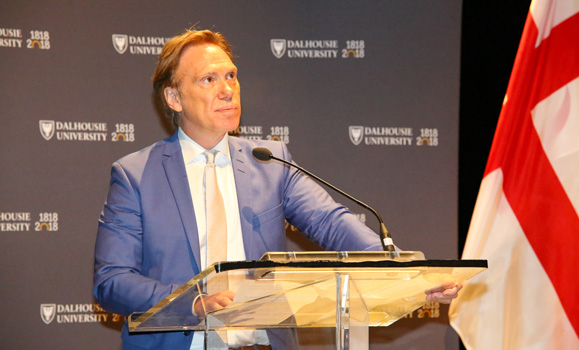 "Great talent must be supported and nurtured," said Steele (pictured). "This requires excellent education programs, strong arts organizations, spaces to develop and refine new work, and venues to present the work to audiences."

Steele noted that in addition to volunteering their time and knowledge to the campaign, all cabinet members have also made financial commitments to support the project.

Honourary campaign co-chairs Fred and Elizabeth Fountain were also in attendance at Wednesday's announcement. Their family's 2013 endowment led to the creation of the Fountain School.

Spotlighting student and community talent

Attendees at Wednesday's event had the chance to experience some of Dal's student talent, with captivating performances by three Fountain School students peppered throughout the morning's program.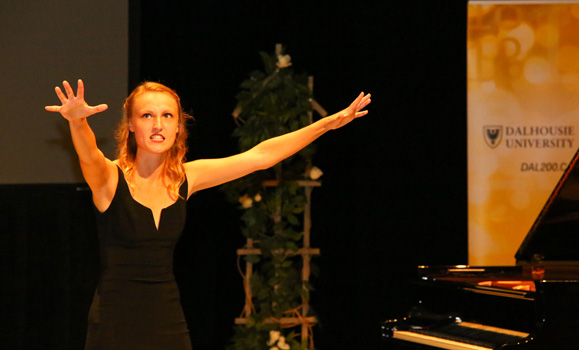 Student Meaghan Taverner performs.
Fourth-year Theatre student Meaghan Taverner performed Lady Macbeth's soliloquy from Shakespeare's Macbeth, fourth-year Music student Ruusu-Maaria Brousseau sang "Habañera" from Bizet's Carmen, and second-year Science major and Music minor Andrew Son played a rousing rendition of "Presto" from Chopin's Sonata in B minor.

Several other students were also on hand at the event to share a few words of their own appreciation for the Performing Arts Campaign. 

"I am so thankful to be a part of a community that is investing in young people's creativity and imagination," said third-year music composition student Isabelle Riche."I feel very privileged that I get to go to school here every day, when so many children and kids don't get that opportunity. And I'm so thankful for the expansion that's happening."

Other speakers at Wednesday's event included Raeesa Lalani, producer of the Prismatic Arts Festival, and Devin Huang, an 11-year-old junior pianist with the Kiwanis Music Festival who said it is "dream to play in the new Joseph Strug Concert Hall." Both festivals partner with the arts centre to offer programming.

"In this age of technology, it is the skills that make us most human that will be more important than ever: creativity, compassion, collaboration," said President Florizone in closing the announcement. "These enhancements to the Arts Centre will support our students in the Fountain School of Performing Arts, expand the impact of academic programs, and strengthen the environment for creativity and performance in the Maritimes for generations to come."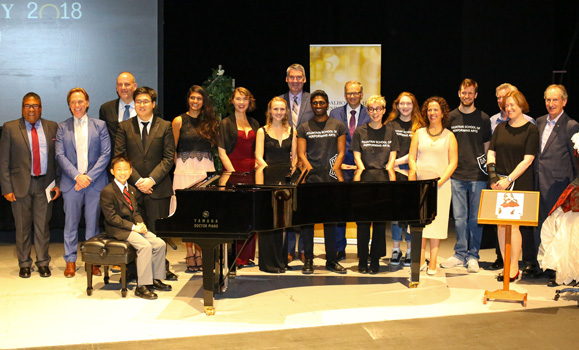 Performers and participants from the Performing Arts Campaign announcement event.
Learn more: Performing Arts Campaign website