This article is part of a series highlighting the Dalhousie Class of 2018 — the graduates of Dal's 200th year. Read more of our Spring Convocation grad profiles.
Mechanical Engineering student Stephen Robinson-Enebeli apologizes for the strong smell of coffee that hangs in the air of the third-floor computer lab. "A lot of late nights in here," he explains. 
Stephen, who graduates Wednesday, says it was those times spent working together with classmates that were his favourite part of the program. 
"There was a lot of collaboration. I mean, maybe there are some people who are smart enough to do it on their own but the Engineering program can be very hectic," he admits. "So, you find a lot of long-lasting friends during that journey because you've got to work together to get stuff done."
Transferrable skills

As with many upper-year Engineering students at Dalhousie, Stephen didn't start his program here. He transferred from Saint Mary's University through the Associated University Program, which accepts students into the third year of the Bachelor of Engineering program at Dalhousie once they've successfully completed the first two years of study at an associated university. "The first two years of the program are fairly general," he explains. "It's the same thing at Dal. And then everybody transfers to the third year where they specialize."
Stephen chose Mechanical Engineering, an interest that was sparked while watching a Discovery Channel show about mechanical engineers who were building cars. "I really wanted to do that," he recalls. 
"I really wanted to take science and apply it to something that everybody can use because it's one thing to know science and love science, it's another thing to use it to give it to other people."
Learning on the job

During his degree, Stephen participated in three co-op opportunities. His first stint at Metamaterial Technologies Inc. in Dartmouth got him involved with optics, an area he's going on to pursue through graduate studies. "I worked with lasers there and they were making optical films to block lasers for aviation pilots. I helped in the lab, I helped with the research and I helped setting up optical tables and optical equipment."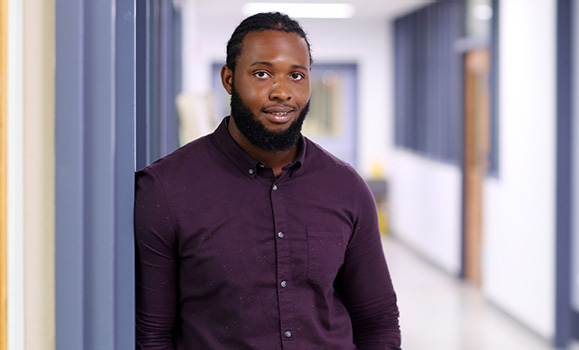 When reflecting on his positive co-op experiences he says it was worth the effort to add that additional dimension to his learning. "The co-op program is really good, if you put in the work. I applied for about 50 jobs in my first co-op until I landed one."
Helping in the community
 
The idea of putting in the work is something Stephen also applies to his community involvement — he was honoured with an Impact Award this year to acknowledge the work he's done outside of university. He's been involved with Pathways Spryfield as well as lending his time to help out with youth conferences at St. Michael's Parish and with the annual Africa Festival of Arts and Culture. 
"With Pathways Spryfield, I helped high school students in science and mathematics. A lot of people have this misunderstanding that science is hard," he explains. "I think if you decide something is hard, it's going to be hard. So, I tried my best to push them away from that mentality."
Appreciating science
 
In September, Stephen starts a master's degree focused on Nanotechnology at the University of Waterloo. He hopes to continue with research to discover new ways to make a difference through science. 
"I want to be able to bring advancements in science to our society," Stephen says. "I don't take my cell phone for granted. It started with basic science that built up over the years and now everybody has this object that they carry around with them and it all started with science. I know how much work was put into that advancement. I want to be able to contribute to that in my own way while I'm around. That's really my end goal, so I am doing more school."
Convocation reflections

While Stephen is excited to finish his degree, he's sorry he'll miss the opportunity to work in the new IDEA buildings. "I think with the resources they have, the professors really do their best but soon, it will be way better," he says. "The IDEA Project is a sign that the voice of the students is being heard and that's satisfying but I wish I would have been able to learn in the new buildings."
Stephen offers a few words of encouragement for current students who find themselves struggling to get through the work. "The Engineering degree was a journey and I feel like there were some times where you have to find within yourself whether this is what you want to do. Then when you have an end goal in mind you should always wake up and imagine that end goal," he recommends. 
"For me, I felt like there was a lot of push, push, push but with the team support and stuff like that — my friends supporting me and me supporting them — we all got through it. And the professors were there to help as well. We should collaborate with our professors a lot more like that because a lot of them are there to help."