News
»
Go to news main
IDEA Project Update
Posted by
Engineering Communications
on July 6, 2017 in
News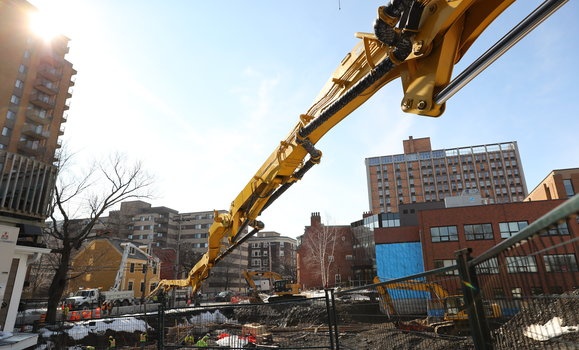 With files from Ryan McNutt and Matt Semansky
Every great advance, every big step forward, begins with an idea — or, in the case of Dalhousie's downtown Halifax campus, an "IDEA."

The acronym — which stands for "Innovation and Design in Engineering & Architecture" — is a familiar one to many in the Dal community. For several years, it's been used to describe planned future development on Sexton Campus to support Dal's Faculties of Engineering and Architecture & Planning.
Now, the IDEA Project,  has grown into a massive $64-million investment in Dal's downtown campus, thanks to support from donors, industry and the Government of Canada.
The IDEA Project, which began construction in the Fall of 2016, will not only revitalize Sexton Campus but truly transform it, making it the heart of Halifax's emerging innovation district.

THREE PILLARS FOR TRANSFORMATION

There are three core elements to the full scope of the IDEA project: new buildings; research and outreach hubs; and sustainability investments.

Two new academic buildings, totaling 86,000 sq. feet, will stretch across Sexton Campus from Morris Street towards the Halifax Central Library. The first, called the "Emera IDEA Building", will feature five state-of-the-art, student-centred workshops (including machine, working and prototyping shops) and a dedicated space to support both student entrepreneurship and external startups and industry.

The second, known as the "Design Building," will include a 450-seat auditorium and four new design studios for Architecture and Planning students. It will also be the future home for Dal's master's programs in Landscape Architecture (Halifax) and Community Design. The buildings will also support technology diversity programs.

The IDEA Project will also include R&D infrastructure renewal to create research and outreach hubs around three sectors: clean tech, oceans tech and advanced manufacturing. These hubs will provide faculty, students and industry/entrepreneurs alike with space and facilities for applied research, product development, collaboration and commercialization. The three areas not only align with the skills of Dal's researchers, but are all key sectors for Nova Scotia and the region: advanced manufacturing, for example, represents the largest output of any goods-producing sector in Nova Scotia ($2.7 billion in GDP), while revenues from the province's ocean tech sector has doubled in recent years.

One of the hubs that will be introduced will be the Emera ideaHUB: a working space designed to equip students with creative and entrepreneurial skills while also providing support to local start-up companies and small businesses. Housed in the Emera IDEA Building, theEmera ideaHUB is a partnership linking universities (including Acadia and NSCAD) with the corporate sector, entrepreneurs, venture capital and government.

The final element of IDEA is a set of sustainability programs that will enhance and support research opportunities while reducing greenhouse gas emissions and improving efficiency. These include a geothermal energy field to provide heating/cooling, solar PV installations, a green-roof teaching lab and more.    

A targeted completion date for the IDEA Project is spring 2018.
Take a look at some of our construction timeline photos:
EMERA IDEA BUILDING

A rendition of the exterior of one of two new buildings of the IDEA Project, dubbed the "Emera IDEA Building," as viewed from behind Gerrard Hall.

A bird's eye view of the building site. April 17

Handling the concrete shoot to pour the footings. February 2

Pouring the building's first walls, with a 42m pump truck. February 24

The foundation walls are formed with a preinsulated system called Thermomass. March 30
DESIGN BUILDING

A rendition of the exterior of one of two new buildings of the IDEA project, dubbed the "Design Building."

The 450 seat auditorium is taking shape. April 17

Extending the pump arm to pour the first walls. February 24

The walls for the core stairwell are half formed. March 7

Site preparation for the foundation of the new 450 seat auditorium. March 13