It's a scene so good you'd think she'd written it that way.

The setting: a darkened regional bus nearing the end of its journey from Charlottetown to Halifax. The protagonist: Dalhousie Mechanical Engineering student Nayani Jensen, homeward bound after a two-day interview process for the Maritime region's Rhodes Scholarships. The stakes: a cell phone with a quickly depleting battery — a device necessary to receive the life-changing news, if it came, that Nayani would be studying at the University of Oxford next year backed by arguably the most prestigious scholarship in the world.

The conflict: Santa Claus was coming to town.

Yes, the holiday season's most beloved benefactor was suddenly Nayani Jensen's biggest headache as Halifax's annual Parade of Lights was still weaving its way through the city streets, preventing her bus from reaching its destination station.

"I think we were a good 45 minutes on the bus, just driving around in circles," she says.

With no working outlets on board, Nayani had been jumping off the bus at nearly every town along the way in search of a few minutes of power, all in the hopes her phone would hold out long enough to get the hypothetical call. As the bus continued to circle the parade route, her cell phone battery nearing empty, all that work paid off: it rang.

"It was a really quiet bus, so I think everyone heard the news," she says.

And that's how a small contingent of very tired bus passengers became the first to learn that Nayani Jensen — a student who has managed to pen a novel and several plays alongside her co-op studies in Engineering — was about to become a Rhodes Scholar.
Leadership, compassion, commitment


In practical terms, being a Rhodes Scholar means the opportunity to pursue a degree at the University of Oxford, with a scholarship covering travel and study for two years with an option for a third (a total value in excess of $100,000). It also means joining a rather exclusive club: just 95 Rhodes Scholars are selected each year, only 11 of them from Canada.

But then there's the philosophy behind what the Rhodes Scholarship represents. It's not just about academics, and it's not just about extracurricular pursuits. It's an award that celebrates leadership, compassion, commitment to others and the potential to make a difference on the world stage.

That sums up Nayani Jensen, a Mechanical Engineering co-op student from Halifax who's also an author, a playwright, a musician, an environmental researcher and a community volunteer.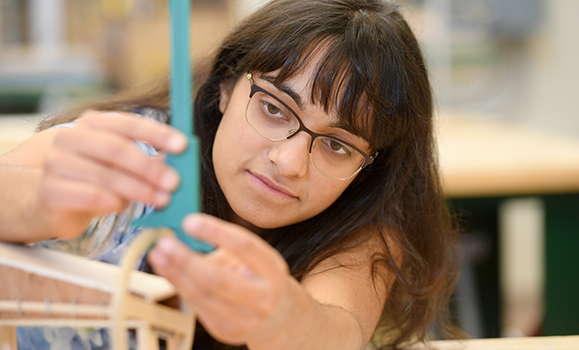 "In her diverse experiences — in the classroom, in co-op, and in her literary and artistic pursuits — Nayani has demonstrated incredible skill at finding connections that span disciplines, all while making impressive contributions to the university community," says Dalhousie President Richard Florizone.

Dalhousie has had 90 Rhodes Scholars attend Oxford since the awards were first founded in 1903; only a small handful of North American universities (the likes of Harvard, Yale and Princeton, for example) can claim more. Next fall, as Nayani makes her way across the pond to Oxford, she will become Dal's 91st.

"Nayani is an exceptional student academically but also exemplifies the best qualities of a professional engineer," says Darrel Doman, head of the Department of Mechanical Engineering. "To have one of our students achieve such rarefied award fills us with pride. We are certain Nayani will go on to accomplish great things throughout her career."
Inspiration across disciplines

From the time she was young, Nayani felt pulled towards both the sciences and the arts.

Her mom is a biologist by trade, and Nayani grew up with a deep fascination of both the natural world and the mechanical one — everything from bugs and birds to gears and clocks. But she also loved playing the violin, was an avid reader and doing a lot of her own writing too. In her teenage years, she found opportunities to bridge those worlds (like organizing a "Trash-to-Treasures" creative recycling competition at her local library) but figured that, come university, she'd have to choose one or the other.

Only, not really. Because even as she entered a time-intensive Mechanical Engineering program with six classes a term, many additional labs and three full-term co-op placements, she felt more compelled than ever to follow her creative muses.

"I was suddenly spending so many hours a day with just really rigorous math and physics, and I realized how important it was to have that balance in my life," says Nayani. "As soon as the degree started I was like, 'Wow, I really need to be doing both.'"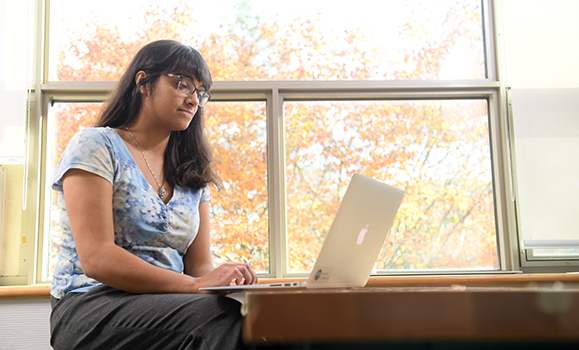 When she couldn't fit Dal's Shakespeare class into her schedule as an elective, she spent part of her summer reading all of the Bard's plays. She studied for physics midterms in rehearsal rooms before performing with the Nova Scotia Youth Orchestra. On most days she would be up at 6 a.m. to get a couple of hours of creative writing in before classes. If her day didn't allow for that, she'd make her way to a coffee shop during class breaks, laptop in hand.

That sort of schedule allowed Nayani to complete her first novel, Minstrel Song, during her time at Dal. A young-adult adventure-fantasy, it's the story of a 17-year-old girl trying to protect a six-year-old fugitive member of the royal family, just as war is about to break out. Nayani took the novel's first draft to the 2014 Atlantic Writing Competition and walked away with the Young Adult Novel Prize, earning a prominent mentorship in the process. Two years and several revisions later, the novel garnered interest at a pitch event and Nayani is now signed with a California-based literary agency.

She also has written several other short stories and plays during her time at Dal, including a one-act play called Murder at Netherfield that offers a fourth-wall-breaking twist on Pride and Prejudice and was performed at the Antigonish Theatre Festival this year, with Nayani co-directing. She's currently working on her second novel, inspired by her mother's experience growing up in rural Sri Lanka and immigrating to Canada.

"I like that they feel like completely different ways of working on something," she says of mixing her Engineering and creative writing work. "I think it adds a nice variety of balance to the day."
Learning through hands-on co-op experiences

If you're thinking Nayani's Engineering studies surely must have suffered in that balancing act, think again: her strong grades have earned her Sexton Scholar status and several awards, including the Bruce and Dorothy Rosetti Engineering Undergraduate Scholarship and Dalhousie's Chancellor Scholarship (the university's largest undergraduate scholarship).

She's also been able to nurture her interest in environmental issues through her schoolwork. Her senior design project is a man-powered vegetation shredder that aims to help Common Roots Urban Farm compost waste material faster. And much of her co-op experience has involved environmental applications, most recently at St. FX University's Flux Labs where she worked on things like greenhouse gas monitoring systems.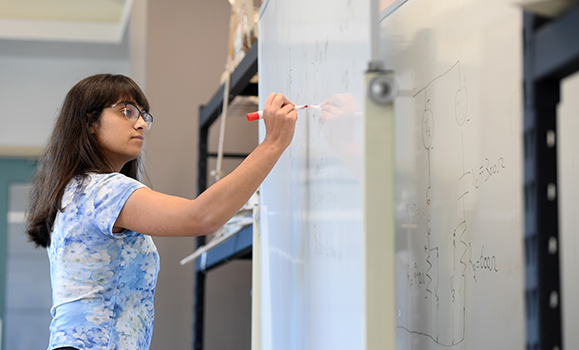 "Co-op is one of the best things I've done at university," says Nayani. "I knew what mechanical engineering was but I didn't have a clear picture of what it means to work as an engineer, what it entails, what kinds of jobs there are. So with co-op, I wanted to sign up with something that would let me try as many completely different things as possible, and when I came out I had a much better idea of what the profession looks like."

Those experiences, plus working with Engineering Mathematics prof Wendy Gentleman on an NSERC summer research project on marine ecosystem modeling, have also led her to realize that when it comes to the Engineering side of her life, she sees her future in research. Dr. Gentleman says that's a great fit.

"Nayani's interest in the arts, math and environmental projects intersect to make her a multifaceted and socially conscious engineer, and I'm excited to see where she goes from here," says Dr. Gentleman.

Oxford bound

First, though, it's time for the artistic side of Nayani's life to take centre stage for a while.

"I've always wanted to do both Engineering and English, and now that I've done the Engineering degree, I'm ready to sit down and do some serious English," she says.

She intends to use her Rhodes Scholarship to pursue a senior BA in English Language and Literature, with the hopes of continuing to develop her own writing skills. After that, her future is less clear, although she expects she'll want to continue her research into environmental projects, likely through graduate studies.

But no matter where her career takes her, she expects to still be playing the violin, still working through a big pile of classic books, and always writing.

"Engineers are doing a lot of really versatile things," she says. "I think people think of engineering as being a very narrow, forcing you to do one thing. But that's not really the case. You can definitely do a lot while you're doing it — it never has to be just math, or just physics, or just art for that matter. I think when you're in university, there's the possibility of doing everything you want to do."
More Rhodes Scholar profiles