Real heroes don't wear capes, they say. But just like their comic book and big screen counterparts, they do have origin stories.

That's the part of the hero's journey when you learn their motivation, when you witness the defining moment that sets them on their path towards making a difference in the world. They're not always happy moments; in fact, many classic origin stories are stories of loss. Bruce Wayne (Batman) lost his parents. Peter Parker (Spider-Man) lost his uncle.

Maike Van Niekerk lost her mom.

She was nine when her mother, Katrin, was first diagnosed with breast cancer. Katrin survived that bout, but the cancer returned six years later, when Maike was 15. She died suddenly, only four months after her second diagnosis.

"I told her 'I will never stop fighting in your memory,'" recalls Maike. "And I haven't."

Today Maike is the founder of a charity dedicated to her mother that has raised more than $110,000 to help cover travel costs for cancer patients. She's nearing the end of Nursing degree at Dal during which she's studied cancer rates and psychological distress among Canada's Indigenous peoples. She's won numerous major university and community awards, including being named one of Canada's Top 20 Under 20.

And now she's Oxford bound, set to become Dalhousie's 90th Rhodes Scholar.

Headed to Oxford

Maike, originally from Corner Brook, Nfld., got the exciting news Saturday night in Moncton, where she was staying at her sister's house along with her father after completing the intense two-day interview process.

"When I got the call I just burst into tears because I was so happy," she says. "I was expecting to be told that I didn't win. I told my dad and my sister and we were all just jumping up and down."

The Rhodes is one of the most prestigious scholarships in the world. Eleven students from Canada each year are chosen to join a global cohort of 95 students to study at Oxford University in England. Worth in excess of $100,000, the scholarship provides funding to cover travel and study at Oxford for two years, with an option for a third. Recipients must demonstrate character, commitment to others and potential to become a world leader.

Dalhousie has now had 90 Rhodes Scholars over its history. Maike becomes the university's fourth Rhodes Scholar in the past five years.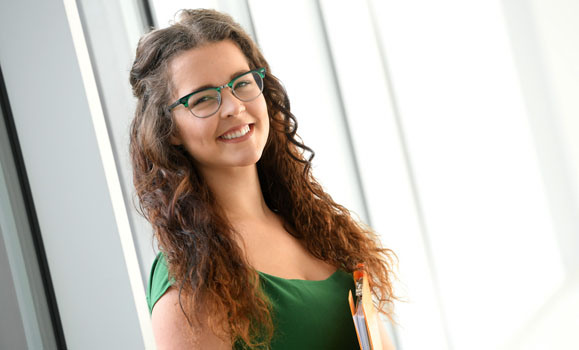 "Maike's accomplishments are a source of pride for the entire Dalhousie community," says Dal President Richard Florizone. "Her academic record is outstanding, but what truly sets Maike apart is her commitment to helping others."
"We are tremendously proud of Maike's achievement in being named a Rhodes Scholar," says Kathleen MacMillan, director of the School of Nursing. "Maike was supported in her undergraduate studies by a Shulich Leaders scholarship and this enabled her to focus on her studies in a very demanding undergraduate, professional program. This should be a message to all Canadians that nursing education is about more than producing professionals for the health care workforce. It is also about producing the leaders and scientists who will contribute to transforming Canada's health-care system."
"Maike exemplifies what can be achieved with focus, dedication and lots of hard work," says Kevin Duffy, Dal Psychology & Neuroscience professor, who's worked closely with Maike over the past four years. "She is the type of student who thrives in challenging environments, and I think this has enabled her an uncommon opportunity to effect change on a grand scale. I expect we will all be beneficiaries of the kind of person Maike will become."

Taking "Kare" of others

Of course, there are hundreds of people who've already benefitted from Maike's passion and commitment: cancer patients supported by her charity, Katrin's Karepackage.

It was an idea she developed when she began volunteering with the Canadian Cancer Society after her mother's death. (She's since received the organization's national award for outstanding youth leadership.) Through that work, she learned more about the struggle many cancer patients face paying for transportation to receive treatment. In Newfoundland, patients have to travel to St. John's—a distance, for some, of hundreds of kilometers—and the province only reimburses a fraction of the travel costs. Maike's mom had gone all the way to Halifax for her treatment.

So in 2014, Maike launched Katrin's Karepackage to help cancer patients cover those travel costs. She launched its fundraising effort by biking more than 1,000 km across Newfoundland. Then, last December, she continued her campaign by running seven consecutive marathons, all the way from St. John's to Corner Brook.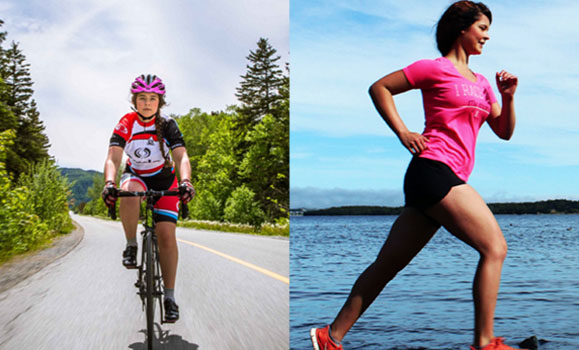 "I chose those as symbolic representations of the struggle cancer patients face in having to drive or get transportation across the province for treatment," says Maike. "Although the struggle of having to bike or run across Newfoundland doesn't remotely compare to that of a cancer diagnosis, it was something that people understood…it clicked in that people were like, 'wow, patients do have to travel such a long distance in order to receive treatment.'"

To date, Maike has raised more than $110,000 for Katrin's Karepackage and, through the Canadian Cancer Society, provided funding to hundreds of patients. Last year the charity expanded from Newfoundland to Nova Scotia and is now helping cover costs for patients travelling to Halifax. (Maike hopes to add service to Cape Breton in the next year.)

"I think it's been so successful so quickly because it's something everyone can relate to. Cancer touches almost everyone, but also feeling the financial burden and stress — which is often something people talk about — was something people could relate with as well."
A research journey

In addition to inspiring Maike's charity work, her mother's cancer experience — in particular, the care and support she received from oncology nurses — also shaped Maike's career path.

"They provided her with a sense of hope and optimism and just general happiness that I thought was really unique, and something not many people could provide her with at that time," she says. "So I was really appreciative of what they did for her and I wanted to be able to provide that to other people."

She applied to Dal for her Bachelor of Science in Nursing because of the school's oncology expertise, and received a prestigious Schulich Leader scholarship to help fund her studies. Over the course of her four years on campus, her interests have gravitated towards research, inspired by mentors like Amy Bombay. An assistant professor in the School of Nursing and the Department of Psychiatry, Dr. Bombay is studying the legacy of Canada's Indian Residential School system. After Maike expressed an interest in helping with Dr. Bombay's research, the two organized a quantitative project on the impact of Residential Schools on cancer rates and psychological distress among Indigenous peoples.

"Having that opportunity to work with a faculty member who was willing to integrate an entirely new aspect into her research because she thought I would be a valuable member of the team, and that we could learn from one another, was an incredible experience," says Maike.

She also had the chance to work on independent research projects with Dr. Duffy — despite not being a Neuroscience student. That experience further fostered her passion for research, and she also credits Dr. Duffy with being the first to suggest that she apply for the Rhodes.

"I've won this big award, but it's really as a result of the mentoring — first Dr. Duffy seeing potential in me and cultivating that research interest, and then Dr. Bombay coming alongside and helping me to understand the area of research I'm interested in," says Maike. "That's why I'm in the position that I am today."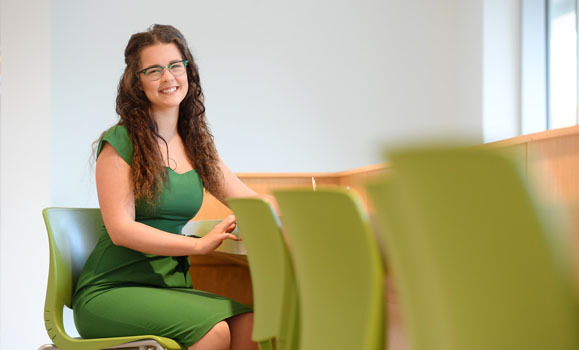 An accomplished student

Maike's awards are almost too many to mention: alongside her Schulich Leader scholarship, she's also received Dal's Board of Governors award, the Governor General's Meritorious Service Decoration and the Newfoundland and Labrador Red Cross Young Humanitarian of the Year award. She plays oboe with the Halifax Music Co-Op, volunteers with Ronald MacDonald House and the Out of the Cold shelter, and last year was named one of Canada's Top 20 under 20 by Plan International Canada.

Now, she adds a Rhodes scholarship to that impressive list of honours and activities. At Oxford, she has her sights set on continuing her cancer research by working with leading psychiatry researhers at the university's esteemed Psychological Medicine Research team.

"To have the opportunity to potentially join that team, gain knowledge in that field and then bring it back to Canada — hopefully to develop novel and culturally appropriate psychological treatment tools for Indigenous Canadians diagnosed with cancer — it will be incredible," says Maike, who hopes to work in academic research as a career. "It's something I really want to dedicate the rest of my career and life to."

And what would her mother think about the Rhodes, and everything else she's accomplished? 
"She always told me when I was growing up that I was going to go into academia and research. At the time, I didn't believe her; I thought that was the last thing I was going to do. And look at me now. She'd be so proud of me — and probably having an 'I told you so' moment, too."