Each year, the Canadian Schulich Leader Scholarship is given to deserving first-year students attending select Canadian universities. Dalhousie is one of 20 Canadian university partners in the program, and this year Maike van Niekerk from Corner Brook, Nfld., is one of those select scholarship students.

Maike attended high school at Corner Brook Regional High School and first heard about the Schulich Scholarship in Grade 11.

"Many of my teachers recommended I apply, and after reading what it means to be a Schulich Leader, I realized I was a suitable applicant for the scholarship," says the student, who started her Nursing degree at Dal this fall. "I felt I embodied what it means to be a Schulich leader: a person with vision, motivation, can organize and take action to become the change they wish to see in the world."

While still in high school, Maike had a full plate. Excelling in academics, she also took part in student politics, athletics, music and environmental work. She was the student council president, a member of her school council, played volleyball alongside running and skiing and was also a member of her school's Symphonic Band. Additionally, she took part in a two-week Arctic expedition as part of the Envirothon Team, "in an attempt to gain an appreciation and understanding for the impacts on global warming on the poles," she explains.

Maike was also extremely active in her community, volunteering over 2,000 hours of her time for various charities and organizations.
Destination Dal

When it came to deciding where to go to university, Maike had her sights set on Dal from an early age.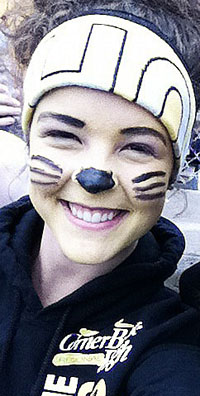 "Dalhousie was always been ranked top on my list for universities, ever since I was little, but because I had to pay for university myself, the university that I went to really depended on scholarships I received. When I found out that I was the Schulich Leader for Dalhousie, my dreams really did come true."

Maike is currently doing a Bachelor of Science in Nursing, with a focus on oncology nursing. With all her hard work she plans to become a medical doctor and work with Doctors Without Borders and, after that, she'd like to continue her education and eventually become a professor.

As for the immediate future, Maike has taken much of what she learned in high school and is applying it to university — and not just in the classroom.

"I learned some extremely important things that I brought into university. I learned how to probably manage my time. However, more importantly, I learned about myself, who I am and what I enjoy. High school really made me realize my strengths, and influenced the person who I have become."