Each year, across the country, provincial offices of the Canadian Red Cross present humanitarian awards honouring individuals' contributions to their communities. And several of these awards are focused on celebrating young humanitarians.

Given the spirit of service that flows through the Dal community, it's perhaps not surprising to find two Dal students among the award winners: Emily Pelley and Maike van Niekerk were named as the recipients of the Young Humanitarian Award for their respective provinces of Nova Scotia and Newfoundland & Labrador.

A personal cause

For Nursing student Maike van Niekerk, the work recognized by the Red Cross was of a personal nature.

"I lost my mom to breast cancer when I was 15 and that was a turning point in my life where I decided that I wanted to help people going through a similar illness," she explains. "I wanted to alleviate some of the stresses, some of the fears."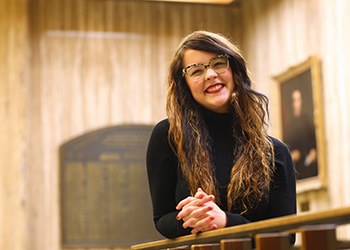 Initially this work took the form of volunteer work with institutions like The Ronald McDonald House, The Canadian Cancer Society and the QEII. But she wanted to do something more personal, which is why she started Katrin's Karepackage: a program that helps offset travel costs for cancer patients travelling between St. John's, Nfld. and Halifax, N.S. for cancer-related appointments."

Far from simply sitting on the sidelines, Maike has taken an extremely hands-on approach to fundraising for the organization. Last summer she biked across Newfoundland, over 1,100 km in 10 days, to raise $35,000 for the charity. The momentum for this action helped raise awareness and funds, as donations continue.

More recently Katrin's Karepackage was chosen as the organization of choice for the Faculty of Health Professions' "For the Health of It" fundraiser.

"For the Health of It is a play that's put on by the Dalhousie Health Professions, where each of the professions has a little skit that makes fun of the other faculties while still being educational," explains Maike. "They raised, this past Saturday, $51,000."

Maike has no foreseeable plans of stopping either. In an extreme show of support her holiday plans include running across Newfoundland: "Seven marathons, for the seven days leading up to Christmas. One marathon a day."

When asked if she felt at all intimidated by this immense physical challenge, she shrugs it off. "I've been training for a long time so I'm not too concerned. The main thing is just the weather, I don't mind snow, so long as it doesn't rain — which it probably will considering that its Newfoundland," she laughs.
Those interested in donating to Katrin's Karepackage can visit katrinskarepackage.com.  

A global perspective

Emily Pelly, an interdisciplinary PhD student, has devoted her life to social justice. But it was in 2009 that her passion for its focus when, during her undergrad, she began exploring the topic of human trafficking.

"I learned and studied quite a bit about child soldiers and how children are trafficked around the world," she explains. "But as I started to explore the issue more, I learned about how it was happening here in Canada and more specifically here in Halifax." Emilt took this theoretical focus and put it into practice all throughout her academic career by working with many different social justice initiatives.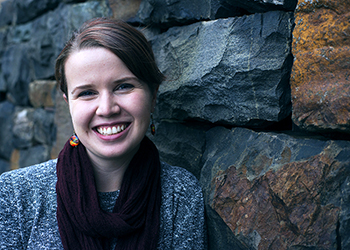 Since starting her PhD, specializing in international development and political science she's been working with faculty member Shelly Whitman and the Romeo Dallaire Child Soldier's Initiative. She's even travelled to Sierra Leone to conduct research, just prior to the recent ebola outbreak.

"The focus of my research is looking at child trafficking in war zones. Not just child soldiers but how children are used in times of war, what children are the most vulnerable, how we are responding, not just as the international community but also as national governments."

Emily sees these problems as being deeply rooted in the concept of vulnerability. "If you look at the children who are being trafficked and being used for soldiers or for workers, those all turn out to be the same children because they are the ones that no one is looking out for. If we could understand how to prevent child trafficking during peace time, we might be able to better prevent the use of child soldiers during war."

While the topic of her work may seem dark, Emily herself remains optimistic.

"The one thing I'd like to really emphasize is the role that all of us have in bringing about social justice, and bringing about change," she says. "I feel like university students definitely underestimate themselves and the impact they can have in any field. "I think that in any discipline, any career, you can use your skills and you can contribute back to the community."