It's been a whirlwind 72 hours for Michael Mackley.

Saturday morning, the award-winning Biology honours student was in New Brunswick, having been granted the opportunity to interview for a Rhodes Scholarship. That night, at his mother's house in Dartmouth, he got the life-changing phone call from the Rhodes Trust — but had to take it twice because of all the excitement.

"The only place I could think to get quiet, because the house was kind of noisy, was the front lawn," says Michael. "So I ran outside and I'm on the front step, talking on the phone and [the Rhodes secretary] is telling me all this information and I don't remember anything he said. So I started shouting, my mom caught on and started shouting, and finally he said, 'How about I call you back in a bit?' It was an exciting moment."

Michael then had to keep the news secret until Monday's announcement in the Globe and Mail: "I hid in my room," he laughs. Once the story went live online, he started making early-morning calls to his friends, extended family and colleagues.

"Their first question was often, 'Why are you calling so early?' Then they started screaming once I shared the news.'"
An opportunity for discovery

It's no wonder Michael and company are so excited: the Rhodes is one of the most prestigious scholarship programs in the world. The award provides full expenses to travel to, and study at, the University of Oxford for two years, with an option for a third — a total value in excess of $100,000.

Michael is one of 11 Canadians to receive a Rhodes Scholarship for 2014, and with it becomes the 88th Rhodes Scholar in Dal's history.

His research passion is genetics, with an honours project focusing on improving prognostication for cancers with a common mutation in a gene called BRAF. He says he loves his work because it's about "problem solving — sort of like detective work." When asked what he's looking forward to in his Rhodes experience, he says he hopes to join a broader scholarly discussion about genetic ethics and society.

"I think there's a lot of research and work to be done in those areas, and at an institution like Oxford that's so international and interdisciplinary — where you're interacting with scientists, history majors, philosophers, social scientists — that I'll really benefit from being able to absorb those points of view."
Proud accomplishments

Michael's honours supervisor, Dr. Karen Bedard of the Faculty of Medicine's Department of Pathology, couldn't be happier for him.

"We're all pretty excited here in the lab," she says. They knew he was a finalist, but it wasn't until Monday morning that Michael was able to contact them and share the great news.

Michael came to work with Dr. Bedard after he approached the team at IGNITE, a Genome Canada-funded initiative led by Drs. Christopher McMaster and Conrad Fernandez at Dal and the IWK Health Centre respectively. IGNITE seeks to discover novel genes for so-called "orphan" diseases — rare inherited diseases — and develop new drug treatments for them. Michael was interested in the gene discovery side of IGNITE's work and ended up working with Dr. Bedard as a research student and, subsequently, on his honours project alongside Dr. Weei Huang at Capital Health.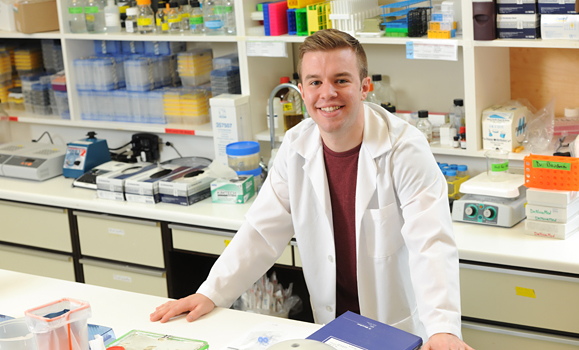 Dr. Bedard says Michael is bright and hard working, but it's his positive attitude that truly sets him apart.

"In research, like many other endeavours, you have to cope with failure and frustration sometimes. It requires patience, problem solving, and he approaches these with such positivity and enthusiasm. It's what's made him such a great part of our lab."
Hands-on research opportunities

Given his litany of accomplishments during his Biology studies — Dean's Lists, a Faye Sobey Undergrad Research Award, published papers, and multiple major scholarships including Dalhousie's largest, the Chancellor's Scholarship — it's surprising to learn that Michael never took a single Biology class before coming to Dal.

"It was in my first year that I discovered genetics," he explains. "There was just something about that section of the intro course that really clicked. I was sort of taken with it right away."

His first detailed work in genetics was actually in marine conversation, working in the lab of Biology Professor Paul Bentzen. There, he gained the basic skills he would later apply in his human genetics research.

"I've been lucky enough to get to experience different types of research at Dal," Michael explains. "Instead of just having one research project, I've been able to work through different labs and learn what I like and what I don't like. I've also been able to benefit from a lot of mentorship and one-on-one leadership from supervisors, professors, co-workers in these lab environments. They're the ones who encouraged me to apply for this, and are probably why I'm where I am today."
A well-rounded experience

The Rhodes isn't awarded on scholarship alone, however, and candidates must show "intellect, character, leadership, and commitment to service."

An active community volunteer, Michael is a flag football coach with Football Nova Scotia and spends time helping out at Ronald MacDonald House Atlantic. He says he loves working with kids because "I'm high energy, and they're high energy, and we kind of feed off each other that way."

His other big passion is music. A classically trained pianist, he's been able to make music part of his life at Dal by joining several campus musical groups as a vocalist and musician.

"I don't think I'd be able to do everything else I do without making time for music. For me, it's a good outlet, but there's also such an intersection between the humanities and medical research. They're both really an application of basic principles, there's a therapeutic effect to both and, ultimately, they're each about benefitting others."

Right now, Michael is still caught up in the Rhodes whirlwind, though he had some sense of what to expect should it happen. (He was coached by Jenny Baechler from the Faculty of Management during the application process.) But he's already thinking ahead to what happens after his time at Oxford.

"I do think I'd like to come back to the Maritimes. There's amazing research going on here that I'd love to be part of. I see myself being a clinician, eventually, going to medical school at some point so I can bridge the gap between research, policy and clinical work, putting the research into practice."