Wednesday night (October 11) in the Student Union Building's McInnes Room, five Dalhousie PhD students and one postdoctoral fellow presented their projects in rapid-fire, three-minute presentations, a style akin to the popular Three-Minute Thesis competition.
That's not much time if you're trying to explain your work understanding eating practices and body image of gay men (Philip Joy's research) or how repetitive imagery practice can apply to human learning (Sarah Kraeutner's project). But even with the clock counting down, the students made time in their presentations to mention and pay tribute to the philanthropic couple they were there to celebrate: the Killams.
Five decades of impact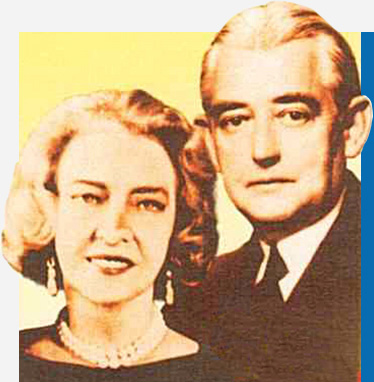 This year marks the 50th anniversary of Killam Trusts scholarships and fellowships at Dalhousie, which provide funding for graduate students and postdocs and were established through the generosity of Izaak Walton Killam and his wife Dorothy J. Killam.
The Killam Trusts were created with a bequest in Mrs. Killam's will of $100 million, split between five leading Canadian universities — the equivalent of $450 million in today's funds. The Trusts are one of the only private, philanthropic trusts for higher education in Canada.
Dalhousie received the largest share of the bequest. Since 1967, the Killam endowment at Dalhousie has grown to over $140 million and has funded more than 1,700 graduate students and postdoctoral researchers with a total of $85 million.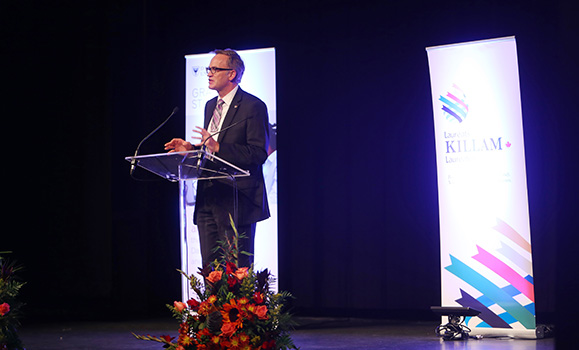 "The Killams at that time understood… that the future of our country is tied, and was tied, to the ability of graduate students and researchers to devote themselves fully to the creation of new knowledge," said Dalhousie President Richard Florzione at Wednesday's event.
"They also understood the importance of diversity, of the value of bringing a global perspective to Canada's institutions of higher learning. So they made their scholarships and fellowships open to graduate students and postdocs from around the world."
A historic legacy

Born in Yarmouth, N.S. in 1885, Izaak Walton Killam worked his way from a junior bank clerk to becoming one of the outstanding figures in Canadian financial history. When he died in 1955, half of his estate (some $50M) was left to his wife, Dorothy, who ably worked to increase the fortune over the subsequent decade, bringing it to the $100M mark upon her death. Her will was built on the plans she and her husband had discussed frequently in the later years of his life.
Bernard Miller, managing trustee of the Killam Trusts, discussed the Killams' vision to "build Canada's future by encouraging advanced study."
"Dorothy and Izaak were visionaries, and those of you who will receive Killam Awards today will be carrying on their legacy," he said.
Wednesday's event — which also included poster presentations from several Killam Scholars and a reception — celebrated 80 new and continuing Killam Predoctoral Scholars and 13 new and continuing Killam Postdoctoral Fellows, as well as several faculty members receiving Killam-related prizes. These included three Killam Memorial Chairs at Dalhousie (Roy Duncan, Microbiology and Immunology; Jeffry Hutchings, Biology; Vasantha Rupasinghe, Plant, Food and Environmental Sciences) and 2017 Canada Council Killam Prize Recipient Ford Doolittle.
In addition to the three-minute presentations, other Killam Scholars and Fellows like past Rhodes Scholar Paul Manning and right whale researcher Taylor Hersh discussed their research with attendees during the poster presentation prior to the ceremony.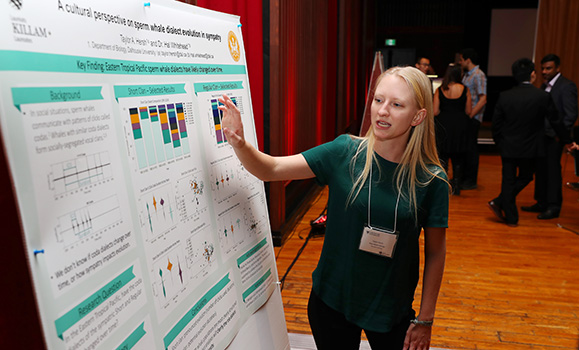 Taylor Hersh presents her research.

The spirit of generosity

In honour of the Killam Trusts' 50th anniversary, Dal's Faculty of Graduate Studies and Office of Advancement have been reaching out to Dalhousie Killam alumni from across Canada and around the world over the past several months, collecting their stories to help pay tribute to the Killam legacy.
Grad Studies Dean Marty Leonard described how, without exception, the alumni appreciated how the Killam award allowed them to focus fully on their research, and thus produce work that was richer and more thorough.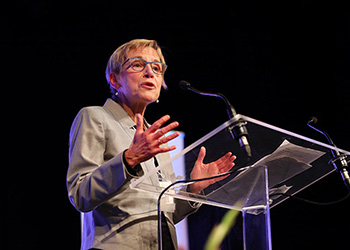 "They [also] recognized the generosity of Dorothy Killam, in particular, and that inspired them to serve others," she added. "Some of them did it as professionals, some did in other aspects of their lives. But they recognized and paid back, if you will, that gift that was given to them.
"I thought that was pretty amazing, and I wonder if Mrs. Killam was here today, if she wouldn't think that was amazing as well."
You can read about Killam alumni at the Faculty of Graduate Studies website, and look for several of their stories to be published here on Dal News in the coming weeks.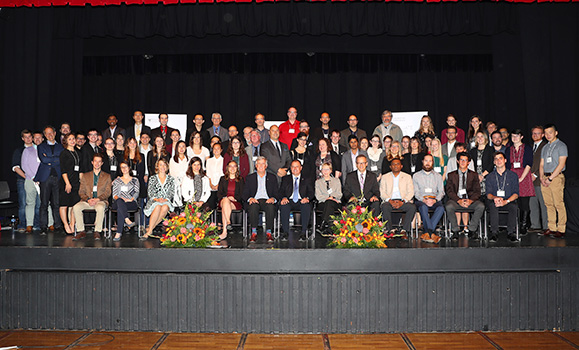 Killam honourees and alumni gather on-stage at Wednesday's event.