Three Minute Thesis

What Is 3 Minute Thesis?
3MT is a yearly competition that brings research-based graduate students from across Dal's faculties to present the complexities of their research in the most engaging way possible in front of a live audience. But there's a catch – you only get 180 seconds and one PowerPoint slide. It's an exercise of brains and brevity, and the most convincing communicators come out on top. Check out our 3MT promo video.
Who can participate?
If you're a student in a research-based Master's or PhD program who has not yet graduated, you're eligible to compete. You're not required to have completed your research to participate. As long as the you feel you have enough original research to make a compelling presentation, you're encouraged to register.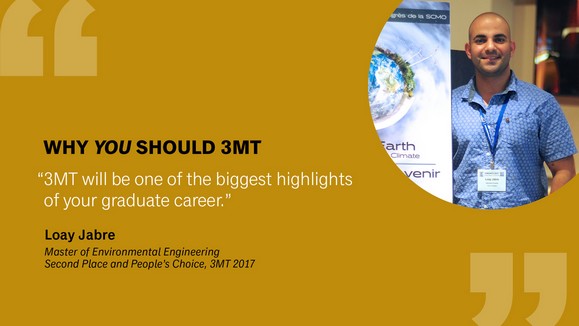 2018 Event Details
The event is being organized by the Faculty of Graduate Studies.
Preliminary Heats:
March 5, 6, 7 - 9am - 4pm
McInnes Room, Student Union Building
Finals:
March 8 - 6:30pm
McInnes Room, Student Union Building
Reception to follow
2017 Finalists
Check out the videos from last years finals on our YouTube playlist.