For two hours on the evening of October 3, six panelists with expertise around the legalization of cannabis in Canada met an almost full house in the McInnes Room at Dal's Student Union Building. They were there to discuss the complex issues legalization raises and answer pressing questions from audience members, who lined up at three microphones for almost an hour during the Q&A.

"Marijuana: Is Canada Ready?" was offered in partnership with the Schulich School of Law, Genome Atlantic, Dal's Faculty of Management and Dal's Faculty of Arts and Social Sciences. Law school Dean Camille Cameron was the moderator, while the panel consisted of four Dal professors and two law school alumni: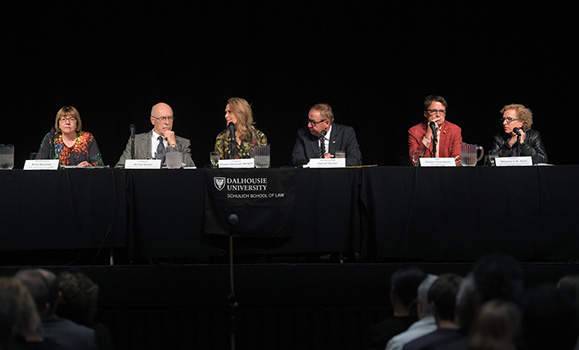 McLellan, who spoke first, took issue with the use of the word "marijuana" in the event's title. In her work on Canada's Task Force on Cannabis Legalization and Regulation, she and her colleagues considered marijuana to be slang and chose instead to refer to cannabis in their documentation. "Let's treat this plant with the respect that it deserves," she said.

Responding to whether Canada is ready to legalize marijuana, which could be legislated as early as July 1, 2018, she said no, but added that nobody should be surprised or panicked at that. "Government isn't ready right now, but is Canada getting ready? Yes," she said. "Government has introduced legislation, work is being done behind the scenes, regulation is being drafted and working groups are in place bearing down on the details."
Watch: The full "Marijuana: Is Canada ready?" panel discussion

"We are now a nation in recovery"

Prof. Kaiser stated that Canada was ready to implement the legalization of marijuana. "Indeed, we were poised to make this choice almost 100 years ago, but instead we took the wasteful, damaging, reflexive and self-defeating path of prohibition and punishment," he said. "We are now a nation in recovery—legally, constitutionally and morally, ready to take the wiser, fairer and ultimately safer direction of legalization."

Over the years, Parliament, the courts and the police eagerly adopted the war metaphor "the war on drugs," said Prof. Kaiser. Some of the effects of that war, he explained, are that prohibition has failed to reduce supply, demand and potency; enforcement has tended to unite users, addicts and organized crime; the public health dimensions of drug use have largely been ignored; and too many Canadians have been imprisoned and stigmatized.

"There is a role for criminal law in the aftermath of the legalization of marijuana," said Kaiser, including ensuring that offenders of the newly configured law are penalized moderately and that possessors and small-scale growers are kept outside the grasp of the criminal law.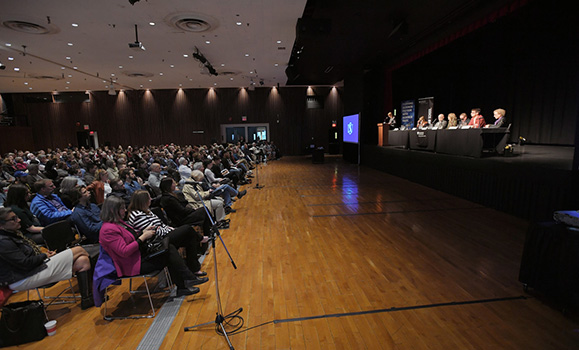 Dr. Denovan-Wright explained how cannabis affects brain function and said more research is needed to tell us about the risk of developing addiction. "There is untapped medical potential with cannabis as well as potential harm," she cautioned.

Dr. Kelly pointed to the huge body of research supporting the therapeutic use of cannabis, which currently isn't an approved drug in Canada. "We need more research and education for patients and health-care providers," she said, adding that we also need more user-friendly options besides smoking and edibles.

Dal survey cites Canadians' support

Dr. Charlebois referenced a recent survey report he co-authored that revealed a healthy majority of Canadians support the legalization of recreational pot use but have concerns about children's access to edible products containing cannabis. In fact, about 68 per cent of Canadians favour the legalization of non-medicinal marijuana, with the bulk of that support in British Columbia and Ontario.

"People are willing to accept the legalization of non-medicinal marijuana, but at the same time they recognize societal risks related to doing so," said Dr. Charlebois. "As a society, we need to do our job to make sure we legislate and regulate the right way."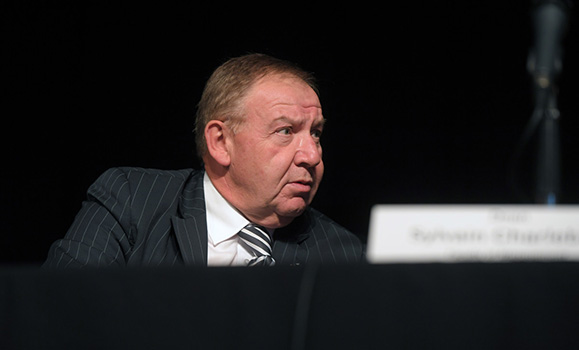 Dexter, who discussed the legislation and regulatory processes, examined the challenges that legalization will pose, including supply medical and retail gaps, marketing and branding restrictions, price (including taxation), employee training, consumer experience and preparing for the edibles market. "There's plenty of work to do between now and July 1," he said.

McLellan mentioned that Canada is the only member country of the Organisation of Economic Co-operation and Development (OECD) to legalize cannabis.

"The world is watching us," she said. "Will we learn from others? Yes. Will there be surprises down the road? Yes. There's a lot of work being done at both the federal and provincial levels to get ready, but Canada is getting ready."