Sara Abdessamie might be leaving her options open but that doesn't mean she's taking it easy. The second-year Loran Scholar and Medical Sciences student is eager to make a difference in as many ways as possible.

Right now, for example, she's on the Prime Minister's Youth Council. As one of 26 young people in the non-partisan council, she's responsible for bringing the perspectives of youth in her community to the Prime Minster, who joins them for in-person meetings four times a year.

A voice for youth

"We find the key points we want to work on," says Sara. "That could include environment, mental health, economy and so on, and we give our opinions to the Prime Minister directly. We're passionate about everything, we just want to make an impact.

"It's been a year and I can see progress being made from our ideas already."
After the council discussed the importance of getting more youth involved in government, the Ministry of Indigenous Affairs added three young people to their department. Now, Sara and her peers are working on a Youth Policy — the first ever in Canada.  

"When the Prime Minister comes to our meetings he takes time to really go in-depth into the issues, especially now we're working on the Youth Policy. And since he's also the Minister of Youth, it's included in his mandate to have our perspective into the decision-making process of the government."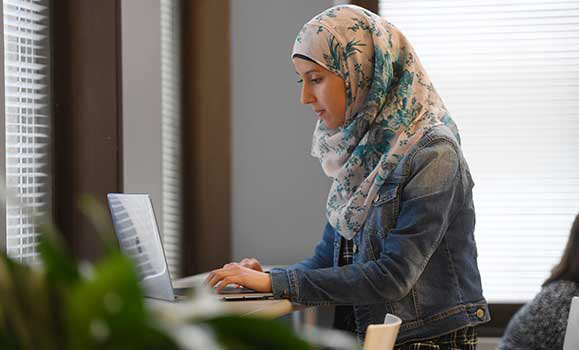 Speaking our languages

When she's meeting with the Youth Council, Sara makes a point of speaking in both French and English. She sees bilingualism as an incredible opportunity and an important component of life in Canada.  

"I moved to New Brunswick from Québec when I was 13. I couldn't speak a word in English, I only spoke French. Since Fredericton is mostly Anglophone, I had to learn English. It was hard in the beginning to include myself but I'm so grateful that I had the opportunity to learn English — I have so many great opportunities because I'm bilingual."

Her work with Le français pour l'avenir (French for the Future) gives her an outlet to continue her work promoting bilingualism and supporting others learning French or English. 

"We bring Anglophone and Francophone people together to practise speaking and learn the language. Everybody learns in their own way and we want to promote an open environment that's non-judgmental so we can all learn and improve."

More to experience

So how does Medical Sciences fit into all of this?

Sara was asked just that during her interview with the Loran Scholars Foundation, which offers awards that specifically looks at the potential of a candidate through an intensive and personalized selection process. As she responded at the time, she recognizes her career path could have gone a different direction but she has followed her passion and doesn't see that as a limitation on what she might yet do.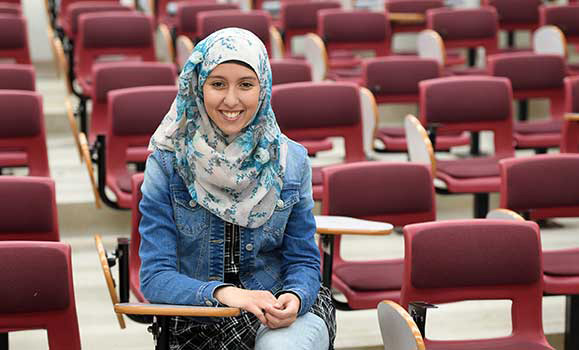 "I have a lot of interests and sometimes it's hard to make a decision but I've always been very interested in medical sciences and science in general," she says. "I loved biology when I was younger — I was always curious about how things work in the body — so, I wanted to pursue that as a career. But in the long run, I really want to incorporate all my interests and put them together."

For now, studying as one of five Loran Scholars at Dalhousie, she's excited to keep learning and contributing on campus, soaking up as many new experiences as she can.  

"The main reason I came to Dal was that there are so many great opportunities for people to get involved. Last year I helped with the DalLEAD conference. This year, I'm starting to volunteer in the Retina and Optic Nerve Research Lab. You might have one theme that you're interested in but there are so many pathways you can go through. There are so many things you can do."