This article is part of a series on graduates of Spring Convocation 2017. Read more grad profiles or, to learn more about the ceremonies, visit the Convocation website.
Despite what some people might think, being a twin doesn't make one sibling an exact replica of the other.

"Everyone kind of expects us to do the same thing," says Emily Halliday, of the assumptions people make about her and her twin sister, Felicia.

"I did a degree in Math, with Honours," Felicia chimes in. "Emily did a degree in English and Creative Writing.

"So we're polar opposites."

The Halliday sisters are most definitely distinct individuals, but Felicia's declaration of difference may be a slight exaggeration given all the things they do have in common. To begin with, they both made the decision four years ago to leave their hometown of Mission, B.C. and cross the country for their university education.

"Dal presented the opportunity for us to really spread our wings, so to speak, and be more independent," Emily says. "Which is kind of a weird thing to say considering we came together."

Connected to residence life

Over the course of their university experience, Emily and Felicia have found themselves as individuals while deepening their relationship as sisters. And living in residence played a huge role in helping them make a home away from home.

Not that it all started perfectly. Emily recalls feeling homesick during her first days on campus.

"I remember going to Felicia's room and I was really upset. I was crying and said, 'Felicia, I want to go home.' And she was like, 'No. We wanted to do this and we have to do this. If you still feel this way in a month, we can have this conversation.'"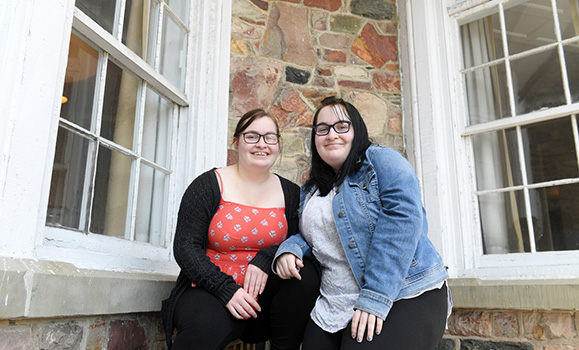 Perseverance paid off, as the Hallidays quickly found that their fellow students and Residence Assistants (RAs) constituted a new family.

"We never had that conversation," Emily says. "We found friends in residence and went to floor dinners and the activities that the RAs ran. It was a great way to meet people."

Their first-year experience in the Shirreff Hall residence inspired the Hallidays to become RAs in subsequent years. For second and third year, Emily stayed put in Shirreff while Felicia moved to Howe Hall and then Risley Hall. In their final year, both were Seniors – leaders of their respective RA teams – with Emily at Gerrard Hall and Felicia returning to Howe.

A desire to give back

Both sisters say they were motivated to become RAs by the chance to help younger students find their footing in university.

"I knew how it felt to live in residence and wish that there was someone to help, so being an RA allowed us to do that for people," says Felicia.

Emily agrees, noting that the perspective of someone who has been through the same trials and triumphs can lift up new students.

"(Being an RA) gives you the ability to share the wisdom that you've learned in your time at the university. It makes it easier when someone who's been here can share those little things from their experience."

Jobs in residence also allowed the Hallidays to develop skills that will serve them in their personal and professional lives.

"I've gained so many skills and so much confidence from being an RA," says Felicia. "You live where you work and you have to learn how to set boundaries. It can be a difficult skill to learn. When I was a Senior, it was something I tried to teach my RAs."

For Emily, the residence experience highlighted the personal growth she underwent in her time at Dal.

"I found that being an RA helped me grow and discover what I liked and didn't like and push myself forward."

Two different paths

Forward, for the Hallidays, now means new adventures. Felicia will attend graduate school at the University of Victoria next year, while Emily plans to go to law school. They'll no longer share the same campus, but they will always share the memories of residence life at Dal.

"You always have a residence life family," says Emily. "We're about to leave and it's sad, because for three years it was like our family away from our family.

"They're the people who support you when you have a bad day and help you celebrate when you have a great one."

Graduating from different faculties means Emily and Felicia can celebrate each other as individuals, along with their parents, who are making the trip from B.C. for two ceremonies. As Felicia notes, Convocation will be a chance to reflect, say goodbye and look toward the future.

"It's kind of bittersweet," she says. "Convocation is something I've always looked forward to, but it's hard to leave the campus and all the connections I've made.

"But I also know I can find that again."

The Hallidays will always find each other again, even if they take divergent paths to get there.

"Alone, together," says Felicia. "That's our motto."