Meet the eGo, Canada's first series hybrid electric tricycle.

There are only a few of these environmentally friendly trikes in the world, and one of them was built at Dalhousie by Mechanical Engineering student Cohen Poirier.

With funding support from the Natural Sciences and Engineering Research Council of Canada (NSERC), Dal Faculty of Engineering Professor Dr. Lukas Swan and Halifax entrepreneur Dr. John Ross teamed up to design a bike that would provide a more efficient and active means of electric transportation.

The eGo, which Poirier build as part of his fall 2016 co-op term, is now a finalist in the NSERC Science, Action! video contest. The competition challenges postsecondary students across Canada to film a 60-second video about how their NSERC funded research and innovations are transforming Canadian lives.  

Although this is the third year NSERC has run the Science, Action! Video contest, it's the first-time a Dal student has qualified as a finalist. The final round of the competition involves public voting. Viewers can vote for their favorite videos by watching them on YouTube (each view is a vote) or by visiting the NSERC Canada website. Voting is open until February 28.
Poirier says although he'd love to win the competition, it was never the main focus when creating the video.

"It's about getting the word out there, and encouraging people to start thinking about moving away from fossil fuels and moving towards a more active and clean form of transportation," he says.

Improving the lives of Canadians

In four months Poirier, Ross and Swan designed and built a hybrid electric trike that would enable cyclists to overcome many of the challenges they face on the road including harsh weather conditions, strenuous uphill battles and a lack of luggage space. The key to their design involved creating a series hybrid drive train unlike any other in the world.

"This is something that isn't even on the market right now," says Poirier. "I think in Japan they have a series hybrid bike that they're selling and it's a big secret as to what's inside, but we know what's inside. We've figured it out for ourselves and ours may be even better."

Poirier says the eGo's unique series hybrid control strategy allows the trike to feel like a regular bicycle —  but only requires nominal effort to cycle.

"When you're pedalling up a hill on a regular bicycle, it's harder to pedal, but the eGo's unique drive train allows the pedalling resistance to remain constant no matter if you are going uphill, downhill or on level ground," he says.

Unlike a regular bicycle, which uses a chain to drive its back wheel, the eGo's chain has been removed. Instead, it uses a pedal driven generator and a hub motor at the drive wheel, with a unique control strategy to map pedaling input onto motor output.

"This is also what differentiates the trike from something like a moped, which uses a throttle to control its motor," says Poirier "The eGo requires the user to pedal in order to get the motor to actually work, which means the user has to be active."

As for riding the eGo in harsh weather conditions, Poirier says the trike's design will eventually include a hood over the vehicle, shielding it from rain or snow.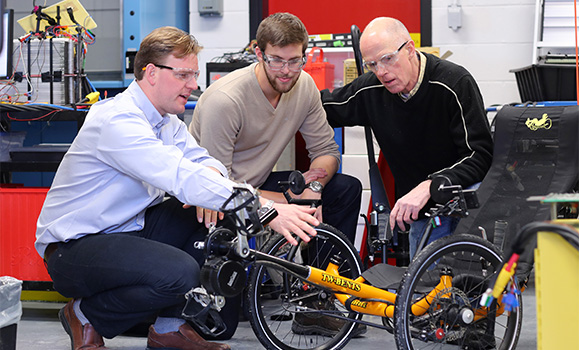 From left: Professor Lukas Swan, student Cohen Poirier and entrepreneur John Ross.  
In 2011 Statistics Canada released a study indicating that on average, it takes Canadians 30-minutes to drive to work. Most of that time however, is spent in gridlocked traffic. Although Poirier says the eGo won't solve all traffic issues, it would certainly appeal to people looking for environmentally friendly ways of getting to work.

"If you use the eGo, you can pass by traffic in the bike lane and remove one idling car from the mix who's burning useless fuel," says Poirier. "Obviously, it's not for big road trips with the family. It's only has room for maybe one person and some groceries. But you could cut down on your fossil fuel usage by using the trike and you could be active."

Poirier says they are still exploring new technologies, but are confident that the eGo's drive train could be beneficial to a wide variety of Canadians.

"Since the video came out, people have suggested that the technology could be applied to multiple areas, such as aiding those with disabilities," he says.

Future plans

The eGo is the first prototype for Ross' new start-up company, ActEV Rider Co. The business focuses on finding new and environmentally efficient ways for Canadians to benefit from electric vehicle transportation.

Poirier says he'll be returning to the company this summer for his next co-op term. From there, Poirier, Ross and Swan hope to further develop the eGo's control strategy and build more prototypes.

"We need to listen to the public about how they feel about the eGo," says Poirier. "If people have ideas and want to get involved we are open to suggestions. Our main goal is to aid the transition into electric vehicles. We just want people to start talking about this and moving away from fossil fuels."
In the meantime, Poirier hopes his video for the NSERC Science, Action! video contest goes viral on YouTube.

"Maybe if everyone at Dal views the video, I'll win," he laughs.  "But really I just hope that this technology gets people thinking about a clean future."