There's a lot of hidden talent at Dalhousie, and judging by what took place on the stage of the Rebecca Cohn Auditorium last Friday night, much of it can be found on Carleton Campus.
November 29 marked the 34th annual For The Health of It (FTHOI) fundraiser show organized and hosted by students in the Schools of Physiotherapy, Human Communication Disorders, Occupational Therapy, Health Sciences, Pharmacy, and Nursing, and Faculties of Dentistry and Medicine. This isn't your average university fundraiser: it's a friendly competition between the schools to see which one can raise the most money for a specific charity. This is done throughout the fall months through bake sales, raffles, and other events.
At the end of November, groups of students from each school get on stage to try to outdo each other with original skits and energetic dance numbers in a fun variety show format. At the end of the night one school was selected as a winner based on their performance's creativity, participation, and overall fundraising efforts.
Each year FTHOI selects a local charity to benefit from its generous fundraising endeavours. This year's recipient is Regional Residential Services Society (RRSS), a community-based service in Halifax for adults with disabilities, which provides housing and 24-hour support. It also advocates community involvement from its residents—including one who participated in the show as the official time-keeping gong ringer.
The co-chairs of the event, Erin Chiasson, Caitlyn Dunphy, and Maria Watton successfully orchestrated the evening of laughter and philanthropy. All three have performed at FTHOI events in the past and have firsthand experiences of the benefits of the fun-filled fundraiser. Besides supporting local community organizations, FTHOI also provides an engaging opportunity for audience members to learn about the health professions.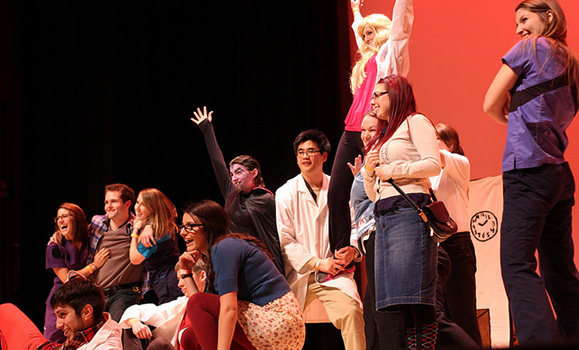 The School of Health Sciences with its award-winning comedic take on The Big Bang Theory.
 
"It also showcases interprofessional collaboration in an entertaining and informative way," says Chiasson. "Students from each school comprise an interprofessional steering committee to help organize the event. And interprofessionalism is actually factored into the performance's scores."
Korede Akindoju, a first-year physiotherapy student, said the experience was an opportunity to meet students and colleagues in the other schools. "It's great to be exposed to students and professors who are passionate towards FTHOI," she says.
Each school adapted a hilarious theme into their 13-minute performances. Everything from The Magic School Bus to Mean Girls was covered in the laugh-out-loud skits, but only one school walked away with the prestigious trophy. Physiotherapy was the proud champion of the night, for the third year in a row.
"We practiced pretty much every other lunch day at lunch," says Akindoju. "We had multiple fundraising events like shaving student's heads, throwing pies at professors, cosmic bingo, and the 50/50 draw." All of which added up to the school's fantastic $13,000 contribution.
The record total of $54,000 raised by FTHOI this year will go towards helping RRSS's clients participate in recreational and health promotion activities—a fitting use of the money.
 
Bonus FTHOI awards:
 
School of Physiotherapy (The Magic School Bus): Most Participation, Top Fundraisers
School of Human Communication Disorders (Star Wars): Best Props, Most Interprofessionalism
School of Occupational Therapy (Finding Nemo): Best Costumes, Crowd Favourite
School of Health Sciences (Big Bang Theory): Best Comedy
Faculty of Dentistry (Wizard of Oz): Best Dance
Faculty of Medicine (Family Feud): Most Gonged Performance (an impromptu award created for this over-time performance)
School of Pharmacy (The Break Room): Most Educational
School of Nursing (Mean Girls): Best Music