Dalhousie students have taken to the streets with medical syringes and ice packs in tow.

These medical and undergraduate students are part of an initiative to provide influenza and pneumococcus vaccines to Halifax's marginalized communities. The program is called HaliVAX, originally started by a group of nurses under the pseudonym MOSH, or Mobile Outreach Street Health nurses.

Dr. Colin Van Zoost, a Dalhousie Medical School graduate and current faculty member, first bridged the gap between MOSH nurses and Dalhousie when he was an internal medicine resident.

"I was involved with a soup kitchen and I thought, how can I try to blend vaccinations and marginalized groups together?" he explains. "We designed a research project just looking at vaccination rates among Halifax's homeless. I teamed up with a group of internal medicine residents at Dalhousie … we hit the streets and put out a survey to homeless individuals, just to get the vaccination rates. And what we found is that we've actually been doing a pretty good job with influenza, but not with pneumococcus."

Based on those results, Dr. Van Zoost teamed up with MOSH and expanded the program to include nursing students, medical students, undergraduate students and internal medicine residents.

"We went out and helped the MOSH nurses deliver vaccines. We looked at the rates afterward and saw that we ended up doubling pneumococcal vaccine rates. This year is a continuation of that project."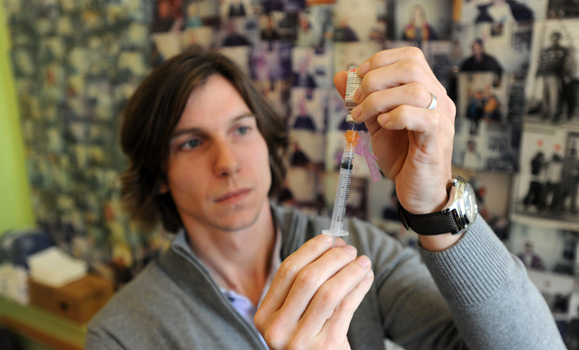 Making a difference in the community

On Tuesday, Dr. Van Zoost, two Dalhousie medical students and a MOSH nurse met at the Metro Housing Support Centre in Halifax's North End. The centre is affectionately known as "The Coffee Shop" by its many patrons, and resides in an unassuming building on Gottingen Street. In addition to its free coffee and tea, the Coffee Shop is a space where many of Halifax's homeless come to socialize and relax.

Dr. Van Zoost offers vaccines to people as they walk in. Many smile and give a familiar greeting as they recognize him; others find their way to a quiet corner to sit and enjoy coffee and a book. Those that accept the offer fill in a brief form before being led into a small room where a MOSH nurse waits with the vaccines. Above the patient's chair is a poster showing a man drinking from a hand sanitizer dispenser, with large ominous text declaring: "This isn't a picnic: Lysol kills."

As each person comes out of the small room, they're all smiles. One says, "Rick [the MOSH nurse] is awesome at giving needles!"

For many of us, the flu can be an unpleasant experience that gets in the way of day-to-day life. But for homeless adults, catching the flu or pneumonia can be fatal during Halifax's cold winter months.

These people will be protected from contracting the latest strain of influenza for the rest of the winter. If they receive the pneumococcal vaccine, they will potentially be protected from serious complications of pneumonia.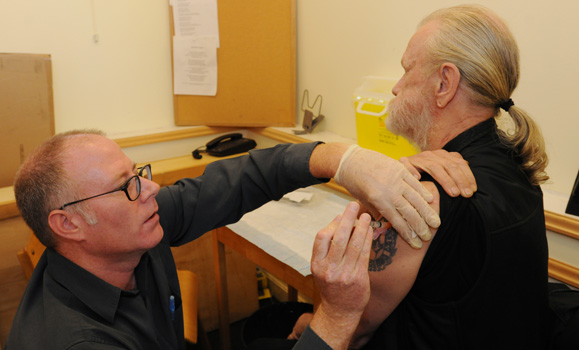 Dal students contribute

The student volunteers are not licensed to administer the vaccines themselves, but they're instrumental in the process.

"The nurses were overwhelmed with the amount of people they had to vaccinate," says Dr. Dr. Van Zoost. "They were taking down names, trying to manage the crowd, give the immunization and monitor people afterwards. With extra volunteers, the MOSH nurses were able to focus on giving vaccinations. We were able to double pneumococcal vaccination rates just by adding a few volunteers."  

Tommy Brothers and Deep Jaiswal are two first-year medical students at Dalhousie. They first met Dr. Van Zoost while he was presenting research on last year's campaign at the Dalhousie Department of Medicine Association. The HaliVAX program immediately appealed to them.

"The idea of preventative medicine and getting these vaccinations out there sounded like a wonderful initiative," says Brothers. "I got to meet some of the MOSH nurses, and both their clients and the community were really excited about what they do. I thought it'd be a great learning experience and if we can help them out in terms of the logistical stuff, then they can get a lot more done. I thought it would be a great experience for us and helpful for the community."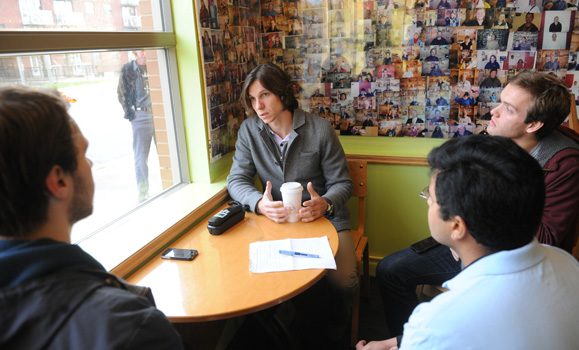 Brothers and Jaiswal are part of a growing group of students who are choosing to take time from their academic lives to help the marginalized communities of Halifax.

"Deep and Tommy have been instrumental in helping to recruit medical students to help out with these vaccines," says Dr. Van Zoost. "These students demonstrate how even small acts can make a big difference."