This year, the Faculty of Dentistry celebrates its 100th graduating class. Throughout May, we'll be running a series of articles on the faculty's lasting legacy. For more on the centennial, visit daldentistry100.ca.
Its beginnings were humble. Its initial plans were modest. But its vision was so clear that its goals have remained largely unchanged for a century.

This year marks the centennial anniversary of Dalhousie's Faculty of Dentistry. First inaugurated as the Maritime Dental College in 1908, it was merged into Dalhousie in 1912 and graduated its first class of four students that same year. Its first dean was Dr. Frank Woodbury, who came from a large family of dentists, and who laid the groundwork for a dental school built on a foundation of excellence to serve the entire Maritime region.

Fast forward a decade to 1922. William Gies is traveling North America, reviewing dental schools for a report that would later become known as the "bible" of sorts for North American dental education. He visits Dalhousie, and his assessment is glowing, to say the least. He refers to the Faculty of Dentistry as being built on "an absolutely correct and sound foundation."

That doesn't surprise Oskar Sykora, retired faculty member and author of Maritime Dental College and Dalhousie Faculty of Dentistry - a History.

"When I was looking into it, I found it astonishing that even in those early days of the faculty, so much emphasis was being put on prevention and maintenance," he says. "Something must have been going on right from the beginning."

Fast forward again, this time 90 years, to 2012. The Faculty of Dentistry, with its centennial on the horizon, wins the American Dental Education Association's award for achievement — an award, fittingly, named after Dr. Gies. It's the first Canadian dental school to take home the honour.

"It shows the constant, high quality and innovation, through the lifespan of the faculty," says Dr. Sykora. "It's something that's been there right from the beginning, and it's been maintained and celebrated for 100 years now. That's rather incredible."

A strong start


In the 19th century, dentistry in what would become the Maritime provinces was treated as more a trade than a profession. In a 1994 article in Nova Scotia Historical Review, Dr. Sykora describes early practitioners as "usually itinerant, rarely establishing themselves permanently within a community; and they were often obliged to combine dentistry with other health-related services, in order to eke out a living."

Even as the turn of the century approached, 40 per cent of dentists in the Maritimes had no formal dental education, and those that did went south of the border to the U.S. to get it. In 1908, when the Maritime Dental College was founded, not a single practicing dentist in the region had a Canadian dental education.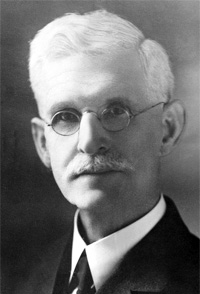 A dental college for the region to call its own was a crucial step towards advancing the profession. From the beginning, its founders, including Dr. Woodbury (left), believed strongly that dental education had to be about more than just the basic mechanics of dentistry – it was about sound science, quality teaching and instilling a sense of service.

That sounds a lot like the Faculty of Dentistry today; no wonder that Dr. Sykora refers to Dr. Woodbury as the school's "guiding spirit."

And in the years that followed, "No one ever dropped the ball," says Tom Boran, the current dean of the faculty. "Everybody realized the expectations, from the beginning, of having an excellent educational program that encompassed research and service. Then each dean added to that, to make it even better. It was almost like a game of one-upmanship…you can see it carry through the years."

In 1912, the Maritime Dental College became part of Dalhousie, the first dental school in Canada to be fully integrated within a university. Its first female graduate was in 1919. It became one of the first schools in North America to require at least one year of college work prior to admission in 1923. And it positioned important skills early in the curriculum, setting standards that the rest of dental education caught up with over the 60-plus years that followed, including emphasizing more orthodontics than most major schools in North America.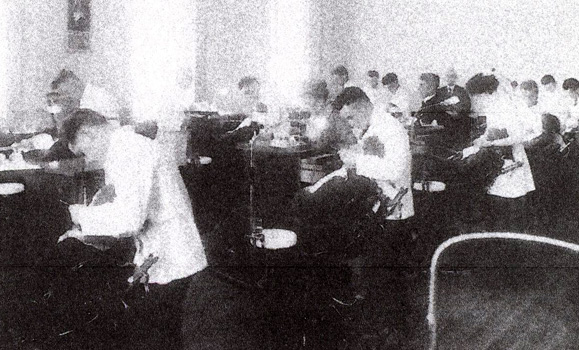 A snapshot of an early dentistry classroom at Dal; that's Dean Woodbury in the far-right background. From Maritime Dental College and Dalhousie Faculty of Dentistry - a History.

Legacy of service


When asked about the faculty's greatest accomplishments, Dr. Sykora cautions that there's a multitude of ways to answer the question, but he highlights the expansion of its community outreach as a particular point of pride.

"That was something J. D. McLean (right) started with the trailer," says Dr. Sykora, referring to the faculty's dean from 1954-75  "He launched the mobile unit-trailer, going to different parts of Nova Scotia — Tatamagouche, New Germany, areas where, in those days, there were no dentists."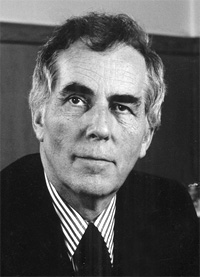 Dr. Boran has always been inspired by the legacy of Dr. McLean (right). He was a Dal student during Dr. McLean's tenure, and he got to see that work grow as he returned to the faculty, first to teach part-time, then as a full-time faculty member and, now, as dean

"[Dr. McLean] saw the needs not being met, and took the element of the Gies report about dentistry as a healing science and built on that, developing research and outreach based on that theme," he says. "I had such a deep appreciation for what Dr. McLean did."

Today, that mission of service is key to what the Faculty of Dentistry stands for.

"Now, we're not just in rural Nova Scotia — we're everywhere," says Dr. Boran. "We're all over the world. We're in Vietnam, Tunisia, Labrador, north-end Halifax and here at our clinic with sponsored care. And that will continue to grow. You can see that our community—students, faculty, staff and alumni—has embraced that, and everyone wants to take it to the next level."

Looking to the future


Dr. Boran has just completed his first term as dean; he's planning on returning for a second. And he sees the faculty's centennial as an opportunity to both survey the past and look to the future.

"Having a chance to celebrate that excellence… the Gies report allows us to say, 'We've met this standard – now, how do we take the next hundred years and build on that benchmark?'"

The answer, he says, is by continuing to inspire the leaders of tomorrow.

"For a little faculty of dentistry on the east coast of Canada, we have produced an enormous number of leaders in organized dentistry and dental education. We have to continue to prepare not just good dentists and dental hygienists, but people that will be leaders, with the skill sets to take our profession to the next level, through the opportunities and challenges of the next 100 years."

The faculty currently has an academic plan, stretching through 2021, based around six strategic goals: education, patient care, research, environment, sustainability and recruitment and retention. All of those feel right at home in the faculty's long, storied history.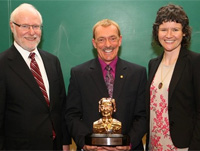 "We've never really gone in a lot of different directions," says Dr. Boran (left with Tom Traves and Megan Leslie, receiving the Gies award). He refers to one of his favourite books by Ted Kennedy to describe his faculty's focus.

"We've stayed true – a true compass, if you will, for dental education."