It's pronounced "guys" — and now, Dal's Faculty of Dentistry is one of them.

The Faculty has been named this year's recipient of the William J. Gies Award for Achievement (Academic Dental Institution). It's the first Canadian dental school to win the honour.

The Gies Awards, named after dental education pioneer William J. Gies, are presented by the philanthropic arm of the American Dental Education Association, and honour individuals and organizations exemplifying dedication to the highest standards of vision, innovation, and achievement in dental education, research and leadership.

A proud honour


That sounds an awful lot like the Faculty of Dentistry, as Halifax's Member of Parliament Megan Leslie pointed out at a celebration event this past Wednesday.

"As I read the description for the award, I realized that the Dalhousie Faculty of Dentistry was getting an award for being itself," she said.

With the Faculty celebrating its centennial—the 100th anniversary of its first graduating class—in May, the timing couldn't be better to recognize what it is that makes dentistry at Dalhousie special.

"I often refer to us as a family," said Dean Thomas Boran. "We're a family of very talented faculty, dedicated and enthusiastic staff, devoted alumni and our main reason for being: our dentistry and dental hygiene students."

Dr. Boran received the award's trophy—a golden bust of its namesake—at a ceremony in Florida last month. He described the event as "the dental educators' Oscar awards" – he even had a countdown clock for his acceptance speech.

"I was so proud to present our Faculty on such an occasion," he said. "It's something we should all be very proud of."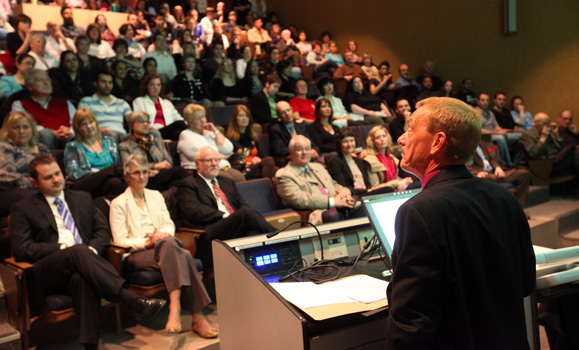 (Nick Pearce photo)
Commitment to students – and the community


Originally founded as the Maritime Dental College in 1908, the Faculty of Dentistry has long been defined by a commitment to quality education based on change and renewal, from providing students with access to the latest digital diagnostic tools to building early exposure to patient care into the curriculum.

Also central to the Faculty's mandate has been community outreach. Its dental clinic treats more than 12,000 patients each year, and the Faculty also hosts permanent outreach clinics for elementary school children in areas of special need. It has several research programs focused on the oral health of vulnerable populations, and provides international education and outreach in cleft palate and cleft lift surgery – and these are just a few examples of its great work.

"To me, that's the mark of a wonderful school," said Dalhousie President Tom Traves at the event. "It does what it does brilliantly, it's committed to advancing the field, but it's also mindful of its place in the community and gives back."

Dr. Boran described the Gies award as something that the Faculty of Dentistry can always look back on as a highlight of its centennial celebration.

"The first school in Canada to earn this honour ¬–  that's something we can cherish forever."

To learn more about the Faculty of Dentistry's centennial celebrations, which will take place from May 23-26, visit daldentistry100.ca.

A Legislature resolution
Wednesday, Maureen MacDonald, MLA for Halifax-Needham and the provincial minister of health and wellness, read a resolution in the Nova Scotia Legislature celebrating the Faculty of Dentistry. It was supported unanimously.  

RESOLUTION NO. 151

HON. MAUREEN MACDONALD:

Whereas the Faculty of Dentistry at Dalhousie University has been recognized as the recipient of the 2012 William J. Gies Award for Achievement from the American Dental Education Association's ADEAGies Foundation; and

Whereas Dalhousie Dentistry has become the first Canadian faculty of dentistry to be presented with this pre-eminent recognition of exceptional contributions to, and in support of, oral health care and dental education around the world; and

Whereas the faculty will be celebrating the 100th Anniversary of its first graduating class during its centennial celebrations from May 23-26, 2012, here in Halifax;

Therefore be it resolved that all members of the House of Assembly congratulate the alumni, faculty, staff, and students of the Faculty of Dentistry at Dalhousie University - one of the oldest university faculties of dentistry in Canada - upon the receipt of the prestigious William J. Gies Award and upon the occasion of its upcoming centennial.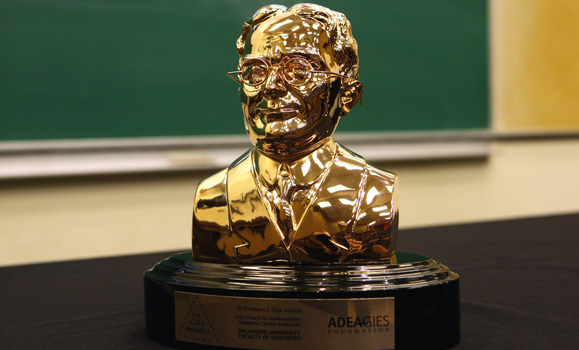 (Nick Pearce photo)