RBC Sustainability Leadership Certificate
2023-24 Program Information & Application Form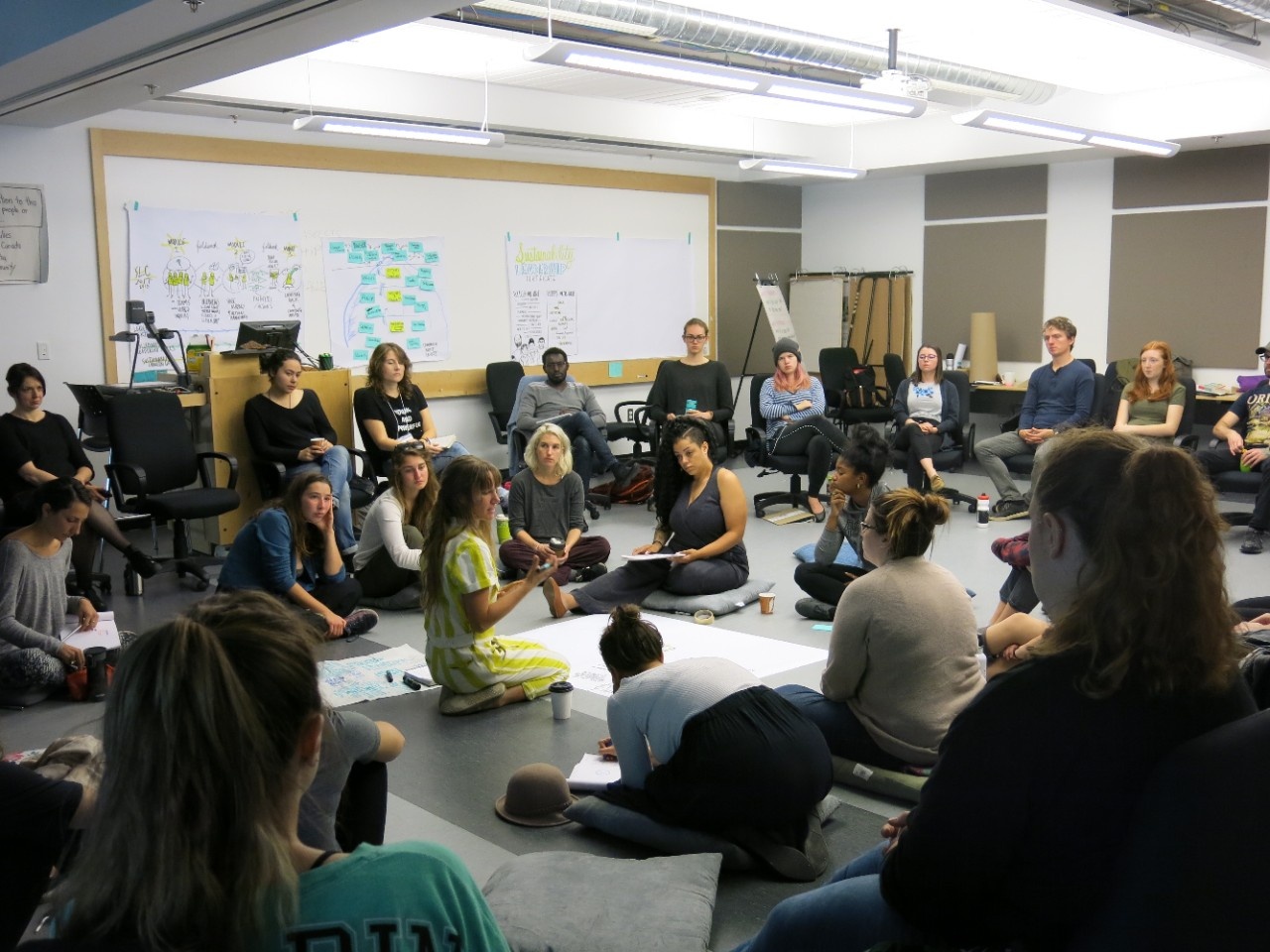 Do you have an idea for addressing a need in your community? Looking for a hands-on opportunity to build valuable skills, make new friends and connections, and kickstart a great sustainability project? In the RBC Sustainability Leadership Certificate program, you'll turn your ideas into action by designing and implementing social change projects that meet real needs. Learn more about the program modules.
Participants are required to attend all three modules to obtain the certificate, although attendance may be completed over multiple academic years. Along with their final certificate, SLC program participants in 2023/24 will also have the opportunity to earn two of Dalhousie's microcredentials: Collaborative Facilitation for Sustainability Leadership and Reflective Leadership Approaches for Sustainability Leadership. These microcredentials can be displayed in resumes, social media profiles and email signatures.
Financial support from the RBC Foundation makes it possible for us to offer this program at minimal cost for students to help offset the cost of materials. Scroll down to view all registration and payment details.
To apply, please click the link below for the online application. Deadline for applications is THURSDAY, OCTOBER 19TH at 11:59pm (ADT).
Early application is encouraged! For the 2023-24 program, the College of Sustainability will be offering a $50.00 discount on program costs for the first five applicants.
---
2023-2024 PROGRAM DATES
Program Opens
Friday, October 13: Brightspace opens to SLC students.

Leadership Module 1: October 21 & 22, 2023
Saturday, October 21: In-Person Session from 10:00am - 6:00pm ADT
Sunday, October 22: In-Person Session from 10:00am - 4:00pm ADT
Subsequent activities: Interviews & related assignment. Assignment is due one week before Module 2.
Leadership Module 2: January 20, 2024
Saturday, January 20: In-Person Session from 10:00am - 6:00pm AST
Subsequent activities: Online peer coaching session.
Leadership Module 3: March 23, 2024
Saturday, March 23: In-Person Session from 10:00am - 6:00 pm AST
Subsequent activities: Online peer coaching session & closing.
---
Requirements
To complete the certificate, students are required to:
Attend all three modules (not necessarily in one academic year);
Engage in two action projects; and
Complete several reflection exercises on their personal program experiences.
Time Commitment
Beyond the in-person time commitments shown in the schedule for each module, expect up to 20-25 hours of work between each Module to complete assignments.
Payment
Thanks to funding from RBC Foundation, the cost for the entire course is $150 (to cover the cost of materials). For the 2023-2024 program, the College of Sustainability will also be offering a $50 discount on program costs for the first five applicants.
Dal students should note: You can apply for a DSU Member Grant to be considered for a rebate towards this program! Apply here for the DSU grant.  
Payment can be made by cash, cheque or credit card.
Payment by cash or cheque can be dropped off during business hours to our office at 1459 LeMarchant Street, suite 1401. Cheques must be made payable to Dalhousie University. A receipt will be provided. For payment by credit card – or any general questions regarding payment – please contact Shannon Hovey at cosfinance@dal.ca.
Registration and Refund Policies
Payment details will be included with notice of acceptance in the program. The fee is non-refundable, but should circumstances arise that prevent participation in either the second or third module a credit will be issued that will allow participation in the next year's offering (good for one year only).
Questions about the program and registration can be directed to Isaac Greenberg at i.greenberg@dal.ca.