»
Go to news main
Celebrating Black Excellence in STEM ‑ 2019 Annual Closing Ceremony
Posted by
Imhotep's Legacy Academy
on May 18, 2019 in
News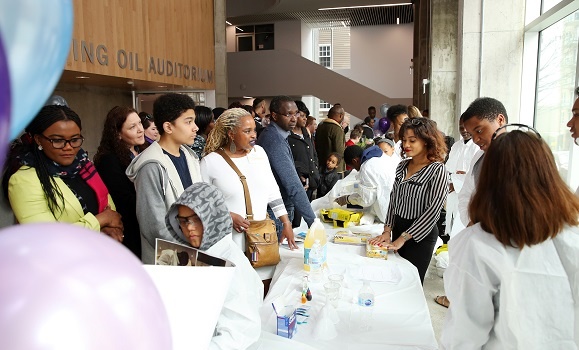 ILA held its 16th Annual Closing Ceremony on Saturday, May 18, 2019 at the Irving Auditorium, at Dalhousie University, Sexton Campus. This year, ILA celebrated "Black Excellence in STEM": our effort to increase the visibility of Black professionals in science, technology, engineering and mathematics; as well as highlight the unique and essential contributions of people of African descent - both past and present - to science and human knowledge.
Our closing ceremony is an opportunity to commend students, mentors and tutors on their exceptional work over the school year and highlight their noteworthy achievements. The program included student science demonstrations and personal testimonials.
ILA was honored to have Dr. K. Renee Horton as guest speaker. A highly accomplished native of Baton Rouge, Louisiana, Dr. Horton is a Space Launch System (SLS) Quality Engineer at NASA's Michoud Assembly Facility; a fellow of the National Association of Black Physicists; Founder of Unapologetically Being Inc., and author of the "Dr. H" children's book series available for purchase online.
In her address, Dr. Horton spoke about her journey to become a professional in STEM, referencing the challenges, doubt and peer pressure she faced as a young black woman with an interest in science; experiences that lead her to become an advocate for diversity in STEM.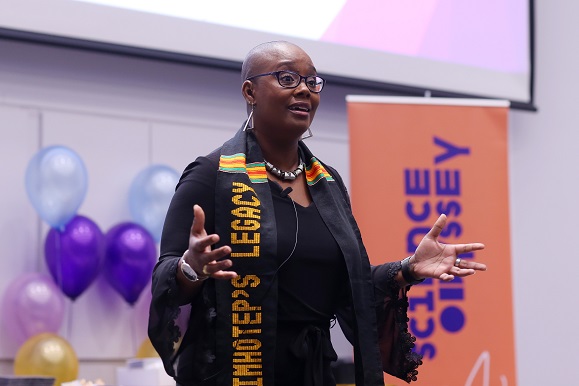 Dr. Horton assured students, "Persist in doing what you want to do... when you find your intersection between your talent and your passion, you find your true happiness."

We also recognized ILA's sponsors [PDF-5.4MB], donors and supporters that make our programming possible. This year's event was sponsored by Science Odyssey, powered by NSERC.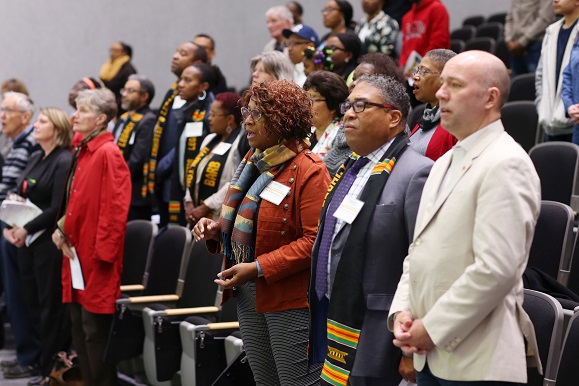 We were pleased to welcome special guests (left to right): Rev. Rhonda Britton; Honorable Tony Ince, Minister of Communities Culture and Heritage and Minister of African Nova Scotian Affairs; as well as Andy Fillmore, Member of Parliament for Halifax, who gave opening remarks. The event was well attended by parents, academics, various community members and organizations.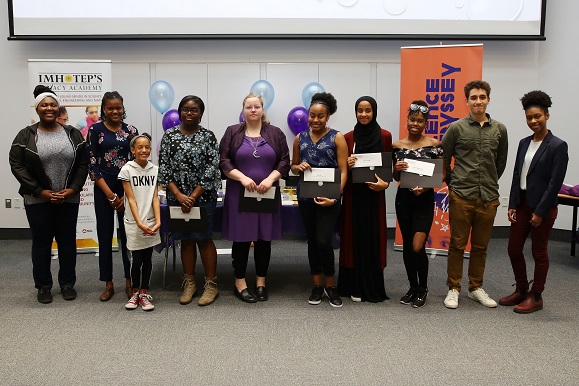 Several awards were presented to deserving students during the Ceremony [PDF-687KB]

Student of the Year Awards
Awarded to students with exceptional participation in ILA program activities, (i.e., After-School Program, FIRST LEGO League Program, iCode+ Program, Virtual School Program) and other initiatives.
Assessment Criteria:
  - Student must be nominated by ILA Program Staff
  - Strong program attendance and participation
  - Demonstrated commitment to program activities
  - Demonstrated strong interest in STEM subjects (Sciences, Mathematics)
  - Strong academic student
ILA-TD Opportunity Scholarships
A four-year renewable scholarship, made possible through a $1,000,000 endowment by TD Bank, valued at up to $5,000/yr, for ILA Program graduates entering a STEM-related program of study at Dalhousie University, Halifax.
Assessment Criteria:
  - Strong program attendance
  - Demonstrated commitment to program activities
  - Demonstrated strong interest in STEM subjects (Sciences, Mathematics)
  - Strong academic student
Summer Student Research Scholarships
These $6,500 scholarships are awarded to students of African heritage enrolled in full-time studies in computer science, engineering, health or science. Its purpose is to provide computer science, engineering, health, and science-related research experience. 

Assessment Criteria:
  - Enrolled in an undergraduate science or engineering program at a post-secondary institution in Nova Scotia.
  - Preference will be given to applicants who have participated, or intend to participate, in the Imhotep's Legacy Academy.
  - Selection is based on a combination of academic performance (50%), research ability (30%) and leadership/community involvement   (20%).
  - Cumulative GPA at the time of application in a computer science, health, medicine, engineering, or science program of study of at least 3.0 is required.
  - Students must conduct their research under the guidance of a Dalhousie University faculty member
These $5,000 medical studentships are awarded to undergraduate students of African heritage who are confident that medical research will be part of their professional careers.  The goal of this studentship is to increase the number of African Nova Scotians in medicine by providing medically related research experience.
Assessment Criteria:
- Enrolled at Dalhousie University and completed at least 2 years of an undergraduate program;
- Member of African Nova Scotian community or African Canadian;
- Demonstrate a serious interest in a future career in medicine or medical research;
- Quality of the student (research experience, skills, fit to the project);
- Potential contributions of the students