Research areas
Headquartered at Dalhousie University in Halifax, Nova Scotia, the Ocean Tracking Network is a global environmental research initiative that comprehensively monitors the movements and migrations of marine animals as well as the ocean conditions that affect them.
Funding from the Canada Foundation for Inn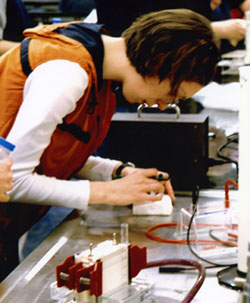 ovation and the Natural Sciences and Engineering Research Council will enable scientists to build a global network of animal tracking and ocean monitoring infrastructure that allows them to tag and track marine species for up to 20 years. 
Specially designed acoustic hydrophone receivers will be arranged in strategic locations along the sea floor to create invisible "listening lines", in 14 ocean regions off all seven continents. Roughly the size of fire extinguishers, these receivers will detect coded acoustic signals uniquely identifying each tagged sea creature that passes over these lines. OTN listening lines will also include sophisticated sensors that measure the ocean's temperature, depth, salinity, currents, chemistry, and other properties. OTN's international partners collect this information and feed it back to a central database at Dalhousie. This provides the ocean research community with current and reliable global records that can be analyzed and applied to environmental research efforts. 
The power and scope of OTN come from the international partnerships of universities, business, not-for-profit organizations and government. Dalhousie University, as a global leader in all aspects of ocean research, sits at the centre of this unique initiative. The vision is to build a worldwide network and infrastructure that, for the first time in history, provides a clear and detailed picture of marine life and ocean conditions around the globe.

Dalhousie's faculty are internationally recognized as outstanding scholars and researchers, creating new knowledge with global impact.

In biology, our professors are leading international teams to produce ground-breaking research.

They study everything from the world's oceans to plants and soil ecology; the genetics of fishes and marine organisms to the very basis of life itself - the cell.

Their work draws attention from academic journals and media outlets around the world. They are excellent teachers, who inspire our students to go beyond what was ever thought possible.
We also have a highly-specialized support staff, with expertise in microscopy, imaging, molecular techniques, microbiology and greenhouse management.