News
»
Go to news main
Introducing myschulich.dal.ca
Posted by
Amanda Kirby-Sheppard
on November 6, 2023 in
News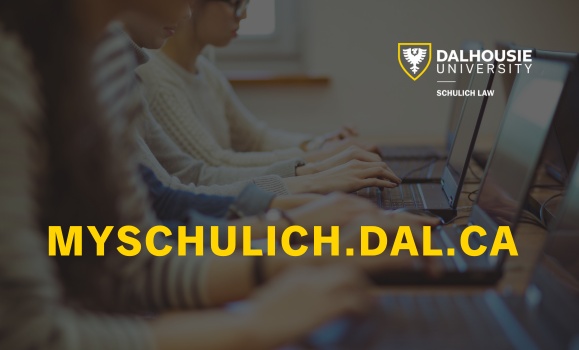 The Office of the Associate Dean Academic is pleased to introduce myschulich.dal.ca  to the Schulich Law community.
What is myschulich.dal.ca?
Myschulich.dal.ca is an online portal to information and resources specific to current students in the Schulich School of Law. Here students will find relevant information organized in one central repository, in the areas of Academic, Student Life, Accommodations, Career Development, and Anti-Racism, Equity, Diversity, and Inclusion from Schulich Law and Dalhousie University.
Aside from accessing relevant information, students can submit forms for a range of requests such as academic dispensation, leave of absence, or course auditing, with added functions soon to come such as booking appointments and registering for events.
Students can also find the Student Accessibility Centre's Accommodate portal and Schulich Law's Career Development portal within.
Myschulich.dal.ca can be accessed directly via the URL (myschulich.dal.ca) or can be found on the www.dal.ca/law page under Current Students.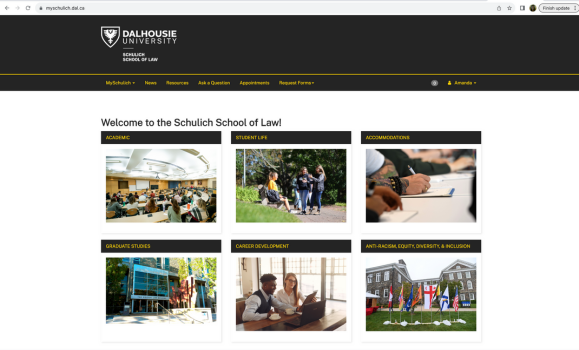 Who is myschulich.dal.ca for?
The platform is currently focused on serving students in the JD program. Information and resources for law graduate students may be included in the future.
All current students, faculty, and staff in Schulich Law can access the platform with their NetID and password.
Your feedback on myschulich.dal.ca is welcome!
The Office of the Associate Dean Academic will continue to develop myschulich.dal.ca and the constructive feedback of users is encouraged so that we can ensure the platform meets the needs of its intended audience – our students.
A feedback form is available on the myschulich.dal.ca home page and we welcome you to submit your thoughts.