News
»
Go to news main
Meet Grace Mangusso, Class of 2023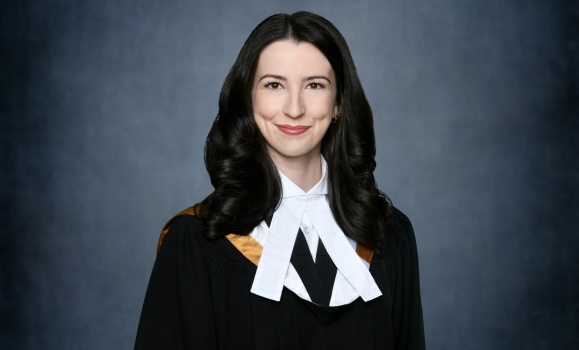 Congratulations to the Schulich School of Law's Class of 2023! In the coming weeks, we'll feature Q&As with graduating law students who will reflect on their time at Weldon.
Today we're talking to Grace Mangusso.
Why did you want to attend the Schulich School of Law?
As an East Coaster and the first member of my family to attend law school, I chose Schulich Law because of its collegial reputation and strong community. The friends, teachers, and mentors I gained here have affirmed that I made the right choice!
In what ways were you involved with the law school community?
Since 1L, I have been involved with the Dalhousie Law Students' Society (LSS). I am proud to have been the President of the LSS this year after serving as the Vice President Executive in my second year and the 1L Executive and Section A Representative in my first year. These roles have given me the opportunity to sit on the Law Dean Search Committee, Law Faculty Council, and the Dalhousie Law Alumni Association (DLAA) Board of Directors.
Additionally, I have held the roles of Academic Orientation Coordinator with Schulich Law's Student Services and Engagement team, and I have been a Research Assistant for the Dean on trauma-informed approaches to teaching and learning.
I have also had the pleasure of being an Academic Peer Mentor, Upper Year Buddy, and Business Law Association of Dalhousie (BLAD) Mentor.
What is your favourite law school memory?
It is difficult to choose from so many special law school memories!
Creating our section's "Pith & Substance" video in 1L, participating in the Sopinka Moot competitive team in 2L, and getting to speak at the Law Alumni Reunion Dinner in 3L are just a few that come to mind.
However, I think my favourite memory is the exam treat bag initiative I started in 1L. With the support of the LSS and the (DLAA, we delivered more than 200 treat bags to law students during the exam period. Since my first year was entirely online and many students felt quite isolated during the pandemic, it was nice to connect with my classmates and spread a little cheer during an otherwise stressful time of year. I am so grateful that the LSS and DLAA have continued to support this initiative—we've been making exam treat bags every semester since!
What will you miss most about Schulich Law?
What I will miss most are the many people who make Schulich Law such a wonderful place to be. I will miss my talented and inspiring peers who are now beginning their careers across the country, the faculty and instructors who facilitated so many wonderful learning opportunities, and the staff who supported and encouraged me in my academic, professional, and extra-curricular endeavours.
What are your post-graduation plans?
After graduation, I will be articling at Torys LLP in Toronto, Ontario.