News
»
Go to news main
Meet Keesha Ryan, Class of 2023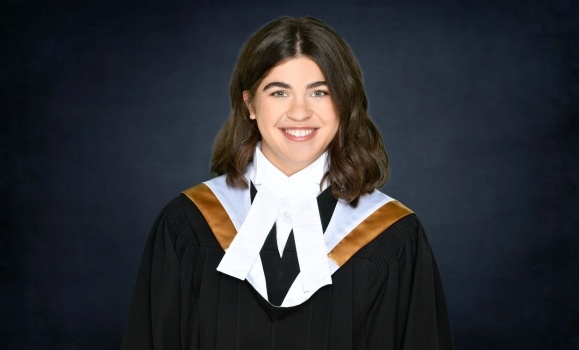 Congratulations to the Schulich School of Law's Class of 2023! In the coming weeks, we'll feature Q&As with graduating law students who will reflect on their time at Weldon.
Today we're talking to Keesha Ryan.
Why did you want to attend the Schulich School of Law?
I chose to attend the Schulich School of Law because of the Indigenous Blacks & Mi'kmaq (IB&M) Initiative. I was overjoyed when I was offered a seat in this program as I knew that it would offer so much support and community throughout my time in law school.
In what ways were you involved with the law school community?
Since my first year in law school, I have been actively involved with the Dalhousie Black Law Students' Association (DBLSA). I am also a proud member of the IB&M Initiative.
What is your favourite law school memory?
My favourite memory is working at Dalhousie Legal Aid Service (DLAS) for my final semester. It was such a unique and rewarding experience being able to assist members of the community on a wide variety of file types. The staff are all so welcoming and have so much knowledge to share. Being able to work alongside 15 other bright law students in a collaborative setting was such a fun experience. The experiences and knowledge I've gained at the clinic will be things I carry with me throughout my career.
What will you miss most about Schulich Law?
I am going to miss the collegiality of the Schulich Law environment and all the friends I met here over the years.
In my second year of law school, I had to undergo neurosurgery which resulted in me missing about five weeks' worth of classes. Classmates who I barely knew made sure that I got notes from the classes I couldn't attend; professors made themselves available to help me catch up on material; and administrative staff were quick to act to ensure I had the proper accommodations in place. People always talk about how law school students are super competitive and are not willing to help each other out, but that was not my experience at all here at Schulich Law. Everyone was so incredibly kind and supportive, and I received so much help from fellow classmates who made my graduation possible.
The friends I have made here will be my best friends for life. They made sure that I was always taking care of myself and helped me get through some difficult times. Without the collective help of everyone at the law school, I would not have been graduating this year. I will be forever grateful to the community at the Schulich School of Law.
What are your post-graduation plans?
I will be returning to my home province of Prince Edward Island. I will be articling at Carr, Stevenson & MacKay, where I have been fortunate enough to work for the past two summers as a summer student.