News
»
Go to news main
2021 Smith Shield Moot Results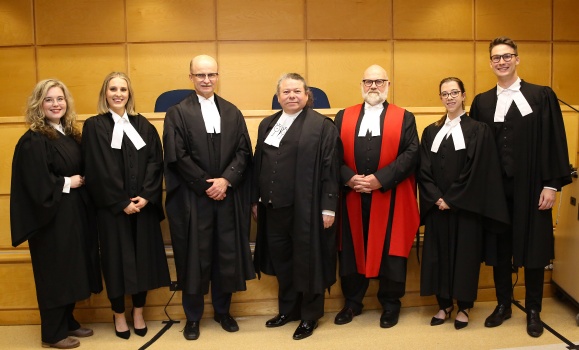 This year, the Schulich School of Law welcomed the Smith Shield Moot, the premiere mooting event of the academic calendar, back to the Weldon Law Building after last year's event was held entirely over Zoom. With a tradition dating back to 1927, Smith Shield competitors are chosen from the top mooters in the compulsory second-year moot.
On October 13, the mooters argued the case of Dickson v Vuntut Gwitchin First Nation, before The Honourable Chief Justice Michael J. Wood, Nova Scotia Court of Appeal; The Honourable Justice Jamie S. Campbell, Nova Scotia Supreme Court; and Tuma T. W. Young, Q.C., President, Nova Scotia Barristers' Society. During the moot, Jacob Ezeard and Elizabeth Matheson represented the appellant, and Kelsey Warr and Nicola Hibbard represented the respondent.
The two legal issues on the appeal were whether the Charter applies to First Nations who have self-government agreements and exercise inherent governance rights, and – if it does – whether section 15(1) of the Charter is violated by a requirement that if someone is elected to Chief and Council, that they must become resident on the First Nation's settlement lands within 14 days of being elected.
Elizabeth Matheson and Kelsey Warr were this year's winners, receiving the A.S. Pattillo Prize in Advocacy. The runners-up were Nicola Hibbard and Jacob Ezeard who were recognized with the Leonard A. Kitz Prize in Advocacy.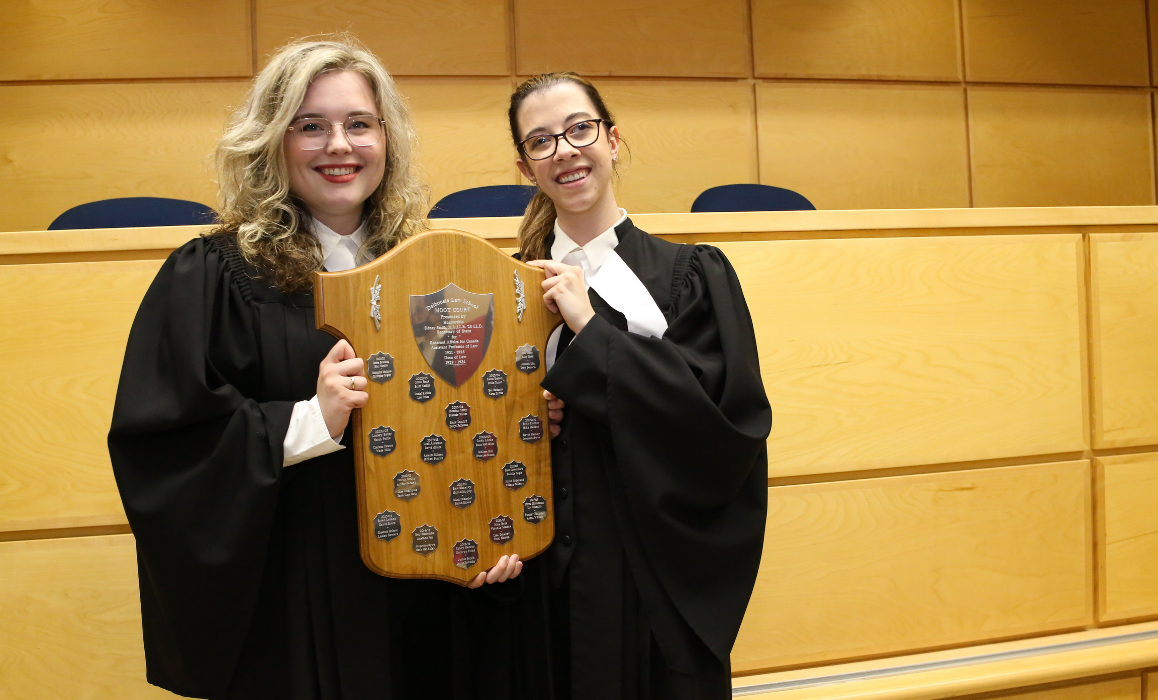 "I am so honoured to have participated in this year's Smith Shield competition. I can still remember being so nervous for the moot portion of my 1L small group course and thinking at the time I would be lucky to get through that. It was a really full-circle experience to look back on that while doing the Smith Shield, to see how far I've come," said Matheson.
"The Smith Shield has been such an incredible opportunity" said Warr. "When I first started law school, I wasn't sure if I'd ever enter a courtroom because I was so scared of public speaking, so this was really a surreal experience. Having said that, I'm so glad I worked past that and had the chance to participate this year, especially with a case involving such important legal issues. It's definitely something I'll always remember and appreciate!"
Congratulations to the students who took part in the 2021 Smith Shield Moot, and thank you to our judges and everyone else behind the scenes who helped make this year's return to an in-person gathering a success. We look forward to continuing the tradition next year.