News
»
Go to news main
Judge Corrine Sparks named 2020 Recipient of the Weldon Award for Unselfish Public Service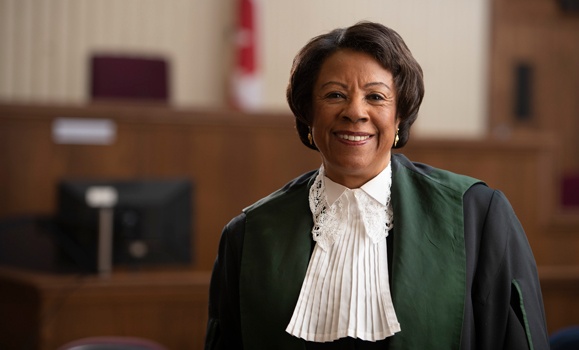 The Schulich School of Law and the Dalhousie Law Alumni Association are proud to announce that the Honourable Corrine Sparks (LLB '79, LLM '01) is the 2020 recipient of the Weldon Award for Unselfish Public Service. Sparks was appointed to the Nova Scotia Family Court in 1987, becoming the first African Nova Scotian to be appointed to the bench, and the first Black woman to serve on the judiciary in Canada.
Since 1983, the Schulich School of Law at Dalhousie University has presented the Weldon Award for Unselfish Public Service annually to an alumnus or alumna who has made outstanding contributions to the community and the legal profession on either a worldwide, national, provincial, or local setting.
"Judge Sparks truly demonstrates the importance of commitment to the community," says Acting Dean Richard Devlin. "The Schulich School of Law is proud that has she has been so gracious and generous as an alumna of the law school."
Sparks says she is deeply honoured and humbled to be the recipient of the prestigious Weldon Award. She credits law school for helping her build stamina and character. "I've had many experiences in my life which have been transformational, but one of the key transformative experiences was my time at the Schulich School of Law," says Sparks. "It opened my eyes. It was a portal to discovering, exploring, and equipping myself with the instruments to have a purposeful life."
A life of service
The Weldon Tradition of unselfish public service has been an integral part of Sparks personal and professional life. "We're really taught at the Schulich School of Law to be able to advocate strongly, effectively, and with a lot of compassion for those who are voiceless in society."
During her time on the bench of the Nova Scotia Provincial Court, Judge Sparks presided in Family Court in Dartmouth, Truro, Shubenacadie, Windsor and Kentville where she has been devoted, almost exclusively, to adjudicating family court matters relating to issues of custody, child and spousal support, access, and infant protection.
"Judge Sparks is a real life super hero in the hearts and minds of Black lawyers who came behind her, regardless of our areas of practice," wrote Candace Thomas (LLB '95) in her nomination letter. "Judge Sparks approached the weighty responsibility of being the lone Black judge in this province with fairness and compassion for the individuals who appeared before her."
She has also actively fostered and facilitated judicial education, developing educational programs and lecturing on gender and racial discrimination and the courts. Over the years Sparks has been involved in numerous judicial education programs from the International Association of Women Judges-Canadian Chapter to the Commonwealth Judicial Education Center; and her work has earned her numerous awards and recognition.
Breaking barriers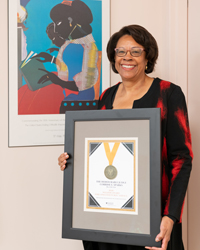 Sparks grew up in the historical and racially segregated community of Lake Loon outside of Halifax. The daughter of humble, religious and devoted parents, Helen and Spencer Sparks, and the descendent of Black Loyalists and Black Refugees, she is the eldest of nine children. Sparks attended Mount Saint Vincent University, from which she earned a degree in economics in 1974. She then went on to pursue a Bachelor of Laws degree from Dalhousie University where she was one of only three African Nova Scotians in her incoming class of 120 and the only Black woman. She graduated in 1979. In 2001, she was awarded a Master of Laws degree from Dalhousie's Law School. Her thesis focused on reparations for the residents of Africville – an African-Canadian community in north end Halifax that was demolished by the city in 1969.
In 2007, the Dalhousie Black Law Students' Association created the Judge Corrine Sparks Award to recognize students who are committed to using their legal education as a tool for change in their community.
"My friend has truly been a 'trailblazer' in many facets of her life and career," wrote classmate Randall C. Fleming (LLB '79) in his nomination letter. "Through her personal drive, moral strength, scholastic achievement, professional career, and public service on many levels, she has made a major contribution to the advancement of women generally, and particularly women of colour. And, as the Judge Corrine Sparks Award testifies, she is seen as a role model for all who are committed to using a legal education as a tool for transformation in the service of the public good."
Commitment to community
Sparks' attachment to her roots and commitment to her community runs deep.
"When I reflect on the struggles and sacrifices of my ancestors, and even my parents, I have to pay homage to them because I stand on their shoulders in so many ways," says Sparks. "I know that they provided me with the foundation for me to be where I am today."
Through a multi-layered life in the law, and her rich and varied community involvements, Judge Sparks' life has been premised on a genuine belief that to those to whom much is given, much is expected. Sparks is mindful of her place in Nova Scotia black and legal history.
"Whenever you're the first in any profession, you're going to face obstacles," says Sparks. "It doesn't mean you accept the criticism and barriers, but it makes you more determined than ever to eliminate those barriers for the next generation. I hope those in the legal community and beyond will see me as a hardworking individual who was given a rare opportunity to serve the public and serve humanity."
In her own words
A conversation with Judge Sparks about The Weldon Tradition and the power of education.