News
»
Go to news main
Smith Shield 2020: A virtual moot
Posted by
Trudi Smith, with files from Ashley Barnes
on October 16, 2020 in
News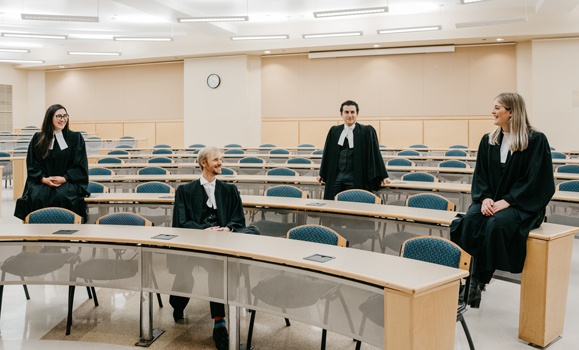 The Smith Shield Moot is the premiere mooting event of the academic calendar with a tradition dating back to 1927. On October 7, this year's Smith Shield mooters became the first in the law school's history to present their oral arguments and take questions from the judges entirely over Zoom due to the ongoing pandemic.
Smith Shield competitors are chosen from the top mooters in the compulsory second-year moot. This year's mooters were Nicole Kelly and Yazan Matarieh, representing the appellant and Siobhan Donovan and Samuel Beuerle, representing the respondent. They argued the case of Jones v Vollick, involving the tort liability of a child defendant, before the Honourable Chief Justice Michael J. Wood, Nova Scotia Court of Appeal; Mr. Jim Rossiter, QC, President, Nova Scotia Barristers' Society; and Professor Elaine Gibson. The problem was drafted by Professor Michael Hadskis.
Transitioning to a virtual environment
"The students put in a tremendous amount of work to prepare for the moot and it truly paid off," said faculty advisor Professor Ashley Barnes. "They proved adept at responding to questions when challenged by the judges and managed the uncertainty of transitioning to the virtual environment seamlessly. They should all be very proud of their performances – proving they are outstanding advocates!"
The panel of judges recognized the quality of advocacy on display, noting in particular the students' strong presentation styles. Chief Justice Wood also mentioned that there was one advantage of hearing the arguments virtually, commenting that while most of the time students are glancing down at their notes, this year's mooters were able to maintain incredible eye contact with all of the material displayed on their screens.
Nicole Kelly and Siobhan Donovan were this year's winners, receiving the A.S. Pattillo Prize in Advocacy. Yazan Matarieh and Samuel Beurele were runners up, recognized with the Leonard A. Kitz Prize in Advocacy.
"Participating in the Smith Shield Moot was such a surreal experience," said Kelly. "I remember watching the Smith Shield during my first month of law school and being completely astounded by the poise and professionalism of the 3L students. I never could have imagined being in their shoes two years later. It was an honour to compete and an experience I will never forget!"
While the first virtual Smith Shield was an outstanding success, we look forward to gathering in person next year to continue the tradition.
Watch the Smith Shield 2020
Acknowledgements
While the mooters and presiding judges did an outstanding job, there are so many people behind the scenes that make a moot successful – especially this year! Thanks to faculty advisor Professor Ashley Barnes, Schulich Law staff members Ashlee Hinchey, Geordie Lounsbury and Elizabeth Sanford for their roles in organizing and providing technical support, and to Professors Jodi Lazare, Elaine Gibson and Brandon Stewart for assisting with practice sessions.