News
»
Go to news main
Get to know Schulich Fellow Ashley Barnes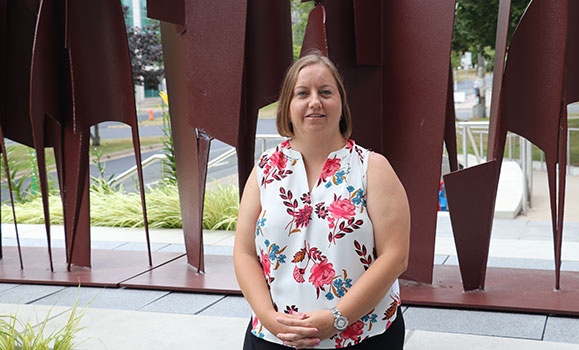 The Schulich School of Law welcomes Ashley Barnes, who has joined us as a Schulich Fellow for the 2019–20 year and is teaching a first-year Contracts course in both semesters.
Barnes is an international lawyer and doctoral researcher at the University of Toronto's Faculty of Law and a member of the Ontario Bar. She previously completed an honours BA at the University of Toronto, an MA in international affairs at Carleton University, a JD at the University of Windsor, and an LLM at the London School of Economics.
Why did you decide to become a lawyer?
For as long as I can remember, I considered becoming a lawyer. While studying international relations in my early university career, I was always attracted to the legal dimensions and reasoning, confirming once and for all that I wanted to pursue law in a more in-depth way. Once I started law school, I enjoyed the challenges it provided, along with opportunities to get directly involved in responding to complex social problems.
Tell us about your academic and legal background.
My career has taken me many unexpected places in Canada and abroad. Following law school, I started as a law clerk to Justice David Near, now of the Federal Court of Appeal. Since then, my experience has spanned government policy with Global Affairs Canada, in litigation at a leading national law firm, and at the Prosecutor's Office of the International Criminal Court in The Hague, Netherlands.
I also discovered that what I enjoyed most was researching and writing about the law, particularly its role in global affairs. That prompted me to pursue graduate studies, first overseas in London and then on returning home to Toronto. Most recently, I was able to spend a term as a Visiting Scholar at the Lauterpacht Centre for International Law at the University of Cambridge.
What appealed to you about doing an academic teaching Fellowship at the Schulich School of Law?
The fellowship is an attractive next step as I close out my doctoral work and move into a legal academic career. It offers great experience and training, combining first-year law teaching with the opportunity to continue to develop my research. I'm also looking forward to working with, and learning from, faculty members at Schulich Law and Dalhousie, both outstanding research and teaching institutions.
What do you like about teaching?
Teaching is probably the most enjoyable part of pursuing a legal academic career. Law students are bright, curious, and hardworking. It is a pleasure to engage with them in answering different legal questions. My previous teaching experiences have proven immensely rewarding, and I have no doubt that this will also be true of working with this year's 1Ls in Contracts.
What will you be working on while you're here?
Outside of teaching, I'll be putting the final touches on my doctoral dissertation. My research explores the evolution of compensation and access to justice under international law, in areas ranging from international criminal justice to investment arbitration. I also plan to start my next project on the role of international law in climate change compensation. I'm excited to share this research with my new colleagues and learn more about the interesting work taking place at Schulich Law. Being from Toronto, I also plan to take advantage of the opportunity to explore more of the Maritimes