News
»
Go to news main
Family Matters: Alex MacNab helps clients create families through the growing practice of fertility law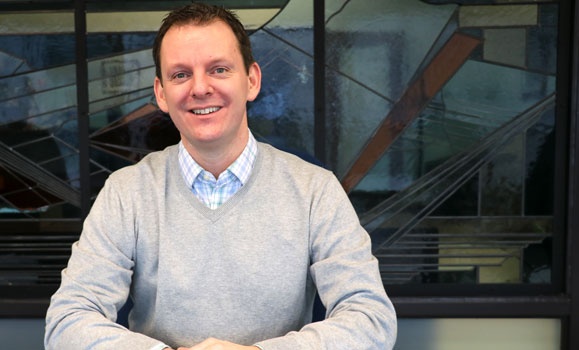 When Alex MacNab (LLB '03) was a student at the Schulich School of Law, he had plans to become a labour lawyer after he earned his degree. But a pivotal event that took place in his personal life nine years later changed his course, leading him to an unexpected vocation.
After graduation, MacNab articled at Stewart McKelvey in his hometown of St. John's. During that time he met his future husband, Rodrigo, who was earning a master's degree in geology at Memorial University. When MacNab finished articling, he was called to the Bar; a week later he was working in Goose Bay for the Newfoundland and Labrador Legal Aid Commission, where he found himself defending a man on a sexual assault charge. 
"I had done my criminal rotation at Legal Aid, and I loved it," says MacNab. "It was exciting travelling by helicopter or float plane to small communities for court. It's very high energy, and you're responsible for a lot." After two years there he moved to Calgary, where Rodrigo was working as a geologist, and landed a job at Alberta Justice Civil Litigation–Family Law representing the director of Child and Youth Services. There, he gained experience at both the Provincial Court and the Court of Queen's Bench. Although MacNab recalled enjoying the family law course he took from Professor Rollie Thompson while he was in law school, he still had his sights set on labour law.
Following that came a short stint practicing family law at a Calgary firm. In 2006 MacNab joined Moe Hannah LLP, where he continued working in family law; he became a partner in 2009, and he and Rodrigo got married. After deciding they wanted to have a family, they were introduced to the concept of surrogacy by Ellen Embury, who was the only lawyer practicing reproductive technology law in Alberta at the time. 
I feel lucky and grateful to be practising in this area of law. Family law is mainly redefining families through separation and divorce, but fertility law is helping people create families.
"We met with Ellen in 2011 to talk about the process of surrogacy, and we chose to go down that road," says MacNab. In April of 2012, they adopted a baby they named Elena, who was born via a surrogate. "Through that process I started working in fertility practice, and that practice is growing."
Today MacNab, 42, travels all over the world speaking about the Assisted Human Reproduction Act and the legal aspects of third-party reproductions in Canada. While surrogacy is legal in Canada, a surrogate cannot be paid. "The law states that she may be reimbursed reasonable out-of-pocket expenses. The problem is that the law doesn't clearly define what those expenses are. If you buy your surrogate flowers or a gold necklace, for example, you could be criminally prosecuted."
Last December, MacNab attended a public round table discussion in Halifax that drew industry providers, donors, health care professionals, and federal government representatives, among others. The goal was to solicit the public's opinion on proposed regulations to the Act in three areas: sperm and ova donation; what reasonable out-of-pocket regulations should be; and how to enforce the Act. "The law is changing and evolving," says MacNab. "Is it changing for the better? The jury's still out." What is clear is that Canada believes every person deserves to have a family, whatever "family" looks like to them. 
MacNab is happy that he didn't end up pursuing labour law, because his career path led him to his true calling. "I feel lucky and grateful to be practising in this area of law. Family law is mainly redefining families through separation and divorce, but fertility law is helping people create families."