News
»
Go to news main
Meet Heather Webster, Class of 2019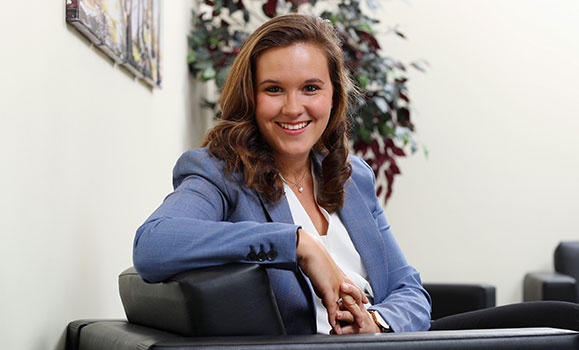 Congratulations to the Schulich School of Law's Class of 2019! Here, we profile graduating law student Heather Webster.
Why did you want to attend the Schulich School of Law?
I mainly wanted to attend Schulich Law because of the combined JD and Master of Health Administration program, in which I have been enrolled. However, I also had heard so many positive things about the community spirit of the law school.
What were your favourite classes and why?
I really enjoyed Civil Trial Practice because it gave me the opportunity to work closely with a practitioner and small team of students to prepare for a mock trial that was heard before sitting judges. Through this course, I learned a great deal about litigation and practicing law.
I also really enjoyed Advanced Aboriginal Peoples, a major paper course. This type of course allows students to do a deep dive into an area of interest and to develop research and writing skills. I enjoyed the small class size and the chance to work with the professor to develop the paper. My major paper topic for this class ended up being closely related to the problem for the Kawaskimhon National Aboriginal Moot, in which I had the opportunity to participate as part of the Schulich Law team.
What surprised you most about your law school experience?
I was surprised by how many opportunities there are for students to work with faculty and staff. I have an interest in health law and was able to work closely with many faculty members of the Health Law Institute through research assistant work, paper writing, and my other coursework. In my experience, Schulich Law faculty members offer incredible guidance, time, and mentorship to students.
In what ways were you involved with the law school community?
As a combined-program student, I had the opportunity to be involved with student groups and activities in both the Faculty of Health and the law school community. Most recently, I was co-chair of the Health Law Students' Association. I also was involved in my first year as a Pro Bono volunteer with Immigrant Services Association of Nova Scotia, and I sat on such faculty committees as Appointments.
What are your post-graduation plans?
I will be articling at Borden Ladner Gervais (BLG) in Toronto.
What is your favourite law school memory?
I will look back fondly on many of the Schulich Law traditions that bring the student community together, such as Pith and Substance, Law Ball, the annual food bank drive, upper-year buddy dinners, and Orientation Week.
What will you miss most about Schulich Law?
The people at Schulich Law, both faculty and students. There is a real sense of community here. Through all of the wonderful social events, studying during exams, and course work and moot preparation, I have made great friends. One of the fantastic parts of Schulich Law is that it's a national law school, with students coming from across the country. Unfortunately, however, that means that upon graduation, everyone is dispersed!
How will what you've learned about the Weldon Tradition influence your career?
I have always felt a deep sense of commitment to volunteering and working to improve the communities in which I have worked, studied, and lived. This was reinforced throughout my time during law school, and it has been amazing over the last few years to get exposure to and be inspired by alumni carrying on the Weldon Tradition through public lectures and events. Graduating law school gives me an incredible toolbox and a privileged position and background. I plan to harness this opportunity to improve the communities in which I work and live throughout my career.
How will you stay connected to your law school community after graduation?
By attending alumni events in Toronto and Halifax, working with other Schulich Law alumni at BLG, and staying up-to-date with the activities of the Class of 2019.