News
»
Go to news main
Dal PhD in Nursing student awarded Vanier Canada Graduate Scholarship
Posted by
Josey Houle, Dal Health freelance writer
on September 28, 2023 in
News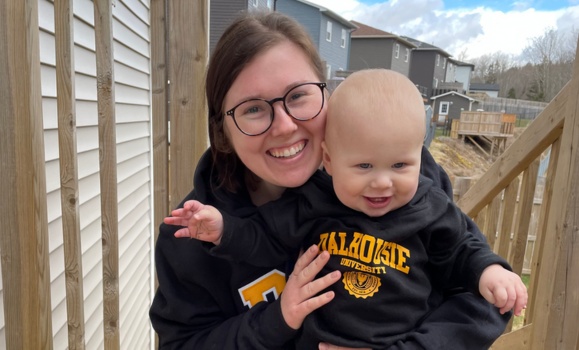 PhD in Nursing student Maddie Gallant, RN BScN, is honoured, grateful and excited to receive a 2023 Vanier Canada Graduate Scholarship. Awarded to doctoral students at Canadian institutions who display academic excellence, research potential, and leadership, the Vanier grants recipients $50,000 per year over a three-year period.
Gallant explains how receiving the Vanier empowers her to realize two major goals: to effect positive change in healthcare as a nursing researcher, and to immerse herself in motherhood.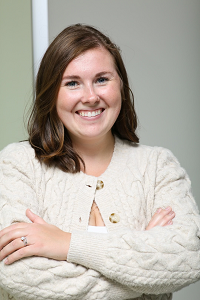 "The scholarship allows me to focus on my research as my main source of work. This allows me to be home every night with my children, rather than having to pick up  clinical shifts. I get to put my children to bed, I get to read them stories," she says.
Inspired by her years of experiences as a frontline nurse on the IWK Health Centre's Family Newborn Care Unit and Birth Unit, Gallant's implementation science and perinatal nursing-based PhD research examines the implementation of the Eat, Sleep, Console (ESC) model of care for infants with Neonatal Opioid Withdrawal Syndrome (NOWS), in both urban and rural hospital settings.
NOWS is diagnosed in infants who demonstrate a dependence upon an opioid that they were exposed to while their mother or birth parent was pregnant. The number of infants diagnosed with NOWS in Nova Scotia has been steadily increasing over the past decade, and stigma and discrimination towards those diagnosed with opioid use disorders or NOWS remains common.
The ESC model of care is based upon collaboration between the infant's birth parent or mother and family, and their team of healthcare providers. The ESC model of care empowers birth parents and mothers to be the center of treatment for their infants who are withdrawing. The ESC is a philosophy of care that focuses on evaluating whether the infant is eating, sleeping, and is easily consoled. Positive outcomes of the ESC model of care include decreased length of hospital stay for mothers and birth parents of infants with NOWS, and birth parent and mother empowerment.
"I want my research to be empowering for mothers and birth parents who have been diagnosed with Opioid Use Disorder. Because of the stigma and discrimination that they've experienced, a lot of the times their voices just aren't heard in research. This is why I will be using an integrated knowledge translation approach where every step of the way through my research I will be empowering and collaborating with key knowledge users like patients and healthcare providers", Gallant says.
Gallant is thrilled by how the Vanier allows her to embrace various mentorship and networking opportunities. She looks forward to presenting her research at different conferences, writing different publications, and more.
"All of these opportunities are helping me to build this foundation of who I am as an early career researcher and the researcher I strive to be, along with the impact that I want to make," Gallant says.
Gallant insists that she could not have received the Vanier without the unyielding support of her husband, her family, her PhD supervisors, Dr. Christine Cassidy, and Dr. Megan Aston, her friends, and her colleagues. Her community within and outside Dal never ceases to inspire and empower her.
"I can't speak to this accomplishment without acknowledging my husband and the incredible support I receive from my family, friends and colleagues. It takes a village to do a PhD. It takes a village to raise your children. And I have an incredible village. The Vanier is one key part of my village that supports me to create the impact I strive to make in nursing research and our healthcare system in Nova Scotia," Gallant says.