News
»
Go to news main
L'nu Nursing Initiative lead Dawn Googoo on supporting Indigenous nursing students
Posted by
Jane Doucet
on January 30, 2023 in
News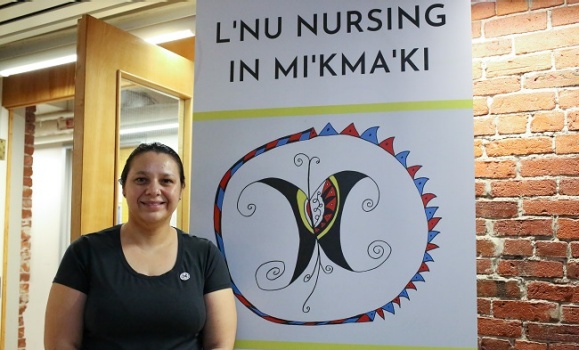 In the spring of 2021, when Dawn Googoo became the L'nu Nursing Initiative lead in Dal's School of Nursing, she knew she'd be providing emotional, spiritual and academic support to Indigenous nursing students. What she didn't realize until she began listening to the students was that their challenges began during the application process.
Applicants to Dal's Bachelor of Science in Nursing (BScN) program must pass a CASPer test, a 90-minute online assessment, in addition to meeting academic requirements. The test poses a dilemma and asks applicants how they'd handle it. For example: If the applicant was working part-time at a pharmacy, and a customer returned with an open bag of diapers wanting a refund, what would the applicant do?
"This is putting Indigenous people in situations we've never be in, so we wouldn't know anything about store policies or how to answer that question," says Googoo, a member of We'koqma'q First Nation in Cape Breton, N.S. "An 18-year-old who has never left their home community will probably have worked on their reserve with a relative. If there's a problem, we'd say maybe the chief can answer that question."
As a result, Indigenous students were getting low scores on the CASPer. "That's when I realized there were more problems to solve," says Googoo. After spending a decade in the military, she earned her nursing degree at St. Francis Xavier University, then enrolled in Dal's Master of Nursing (MN) program, which she's aiming to complete in August.
Creating a safer environment
The L'nu Nursing Initiative was created by the Canadian Institute of Health Research Chair in Indigenous Health Nursing for Nova Scotia, held by Dr. Margot Latimer, a professor in the School of Nursing, in collaboration with the Mi'kmaq communities in Nova Scotia. "L'nu" means "Indigenous" in the Mi'kmaw language.
After working as a researcher with First Nations communities for 15 years, Latimer realized the need for Indigenous nursing-student support. "Indigenous people's preference is to be cared for by Indigenous health professionals, including nurses, but there's such a lack of Indigenous nurses," she says. "As a result, Indigenous Peoples' experiences in the health-care system can be poor."
Latimer acknowledges there is much work to be done in order to create welcoming, supportive, and safe environment for Indigenous students in academia. "That needs to be resourced with an Indigenous nurse who understands what it's like to have a non-Indigenous person teach you," she says. "In Dawn's role, she anticipates what the students need because she has that lived experienced."
"People get better care when it comes from their own culture, from someone who looks like them and speaks their language," says Googoo. Her MN focus is on the recruitment and retention of Indigenous nursing students, and she would like to teach nursing after she finishes her degree.

Fostering success and pride
To help foster a welcoming environment, in September of 2022, an Indigenous Student Engagement and Research Lounge opened in Room G48 in Dal's Forrest Building. The cozy space has comfortable furniture, a chalkboard, snacks, smudging medicine, and a rug depicting the traditional seven sacred teachings—love, respect, courage, honesty, wisdom, humility, truth. Dalhousie Elder in Residence Ann (Annjij) LaBillois (above, with Googoo) also visits students in the lounge.
Googoo is at the lounge on Tuesdays from 9 a.m. to 2 p.m., helping students with their papers and scholarship applications or just chatting about life. Sharing her own struggles as a nursing student, and those she encountered in her work as a nurse, helps create valuable bonds.
"There are eight students who come see me regularly there," says Googoo. "They were there at the beginning of the year, and they're still there—to me, that's success. My hope is that Indigenous nursing students will be successful and proud of who they are."