News
»
Go to news main
Celebrating 60 years of exceptional health education & leadership
Posted by
Kathy MacFarlane
on November 1, 2021 in
News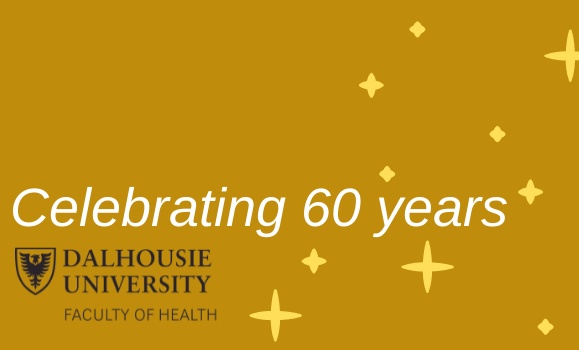 Dal Health is celebrating a milestone. In 1961, the Faculty of Health Professions was established at Dalhousie University when the College of Pharmacy joined forces with the School of Nursing. This union became the first faculty devoted to health in Canada, beginning with 107 students. Over a half a decade later, the Faculty has grown into an innovative leader within the national health sphere and a research powerhouse. It was renamed the Faculty of Health (Dal Health) on July 1, 2017, to reflect its broadened scope. From humble beginnings, Dal Health now encompasses 10 academic units, nearly 300 faculty and staff members, a student body of 3,000+ and over 25,000 engaged alumni.
A look back from the Deans of Health
There have been eight Deans in the Faculty of Health over the past 60 years. We sat down with some of them to hear their thoughts on their time spent here and the journey so far.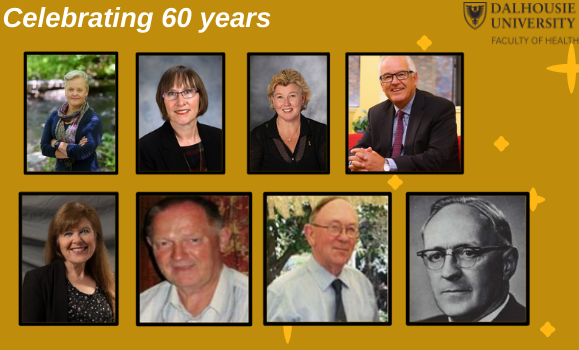 (left-right) Dr. Brenda Merritt (2019-current, acting 2017-2018), Dr. Cheryl Kozey (acting 2018-2019), Dr. Alice Aiken (2016-2017), Dr. William Webster (2005-2016), Dr. Lynn McIntyre (1992-2005), (left-right) Dr. Ron DeBurger (1988-1992), Dr. Robert Tonks (1977-1988), Dr. R.M. MacDonald (1962-1977).
| | | | | |
| --- | --- | --- | --- | --- |
| DEAN | TERM |   | DEAN | TERM |
| Dr. Robert M. MacDonald | 1962-1977 |   | Dr. Alice Aiken | 2016-2017 |
| Dr. Robert Tonks | 1977-1988 |   | Dr. Brenda Merritt (acting) | 2017 – 2018 |
| Dr. Ron de Burger | 1988-1992 |   | Dr. Cheryl Kozey (acting) | 2018 – 2019 |
| Dr. Lynn McIntyre | 1992-2005 |   | Dr. Brenda Merritt | 2019 - current |
| Dr. William Webster | 2005-2016 |   |   |   |
Challenges and Opportunities:
Dr. William Webster: "I encountered a general perception outside the Faculty that we had become insular and that the Schools at that time seemed to view themselves more like individual mini-faculties, rather than a coordinated, integrated and collaborative collective. In 2005 when interprofessional education was coming on the map, it provided a means for moving forward with the primary mandate."
Dr. Lynn McIntyre on being responsible for 14 annual budgets and having to manage a budget cut every year: "Resources were chronically lacking and I always felt that with just a little more investment, the Faculty could have soared (at that time)."
Dr. Brenda Merritt: "During the pandemic, we quickly pivoted our operations to remote working through digital platforms. It was as steep learning curve but the Faculty adapted quickly. Ensuring student progression and timely graduation were some of the most challenging aspects of the pandemic. We were also faced with a full shut down of clinical and fieldwork placements. Our leadership team and faculty members quickly shifted to front load course content to online learning platforms, creating space in the fall term for the return of face-to-face skills labs and clinical education. We are very proud of our faculty, staff, and students for creating safe learning environments so that our students could return to campus for essential face-to-face skills labs. Most of our students graduated on time, providing a steady stream of graduates to address health system workforce needs."
The Most Rewarding Aspects:
Dr. Alice Aiken: "We brought in specific research funding from philanthropists and industry, helped increase the grant capture, and ensured those in our community understood the value of the research we were doing. We forged a strong partnership with the other health Faculties and to this day that partnership continues.  Working with the entire Faculty to create and launch the Faculty of Health Strategic Plan (2017-2022) — a strategy that truly belongs to everyone. That strategy continues and has served the Faculty well."
Dr. Lynn McIntyre: "The great deal of care, effort and marketing that went into the recruitment of great new faculty members, and I have been so gratified to see how they have succeeded not only at Dalhousie but across the country and beyond."
Dr. William Webster: "The outstanding group of School Directors, dedicated to the support and advancement of their professional programs but who also understood the importance of strengthening their programs by having interprofessional education experiences embedded in them. The support staff, both in the Schools and the Dean's office, were the ones who got the Faculty through some very challenging budgetary times. In addition to being totally committed to the University, they maintained delightful, positive and upbeat attitudes."
Dr. Cheryl Kozey: "Continuing the momentum and solidifying the foundation for our outstanding researchers and research programs, including an increase in CRC allocations, a CIHR Indigenous Chair in Nursing and a space for our CRC in Indigenous Peoples Health and Well-Being. This required appointing an Acting Associate Dean Research in record time who was well versed in the research landscape."  
Dr. Brenda Merritt: "Our people in the Faculty of Health. Every day I am grateful and amazed at the incredible work, innovation, and dedication that our Faculty of Health community demonstrates. I believe that we genuinely care about our work, each other, and advancing the health of our communities."
Embracing Change
Dr. Lynn McIntyre: "I think we were ahead of the times on many issues that are now accepted as best practices in the university: diversity recruitment of students and faculty members; mandatory anti-racist workshops; internationalization of the curriculum; attention to harassment in the classroom and workplace; consideration of professional suitability for health practitioner students; and ethical research practices with highly vulnerable populations."
Dr. Alice Aiken: "The PhD in Health program has been an enormous success and has helped tremendously in increasing the research profile of the Faculty.  Also, the Faculty's focus on EDIA in all areas, research, teaching and service, is remarkable."
Dr. Cheryl Kozey: "Two things stand out. First is the continued leadership of the Faculty in EDIA initiatives within and outside the University and the increased visibility of that work including integration into teaching and learning and our research with the African Nova Scotian, Indigenous and other communities that will be transformative as the research is community focused and lead.  Second is that many of the larger research initiatives have been realized from the foundational work and it is awesome to see the cross fertilization among research areas to tackle major problems including the work related to impact of COVID and with diverse and vulnerable communities."
Dr. Brenda Merritt: "I see a collective commitment evolving toward our key strategic priorities – increasingly, it feels as though we are working as a synergistic team to advance our goals. We have created a forum of open exchange of ideas, a willingness to speak truth to power, and an openness to utilize our collective knowledge and skills to approach our priorities from many different angles."
With so much growth and advancement over just 60 years, the Faculty of Health looks forward to embracing the challenges of the future with continued collaboration, research and teaching excellence and a united purpose to transform health regionally, nationally, and internationally.