News
»
Go to news main
Looking to the future: Faculty of Health student receives technology scholarship
Posted by
Stephanie Brown (with files from Top Hat)
on June 28, 2019 in
Students
Nicole Blinn is one of five North American students to win the first annual Top Hat scholarship, taking home $10,000 USD.
She is a student within the Faculty of Health's School of Health and Human Performance, a summer student with the Healthy Populations Institute and a research assistant on Dr. Sara Kirk's UpLift project.
For Nicole, this award means she can prepare for her next chapter.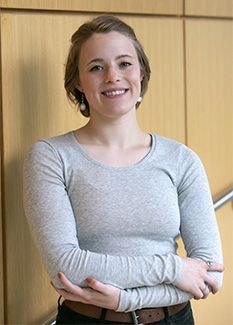 "Throughout my undergraduate degree, I have been a full-time student while working multiple jobs to fund my education. I am passionate about health research and am looking to pursue graduate studies, which I didn't think was a possibility for me until this past year. Being a recipient of this award also means I can engage and volunteer more with the community around me."
She says higher education is more than an education – it's something that allows her to pursue her passions and will give her the skills to be an innovative health researcher.
"My goal is to understand and address health inequities through translating health research into policy and practice for improved population health outcomes," Nicole says. "This award allows me to do so."
(Photo by Maureen Summers)
Top Hat is an active learning platform for higher education. The scholarships were created to acknowledge exceptional students for their academic achievements, leadership and growth.
The company says each student who received a scholarship saw improvements in their academic performance through the use of Top Hat's interactive digital platform.
Nicole is among a small group of recipients from Ohio University, Michigan State University, Texas A&M and the University of North Georgia. She was nominated by Dr. Becky Spencer, her honours supervisor and instructor of Health Promotion. The total scholarship fund is $100,000 USD.