News
»
Go to news main
Program, Co‑Led by Dal Health Researcher, is poised to attract $10 million to improve health and wellbeing of NS children and youth
Posted by
Terry Murray-Arnold (with files from PHAC)
on May 15, 2019 in
News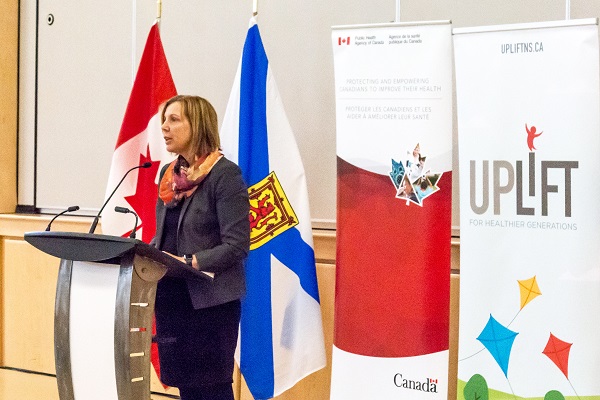 Dr. Sara Kirk speaks at the announcement (Photo: Chuck Linney)
On May 10, 2019 stakeholders from across Nova Scotia gathered at West Highlands School in Amherst to hear the Honourable Ginette Petitpas Taylor, Federal Minister of Health, announce an investment of up to $5-million to elevate the health and wellbeing of children and youth across Nova Scotia. The funding is from the Public Health Agency of Canada (PHAC) multi-sectoral partnerships for chronic disease prevention program and is a unique "matched-funds" design that can mean up to $10 million for Nova Scotia. The Dalhousie University-led program UpLift is the first partnership in Nova Scotia to receive this funding from PHAC. Dal Health's HPI (Healthy Populations Institute) is where the research that underpins the philosophy, need and value of UpLift was conducted and where the core program team are based.
UpLift is a school-community-university partnership that is designed to build on best practices that already exist in many schools and communities, like the internationally-recognized, health- promoting schools model. Led by HPI's scientific director, Dr. Sara Kirk and senior research scholar, Dr. Camille Hancock Friesen, UpLift will empower students to be leaders and take actions that will contribute to healthy, vibrant, connected, and safe school communities.
"Our goal is to change the trajectory of health for children and youth in this province, and allow them to reach their full potential as healthy, productive members of society," said Dr. Kirk.
Key components of UpLift include youth engagement and leadership, systems change, sharing successes and evaluating impact. UpLift is co-designed by a multitude of partners and is strategically embedded within existing structures while ensuring impact and sustainability.
"Understanding that schools represent a critical setting for the promotion of health and wellbeing among children and youth, UpLift will focus heavily on youth engagement as an integral part of the process," said Dr. Hancock Friesen.
The first two local areas where UpLift will amplify capacity are Chignecto Central and South Shore Regional Centres for Education.
The Dalhousie Medical Research Foundation and QEII Foundation have joined forces to raise critical private sector funding which will be matched dollar-for-dollar with PHAC funding for a total of up to $10 million over five years. The partnership has already raised over $2.65 million towards UpLift.