Faculty of Health Professions Employee Milestones
At the Faculty of Health Professions, we know that our success is based on the skills, knowledge and commitment of our faculty and staff. We quite simply couldn't operate without them. That's why, in 2013, the Faculty launched the Employee Milestone Recognition Program. This program recognizes employees with 10 and 20 years of continuous service with the Faculty. Announced annually in December, award recipients receive a gift card to the Dalhousie Bookstore.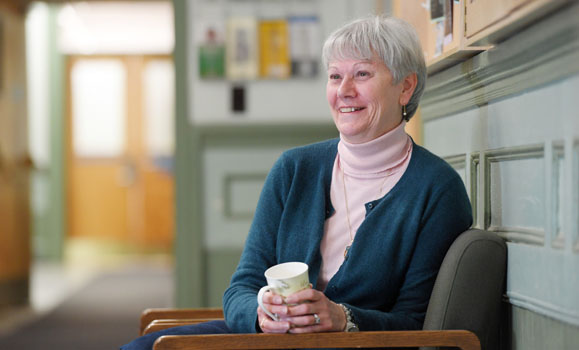 Milestone Award Recipient: Dr. Brenda Sabo
Title: Associate Director Undergraduate Nursing Program and Associate Professor
School: Nursing
Years with FHP: 10.5

What did you want to be when you were 10 years old?
Astronomer
What was your first job?
Working as a food server in a center for profoundly physically and mentally challenged individuals (St. Amant Center) during high school.
When did you decide you wanted to be an academic/clinician/researcher/professor?
In the mid-1990's while pursuing a Master's degree in Medical Anthropology (chronic health).
What brought you to Dal 10 years ago?
My PhD studies in nursing and a desire to teach.
What is your favourite thing about working at the FHP?
The freedom to be innovative and explore new ideas to enhance education whether in the classroom or through research focused on education.
What is the biggest change you've seen at the FHP in the last 10 years?
A shift beyond traditional models of teaching particularly within our nursing program. There is also greater opportunities for collaboration in education and research.
What has been the highlight of your career with the Faculty?
Winning Dalhousie University's Innovation in Teaching Award.
Fill in the blank: If I wasn't an academic, I would be: a therapist with a practice in psycho-oncology.
If you could give one piece of advice to someone starting their career with Dal, what would it be?
As a new faculty member I would encourage to: think outside the box – to not be held by constraints of the status quo' to integrate multiple tools for knowledge acquisition; to learn from your students – they can be golden opportunities for change to occur which leads back to "thinking outside the box."