Brenda Sabo invites me into her small office with an apologetic smile.

"Sorry for making you wait," she says, opening a tub of lemon Greek yogurt and stirring it with a spoon. "This is the first thing I've had since breakfast."

Dr. Sabo has been having back-to-back meetings for most of the day. Between overseeing the running of two undergraduate nursing programs, conducting research on end-of-life-care and writing a screenplay for her recent project — Palliative Education through Art, Communication, and Engagement (PEACE) funded by the Canadian Cancer Society— it's no wonder she's having lunch at three in the afternoon.  

She eats another spoonful of yogurt as the small fan in her room ruffles the feathers of a mask she keeps hanging on her lamp, reflecting her high regard for performance art.
"The whole notion of performance art is something that we all understand and can connect with on a different level," says Dr. Sabo. "And it can actually make difficult conversations that you'd rather avoid easier to enter into."

For Dr. Sabo, associate director of Nursing undergraduate studies in the Faculty of Health Professions, conversations — the sharing and communication of stories — form the foundation of her teaching philosophy, for which she was awarded Dal's Academic Innovation Award this year. The award celebrates innovation in teaching and pedagogy.
Sparking conversations through art

Art is a mechanism for opening doors to conversations in Dr. Sabo's Nursing classes. In one assignment, students had to go online, review ten blogs written by patients and their family members, and discuss the themes those blogs touched upon in an effort to better understand the cancer experience. In another assignment, students had to draw what death looked like to them.

It's a qualitative and subjective approach, a juxtaposition to the didactic and quantitative way of learning. It personalizes the learning, making it seem more visible and real. It's also a mechanism for reflection, another key element in Dr. Sabo's teaching.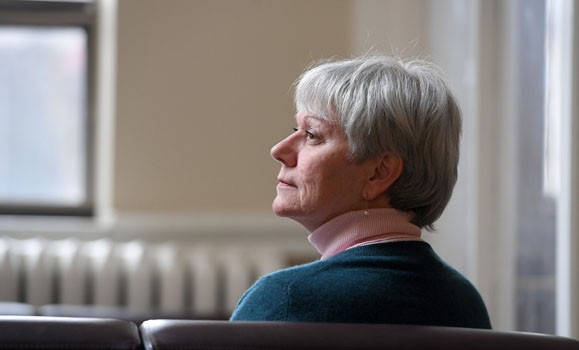 "It challenges people in a safe way, and calls into attention what are their personal values and beliefs."

While her students evaluate whether activities are effective learning tools for them, Dr. Sabo herself also engages in the same process. She puts a lot of emphasis on listening to her students and getting direction from them.

"I've had things blow up in my face. Students have told me, 'This is dull and boring. Can you do anything about it?' So, I step back. I think about what I'm doing well, what is not as good, not enhancing their learning experience. I've gone up to the Centre of Learning and Teaching and said, 'This is what I've tried, this is the response I got. Can we have a conversation about it?'"

Storytelling and performance art are not necessarily traditional approaches to teaching and learning, which is why receiving the Academic Innovation Award was thrilling and affirming for Dr. Sabo.

"I feel like the work is justified," Dr. Sabo says, finishing her lunch. "I feel like education is on the verge of a different way of delivery particularly within the context of health professional education."