Radiological Technology
Who are Radiological Technologists?
Radiological technologists are highly skilled health care pr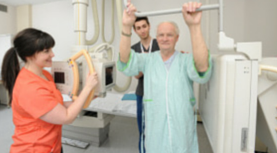 ofessionals who care for patients in all age groups - from newborns to older adults. They use x-radiation to create images of patient anatomy for diagnosis of injury or disease. Radiological technologists may also be known as medical radiation technologists, x-ray technologists or radiographers.
What do Radiological Technologists do?
Radiological technologists work in a variety of healthcare settings including clinical, hospitals, emergency departments, intensive care units and operating rooms. They use highly technical equipment to perform the following types of imaging procedures on all body systems: 
Radiography
Fluoroscopy
Computed tomography (CT)
Angiography and interventional
Mammography
Bone Density
Radiological technologists may also work in related areas:
Educations
Research
Administration
Radiation Safety
Imaging equipment sales
IT
How do I become a Radiological Technologist?
The School of Health Sciences offers a four-year degree program in radiological technology. The program curriculum offers the necessary competencies to challenge the Canadian Association of Medical Radiation Technologists (CAMRT) professional examination.
What is the program like?
The program is designed to provide current students hands-on clinical experience to support the classroom teaching. It focuses on courses related to radiological technology, however they also take courses with students in other health professions. Each term the students spend time in the hospital to apply the theory they learn in class. In the summer term of years 1, 2 and 3, students complete an 8-week practicum, and during the fall and winter terms of year 3 and 4, most of the learning is in the clinical setting.
What are some of the courses in the program?
Examples of some of the courses in radiological technology are:
Anatomy and Physiology
Skeletal Radiography
Imaging Equipment
Applied Pathology
Health Care Ethics
Clinical Skills for Health Practice
Digital Imaging
Introduction to Health Practice
Program Outline

Clinical practicums
One of the benefits of studying in the School of Health Sciences is the opportunity to do hands-on clinical work. After years 1, 2, and 3, every student spends 8 weeks during May and June working full time in a health-care centre. Some choose to stay in Halifax to complete the practicums, while others travel to locations elsewhere in the Maritimes and, in some cases, across the country.
What are the entrance requirements?
To be considered for admission High School applicants require grade 12 academic English, Math, Physics and one of Chemistry or Biology with no mark below 70% in each of these courses and an overall minimum average of 75%. Post secondary applicants require a minimum GPA of 2.75 (on a 4.30 scale), with no grade lower than C in prerequisite courses. Priority
consideration is given to permanent residents of the Maritime provinces, then to residents across Canada and then to all other applicants. Admission can be competitive and meeting the minimum entrance requirements does not guarantee admission.
Is there a professional association for radiological technologists?
The Canadian Association of Medical Radiation Technologists (CAMRT) is the national professional association for radiological technologists as well as student radiolocical technologists. Upon completion of the Health Sciences program, graduates write a national certification exam which (once passed) will allow them to work anywhere in Canada and use the designation RTR (registered technologist in radiological technology) after their name.
What are job opportunities like?
Currently there is a shortage of radiological technologists; most of the graduates have employment before they leave the program. Working hours and salaries vary from province to province. Graduates may also find employment in any country which accepts the CAMRT designation.
Is the program accredited?
Yes. Accreditation Canada the program's accrediting body. For more information go to Accreditation Canada's website to view the list of accredited radiological technology programs.
For more information on Radiological Technology please visit the CAMRT or the Nova Scotia Association of Medical Radiation Technologists.