Diagnostic Medical Ultrasound Technology
Who are Sonographers?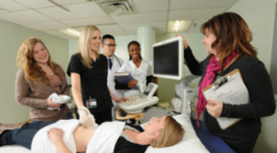 Sonographers are highly skilled health care professionals who use ultrasound (sound waves) to look inside a patient's body, evaluate the condition of various organs and record digital pictures.
Sonographers evaluate organs and structures such as the liver, kidneys, heart, thyroid, blood vessels, muscles, ovaries and developing babies. Sonographers provide a summary of what they've discovered and discuss their findings with specialized doctors, who use this information to make a diagnosis.
Where do Sonographers work?
Sonographers usually work in hospitals or clinics, however some Sonographers work as managers, educators, equipment sales representatives, equipment applications specialists, medical information technology (IT) specialists or researchers.
How do I become a Sonographer?
The School of Health Sciences offers a four year Bachelor of Health Science (BHSc) degree program, which includes theory and practice. Students will take core professional development courses with a concentration on ultrasound specific knowledge and skills. A diploma option is possible after completion of Year 3.  The program curriculum offers the necessary competencies to challenge the Sonography Canada professional examinations.
Entrance requirements
To be considered for admission High School applicants require grade 12 academic English, Math, Physics and Biology with no mark below 70% in each of these courses and an overall minimum average of 75%. Post secondary applicants require a minimum GPA of 2.75 (on a 4.30 scale), with no grade lower than C in prerequisite courses. Priority consideration is given to permanent residents of the Maritime provinces, then to residents across Canada and then to all other applicants. Admission can be competitive and meeting the minimum entrance requirements does not guarantee admission.
Examples of courses in the program
Human Anatomy & Physiology
Pathophysiology for Health Sciences
Sonography in Obstetrics
Sonography of the Abdomen and Superficial Structures
Health Care Ethics
Foundations in Health Care Practice
Statistics
Digital Imaging
Introduction to Health Research
Program outline
Certificate Options

Clinical practicums
One of the benefits of studying in the School of Health Sciences is the opportunity to do hands-on clinical work. After years 1, 2, and 3, every student spends 8 weeks during the summer working full time in a health-care centre. Some choose to stay in Halifax to complete the practicums, while others travel to locations elsewhere in the Maritimes and, in some cases, across the country.
Accreditation
Accreditation Canada is the program's accrediting body. For more information go to Accreditation Canada's website to view the list of accredited diagnostic medical ultrasound (sonography) programs.
Professional associations
Sonography Canada is the national professional body for Sonographers. Membership with the Sonography Canada is maintained through active registration with Sonography Canada and/or the American Registry of Diagnostic Medical Sonographers (ARDMS). Registrants must undergo continuing professional development to maintain active registration.
Job opportunities
Sonographers are in high demand locally as well as throughout Canada and the United States. The working hours and salaries vary depending on the work setting and employer. Sonographers may be required to work or be on call over evenings, weekends or holidays. Starting salaries are comparable with other health science professionals.
For more information on Diagnostic Medical Ultrasound, please visit Sonography Canada, the Society of Diagnostic Medical Sonography, or ARDMS.