Certificate Program in MRI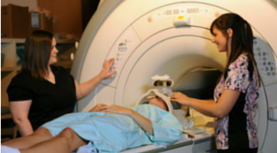 The MRI Certificate program is available to Health Science (HSc) Alumni and 4th year students in Diagnostic Medical Ultrasound (DMUT), Nuclear Medicine Technology (NUMT) and Radiological Technology (RADT). The program has been designed for complete online delivery through the Dalhousie Online Web Learning (OWL) platform.  Its curriculum enables the student to acquire the necessary competencies to challenge the Canadian Association of Medical Radiation Technologists (CAMRT) professional examination for MRI.                         
*The 27 credit hour certificate program requires successful completion of:
**Venipuncture Competency (This is a non-credit requirement):  Students will be required to provide proof of venipuncture competency prior to beginning Specialty Practice.  Students will use this foundational skill in gaining IV injection competency during Specialty Practice.  Clinical site preceptors will instruct students on the proper technique for IV insertions and help students achieve competency in IV set-up and delivery of contrast media for MRI exams.
*4th year students who pursue the MRI certificate will complete courses/credit hours beyond the degree requirement. (Students in NUMT and RADT will complete 12 credit hours beyond the degree requirement and DMUT students will complete 3 credit hours beyond the degree requirement). Completion of the MRI certificate program will require students to study beyond the 4-year degree time frame.
Clinical site criteria must be met as a requirement of admission.  Students enrolled in the program must meet School standards regarding BLS-HCP certification and Standard First Aid.  Contact health.sciences@dal.ca for further details.
Please also refer to the School of Health Sciences Curriculum Framework.
Requirements of the Professions
Statement of Fitness:  The Health Professional courses in the School of Health Sciences are intellectually, emotionally, and physically demanding.  As a potential applicant, it is important that you familiarize yourself with the performance expectations and requirements to practice safely and competently before applying to the program, so you can asses your own ability to meet the career requirments. See MRI Statement of Fitness [PDF -15 KB]
Accreditation:  The Dalhousie School of Health Sciences Certificate Program in MRI is accredited by Accreditation Canada. For more information go to Accreditation Canada's website to view the list of accredited magnetic resonance imaging programs.