»
Go to news main
Dalhousie University: Where Computer Science students make connections within and beyond the classroom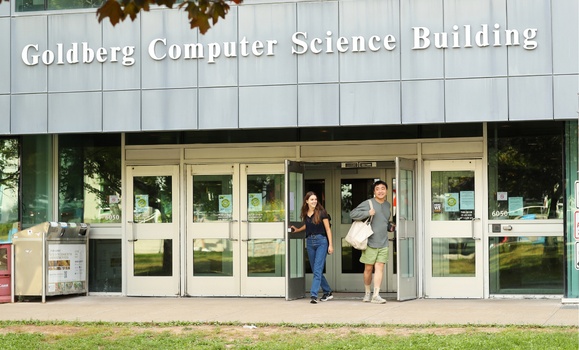 Fariha Zerin Rabita knew that studying abroad would help her to advance her love for computer science – and she set her sights on pursuing a Bachelor of Computer Science at Dalhousie University.
"Dalhousie University captures all the essence of Canada and provides a wonderful experience for their students in terms of academic quality, co-op and undergraduate research opportunities," she says. "Moving to Canada and enrolling at Dalhousie University, was worthwhile after reflecting on everything I have experienced since arriving. It's unquestionably a chance worth taking for those who are given the chance to do the same."
More than this, Dalhousie University's Faculty of Computer Science is enriching the lives of students through three societies: Computer Science Society, Computer Science Graduate Society, and Women in Technology Society (WITS).
For Rabita, joining WITS was "one of the most empowering experiences" of her life. Through a peer mentorship programme, she learned how to navigate life at university. This year, she's paying it forward by nurturing a new generation of computer science students to balance their academic studies and extracurricular commitments.
Rabita, a second-year student, is also a Residence Assistant. Source: Dalhousie University
Look outside Rabita's time at WITS, and you'll know how she developed her passion for helping others. "My journey began when I volunteered for the DSU Street Squad Team's outreach programme," she says. "I was given a chance to improve my organisational skills as well as the chance to work for the community. I contributed to event promotion, virtual classroom talks, online activities, and student programming."
Engaged and inspired, Rabita stepped up to work with the Residence Life Team. As a Residence Assistant, she helped enforce policies at the dorm, handled disputes and organised activities – all with the goal of creating a safe, secure, and lively environment for students to enjoy.
These experiences helped the second-year student to overcome the challenges of studying abroad. "When I moved from my home country to Canada, where the weather, pace of life, and people were so dissimilar from what I was used to, homesickness really set in," she says. "It goes without saying that the path was often frustrating, but little did I know I was on the path of self-development and self-growth."
Xijie Zeng – another Bachelor of Computer Science student – joined the Dalhousie University Chinese Society to serve the Chinese community, bond with other societies and spread awareness about Chinese cultures.
It starts with a good orientation. "This orientation allows us to introduce Dalhousie University, Halifax, and Nova Scotia to all the Chinese students who are in Canada for the first time, and we are there to answer any questions about studying abroad at Dalhousie or daily life in Halifax," Zeng shares.
The Lunar New Year Gala is where Dalhousie University Chinese Society truly shines. As the festival approaches, the gala gathers lots of Chinese students to eat, laugh, and cheer amidst performances and delicious food.
That's not all. Faculty members support the clubs, societies, and communities – often joining in the fun too. "Faculty members are really interested in participating in the events held by Chinese student associations and experiencing Chinese culture, and helping the computer science students in the associations with their expertise as well," he says.
Zeng is part of Dalhousie Chinese Society, one of 250 active societies at Dalhousie University. Source: Dalhousie University
Rabita agrees. "I have always noticed that professors encourage students to get involved in various club activities and tell us how important it is to get involved. They help the societies in promoting their publications and events — both online and in person," she says.
Thanks to keen engagement from the faculty and students, these societies have an easier time developing links with industry experts. Take ShiftKey Labs, for example. They worked closely with WITS to host the "We Talk Tech" conference, where reputable speakers shared their experiences as women breaking into the artificial intelligence space.
What's more, students can become ambassadors. Current and future students can lean on their knowledge, clarify their doubts and start their computer science journey on the right foot. You can even contact them before you arrive at the university.
So, what are you waiting for? Your journey to a vibrant computer science education awaits at Dalhousie University. Click here to apply today.